Rattlers stave off Danger, pick up 10th win
PHOENIX — The Arizona Rattlers defeated the Nebraska Danger 45-40 on Sunday at Talking Stick Resort Arena in Phoenix, Arizona.
The win puts the Rattlers back on track heading into the playoffs, maintaining their half-game lead in the division.
It also was a special night for General Manger and head coach Kevin Guy, who became the all-time winningest coach in Rattlers history, breaking Danny White's previous record of 141 wins. Guy took over in 2007, and has since gone on to win four championships (2012-2014 AFL, 2017 IFL). A two-time coach of the Year award winner, Guy has never coached a Rattlers team that has missed the playoffs. Finding success in both the Arena Football League and Indoor Football League.
"I never go into this for the individual awards, I've always been about the team" Guy said. "I want to thank all the coaches through the years, all of my support staff of football operations, all of the great players we've had. You can't to do this without great players, and I think we've done an awesome job of recruiting over the years."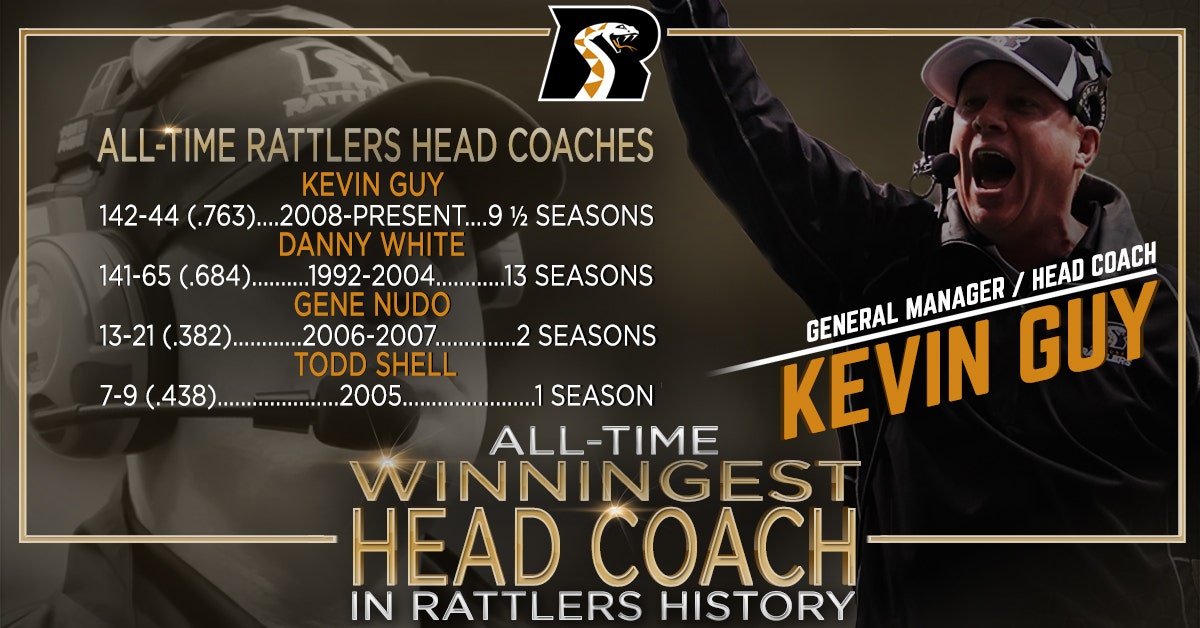 At halftime, the Rattlers honored former defensive lineman Anttaj Hawthorne, inducting him into the Ring of Honor. Hawthorne joins Sherdrick Bonner, Hunkie Cooper, and Randy Gatewood as the fourth Rattler to receive the honor. Hawthorne spent eight seasons with the Rattlers and appeared in five Arena Bowls, winning three, (2012, 2013, 2014). As a Rattler, Hawthorne recorded 118.5 tackles, 26.5 sacks, and was a First-Team All-Arena selection in 2011.
Several past players that won with Hawthorne and Guy were in attendance tonight and got to say a few words, which meant a lot to Coach Guy.
"When you see those faces and hear those faces, it brings back a lot of memories," Guy said. "All of those guys are special. I did feel like we as coaches got the best out of them."
The two teams traded scores for most of the game, but the Rattlers (10-2) took a 12-point lead late in the third to put them ahead for the remainder of the game.