Passion for home burns bright in first-time Olympian Fry
During her time playing hockey in Colorado, Massachusetts and numerous other East Coast locales, Chandler native Lyndsey Fry has heard the same question — sometimes serious, sometimes joking — more times than she can count. She's even heard it from a few fellow Arizonans.
"They have ice in Arizona?"
Despite plentiful ice in the central and northern parts of the state, Arizona is largely known outside its borders as a desert state, one unlikely to foster a successful hockey career.
Fry, however, has the chance to show the rest of the world just what a hockey player from Arizona can accomplish, as she stands to become the first native Arizonan to play in the Olympics as part of the U.S. women's hockey team in Sochi next month.
"It's obviously such an honor," Fry said. "I'm really proud to be able to say that's, I guess, the title that I hold."
Fry has big ideas for hockey in Arizona once she graduates from Harvard. For now, the 21-year-old forward is focused on living out her lifelong dream in Russia as the U.S. women's team attempts to dethrone three-time defending gold-medal winner Canada.
Fry learned sometime before Christmas she had made the final roster of 21 players, which was announced publicly during the NHL Winter Classic in Ann Arbor, Mich., on Jan. 1. She waited until Christmas Eve, however, to reveal the news in surprise fashion before a large gathering of family.
After conspiring with her brother, Wesley, Lyndsey revealed a large poster board decorated as a package labeled "To: Team Fry." After Fry hit play on the Olympic theme, she turned the board around to reveal a message: "We're going to Sochi!"
"We all screamed," recalled Lynne Fry, Lyndsey's mother. "I'm pretty sure I was crying."
We all screamed. I'm pretty sure I was crying.
Lynne Fry on Lyndsey's Olympic announcement
Added Doug Fry, Lyndsey's father: "Lyndsey had really conditioned us to believe they were not going to make the final choices until the Winter Classic. We had kind of resigned ourselves to the fact we were going to have to wait."
The emotional moment was the culmination of years of hard work and sacrifice not only by Fry but her entire family. It was also a watershed moment for hockey in Arizona, as one of its own had finally reached the pinnacle of competition.
Arizona, in some respects, remains in its infancy as a hockey state. The state's professional franchise, the Phoenix Coyotes, is in just its 17th season in Arizona and was nearly lost amid a long-running ownership saga before being purchased and getting a new lease in Glendale last year. Another hockey franchise in the state, the Phoenix RoadRunners, lasted just four seasons here. Only three Arizona natives have played in the NHL, and all three grew up elsewhere, in more hockey-friendly states with opportunities for young players.
Fry, though, is a true born-and-raised Arizona hockey story. Her interest in hockey began when she was 4 years old. She had watched Disney's "The Mighty Ducks," a movie about a group of young hockey players coached by a former pro, and was inspired.
Fry's interest started small, as her father brought home a pair of skates that strapped onto the bottom of her shoes.
"I just went up and down the driveway for hours, apparently," Fry said.
Doug eventually brought home a hockey stick and a pair of roller blades. Soon enough, Fry was playing organized roller hockey at a nearby rink.
When the Polar Ice Chandler facility opened less than 10 minutes from the Fry home, Lyndsey tried ice hockey and was instantly hooked. Fry's parents never discouraged her obsession with the sport despite its rough nature.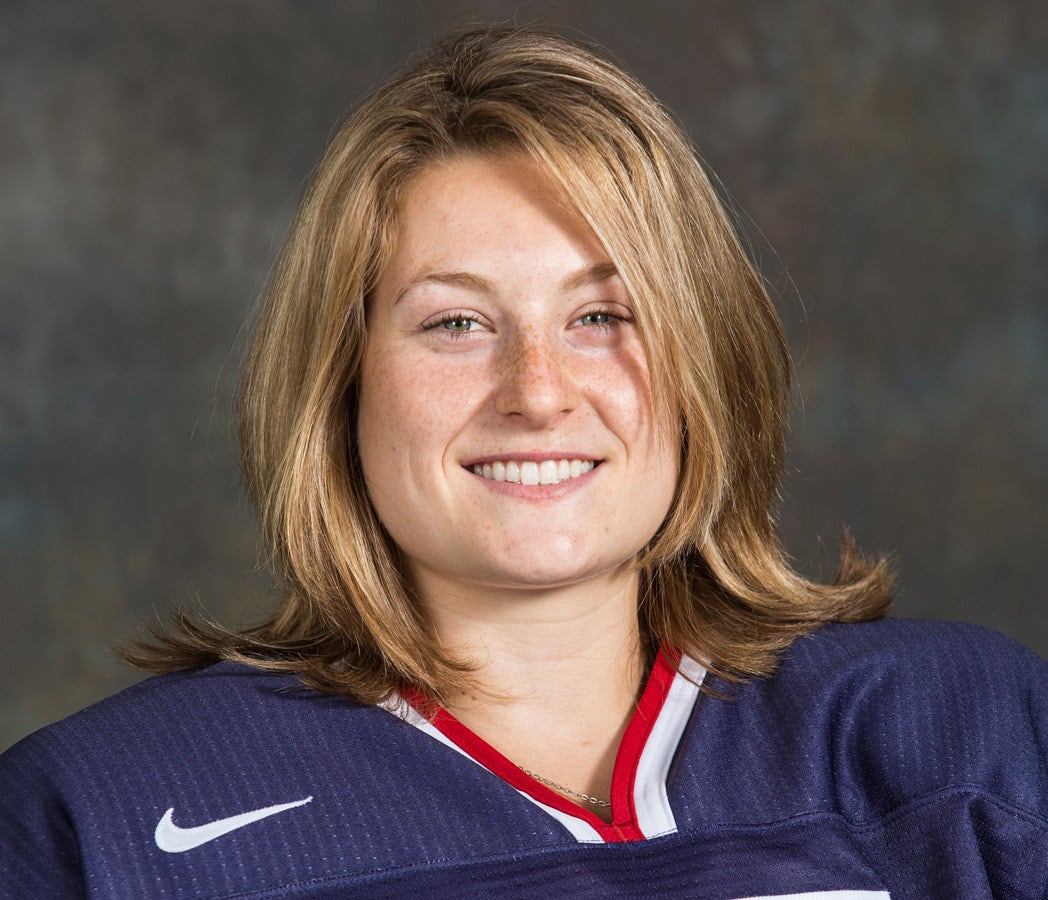 "One of the good things about it is we were kind of naive to all that," Doug Fry said. "We had never seen youth hockey really ever prior to that. So it wasn't like we knew somebody who had gotten hurt or thought, 'That's too rough of a sport for a girl,' or anything like that. We didn't have any of that."
The Frys weren't concerned, either, about their daughter playing with boys. In fact, they embraced it, as the only outlets for girls hockey in Arizona did not possess the level of competition at which Fry was capable of playing.
"There wasn't, frankly, anybody else to play with," Doug Fry said. "It was boys hockey or nothing."
Fry played on boy's club teams in the Valley all the way through her freshman year of high school. She outsized most of her teammates and had no trouble earning their respect.
"She was a thumper," Lynne Fry said. "As she got a little older, the boys she played against got a little meaner and would try to go after her. She was a patient girl, she would let them push her around a little bit, but then a switch would go off and she would go flatten somebody."
Fry's male teammates voted her a captain three years straight. But once high school rolled around, the idea of a future in hockey became more real, and Fry had to make a change.
"I wanted to get recruited to play college hockey, because that was kind of the next step in the journey," Fry said. "The reality was women's hockey coaches weren't going to be recruiting a boys team from Chandler."
At that point, Fry's journey in hockey took her outside Arizona for the first time. She joined the Colorado select team, coached by former NHL player Pierre Turgeon, and traveled to Denver on weekends. By her junior year of high school, Fry had switched to online schooling and would spend two weeks at a time in Colorado.
The unusual arrangement paid off, as Fry, a 5-foot-8 forward, landed a spot on the women's team at Harvard. She was second-team All-Ivy League last season after tallying 16 goals and 20 assists but is taking a year off to pursue her Olympic goal.
Playing on the club team also opened the door to opportunities with USA Hockey. Fry began participating in development camps, and in 2008, she helped Team USA to a sliver medal in the U18 Series. She's been involved at every level since, including Team USA's gold-medal run at the 2013 World Championships in Canada.
Lyndsey talks about home a lot. She really loves it there. She has a lot of pride in her family and where she comes from.
Team USA assistant coach Hillary Witt
As far as hockey has taken Fry from Arizona, she has always remained proud of where he journey began.
"Lyndsey talks about home a lot," said Hillary Witt, the Team USA assistant coach who works with forwards. "She really loves it there. She has a lot of pride in her family and where she comes from.
"It's certainly a non-traditional state for hockey."
That pride has developed in part due to her family. Doug is a native and Lynne has lived in Arizona since she was 3 years old.
"I've always told both my kids, 'You can go a lot of places in this world, but this will always be home,'" Doug Fry said. "That's really the way I've wanted them to think of Arizona — as home."
It has also developed out of the winding road it took to thrive as a hockey player in a non-traditional hockey state, though Fry says she never saw it that way growing up.
"In my mind, my experience was the same as somebody in Minnesota," Fry said. "But I guess, now that I'm older, I realize maybe some of these kids (elsewhere) have more resources. These kids can freeze their backyards, and I would have to go pay $15 to get on the ice."
As for those ideas about hockey in Arizona, Fry said she mostly wants to increase awareness about the sport among the youth in the state, at least exposing them to the idea of playing. While home recently, Fry spoke to students at her elementary and middle schools about the sport and her journey.
Fry says she thinks more and more all the time about how she might be able to grow youth hockey in Arizona, whether it's telling her story or organizing field trips to ice rinks.
"I think it's partially a cultural issue," Fry said. "It's just not a thing people think to put their kids in.
"There's so much growth that can and hopefully will happen. I just really want to be a part of it."
Added Witt: "With her passion and her desire to make things bigger and better in Arizona, I have no doubt she's going to go back there and make it happen. When she sets her mind to a goal, she'll achieve it."
Before all that, Fry has a big goal to work toward in Sochi. The Winter Olympic Games open Feb. 7, with the U.S. women's team's first preliminary-round game set for Feb. 8 against Finland. Fry's parents and brother will be in attendance along with her best friend, one set of grandparents and two family friends.
As proud as Fry is to represent her home state in international competition, she's just as proud to represent that family, which gave so much to make her dream a reality. She sees her Olympic dream as a way to give back to them and to Arizona.
"If there's one thing I want to use that for, it's to help grow it (in Arizona)," Fry said. "Hockey has given me so much in my life, on and off the ice, and I want so many other kids that otherwise wouldn't have the opportunity to have the opportunities I had."