Off with a bang: High-scoring nail-biters dominate playoffs' first day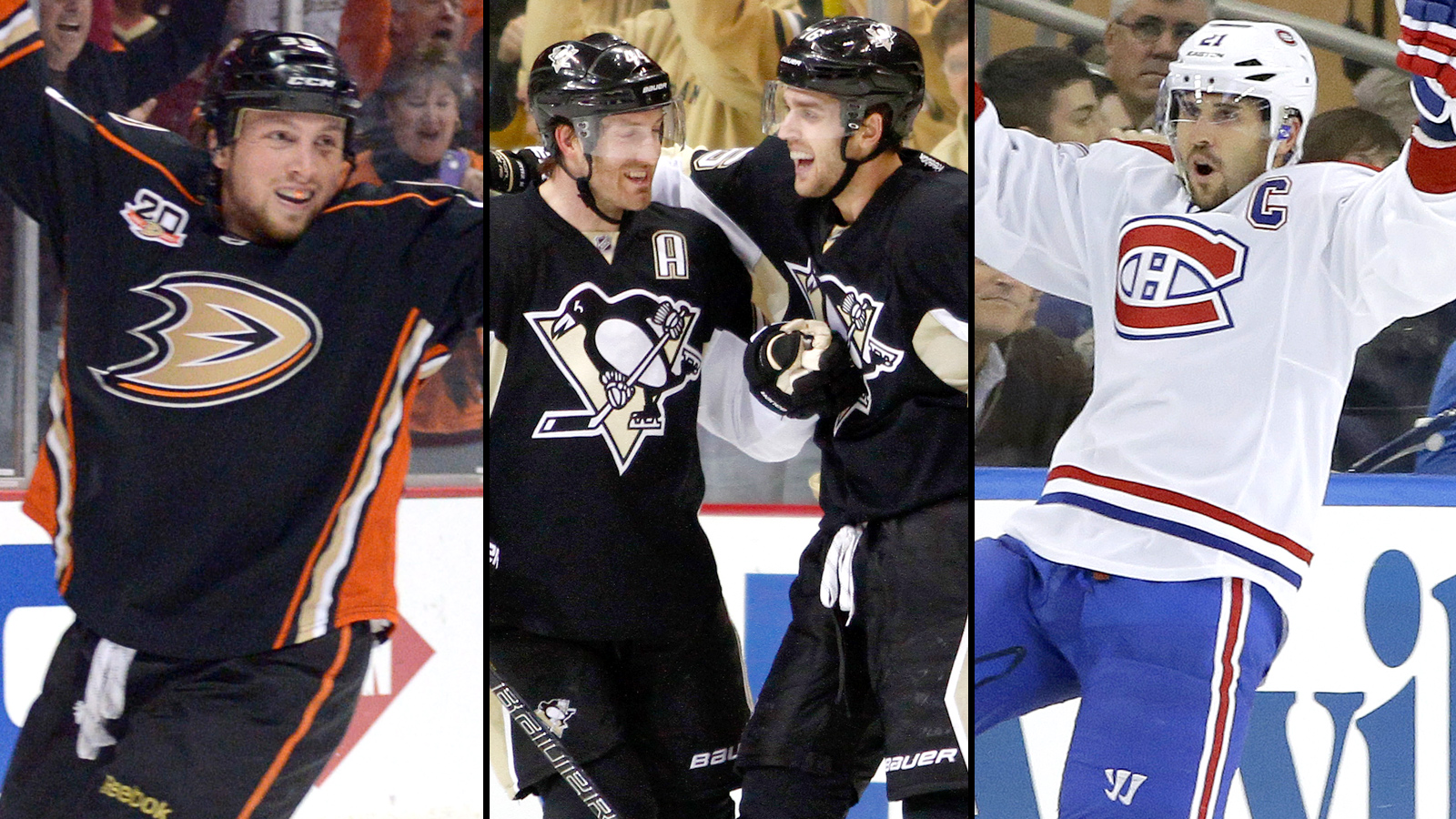 The NHL playoffs are all about tight-checking, low-scoring hockey.
Whatever …
Six teams combined for 23 goals, 51 turnovers and lots of hurried heartbeats on the opening night of the postseason. By the time it was over, Tampa Bay's Ben Bishop was researching herbal remedies, Pittsburgh's Brandon Sutter was shouting redemption, Anaheim was breathing a sigh of relief while captain Ryan Getzlaf was spitting Chicklets, and Montreal's Danny Briere was doing that thing he always does this time of year.
GAME OF THE DAY: Montreal 5, Tampa Bay 4. It took 44 shots and 18:08 of extra time, but the Canadiens bolstered Canada's only hope for a Stanley Cup when Dale Weise scored with 1:52 left in overtime in a game Montreal dominated but never led by more than a goal.
PLAY OF THE DAY: Columbus got the start it wanted when center Brandon Dubinsky undressed Pittsburgh defenseman Paul Martin at the blue line with an inside-out move, then slipped a behind-the-back pass to defenseman Jack Johnson streaking toward the net. Johnson pulled up at the crease and slid a backhand around goalie Marc-Andre Fleury for a 1-0 lead just 6:20 into the game.
1. C Ryan Getzlaf, Anaheim: Getzlaf had a goal and set up another in a 4-3 win over Dallas, while logging more ice time (20:50) than any Duck except defenseman Francois Beauchemin. Getzlaf paid the price with 16.3 seconds left in regulation when he took a Tyler Seguin shot in the mouth and left the ice immediately. Coach Bruce Boudreau said after the game that Getzlaf was getting some stiches but appeared to be all right.
2. D Matt Niskanen, Pittsburgh: One goal, one assist. After Columbus took a 3-1 lead 43 seconds into the second period, Niskanen set up right wing Beau Bennett's defection to pull the Penguins within one, then beat goalie Sergei Bobrovsky through a screen to tie the game and give momentum back to Pittsburgh — all in a 1:36 span of the Pens' 4-3 comeback win.
3. C Steven Stamkos, Tampa Bay: Two goals and five shots including a bullet from the right circle that glanced off the post and in for a 2-1 lead late in the second period.
MONTREAL 5, TAMPA BAY 4 (OT)
Key stat: Tampa scored four goals on 16 shots in regulation.
Key player: Montreal center Daniel Briere. Mr. Playoff's role has been reduced with age (36), but he was around the puck all night, as he almost always is in the postseason. It finally paid off in overtime when Briere slipped a backhand pass from behind the net to right wing Dale Weise all alone in front for the game-winner. Briere has 110 points in 109 career playoff games.
What we learned: The Lightning were given little chance of winning this series when goalie Ben Bishop went down with an elbow injury last week. His replacement for now, Anders Lindback, wasn't great on Wednesday, but he was better than Montreal's Carey Price, who allowed four goals on 16 regulation shots, including Steven Stamkos' blast from the outer edge of the circle that never should have found daylight. Tampa made the most of the few turnovers the Canadiens gave up and there was no faulting Price on the other goals that were more a product of those glaring mistakes up front, but at some point, your goalie has to make a big save. Fortunately for Montreal, Price did that in overtime, robbing Lightning center Nate Thompson from the hashmark with a left-arm save. Still, Price is just 10-17 in the postseason and has allowed 86 goals on just 890 shots. That's a concern, but it would have been far worse had Montreal lost a game in which it outshot Tampa 44-25.
Next game: Friday at Tampa, 7 p.m. EST
PITTSBURGH 4, COLUMBUS 3
Key stat: Pittsburgh is 6-0 against Columbus this season.
Key player: Pittsburgh center Brandon Sutter should have been awarded a penalty shot when Blue Jackets defenseman Fedor Tyutin hooked him on a breakaway to thwart a scoring chance. The Pittsburgh bench was miffed, but Sutter got his revenge. Bennett fed Sutter on a 2-on-1 and Sutter wristed a shot under Bobrovsky's arm for the game-winner with 11:42 remaining in the third period.
What we learned: The Jackets did everything they could to steal Game 1, and the Penguins defense seemed willing to oblige for two periods with horrid turnovers by Brooks Orpik and Kris Letang and some shoddy defensive-zone coverage. Letang looks like he's a long way from game-ready after returning to the lineup April 9, just 10 weeks after suffering a stroke. Worse yet for the Penguins, Marc-Andre Fleury still doesn'€™t look like he'll be able to steal any games and that will be a concern as the Penguins advance to face tougher competition in the later rounds. On the flip side, if Columbus is going to have any chance in this series, it must get better efforts from the reigning Vezina Trophy winner. Bobrovsky made just 28 saves and both the game-tying goal (through a very wide 5-hole) and the game-winner were goals he'd like to have back.
Next game: Saturday at Pittsburgh, 7 p.m. EST
ANAHEIM 4, DALLAS 3
Key stat: Dallas C Tyler Seguin matched his playoff goal total from the entire 2013 postseason with Boston when he scored late in the third period.
Key player: Rookie goaltender Frederik Andersen made his first career postseason start and turned aside 32 shots to fend off a late Dallas rally. The start was a bit of a surprise given Jonas Hiller's career .934 save percentage in the postseason, but the Ducks like Andersen's calm demeanor and he needed it as Anaheim took its foot off the gas after building a 4-0 lead.
What we learned: Dallas wasn't quite ready for prime time. In the Stars' first playoff berth since 2008, Dallas was the bug and Anaheim was the semi as the Ducks raced to a 4-0 lead. The Stars couldn'€™t match the speed or depth of the Ducks forwards and Kyle Palmieri's opening goal off a beautiful saucer pass from Nick Bonino looked like the precursor to an embarrassingly one-sided game. But Dallas showed some resolve, scoring on a 5-on-3 power play and then late in the second period to pull within 4-2. When Seguin scored with 6:07 left in the game, the Honda Center was filled with visions of last year's first-round loss to seventh-seeded Detroit. The concern for Dallas the rest of this series is whether it can get secondary scoring. Colton Sceviour had a goal for Dallas, but the other goals came from the top line of Jamie Benn (on the power play) and Seguin. Anaheim gets goals throughout its lineup. Dallas must follow suit.
Next game: Friday at Anaheim, 10 p.m. EST