John Scott gets go-ahead from NHL as All-Star Game captain
NEW YORK — From Arizona to Newfoundland to Nashville, Tennessee, John Scott will be an NHL All-Star after all.
After days of controversy, the NHL announced Tuesday that former Coyotes forward John Scott will serve as the fan-voted captain of the NHL's Pacific Division All-Star squad in this month's All-Star Game.
Debate over Scott's captaincy raged for weeks after fans stuffed the ballot boxes for the All-Star Game with votes for the 6-foot-8, 260-pound Scott, a well-traveled journeyman who has 11 points and 542 penalty minutes in 285 career NHL games. To further complicate matters, Scott was traded Friday by the Coyotes to the Montreal Canadiens, and the Canadiens demoted him to their American Hockey League team in St. John's, Newfoundland, with no plans to bring him back.
As a result of the trade, Scott was no longer a member of a Pacific Division organization, and his demotion to the minors would have made him ineligible for the All-Star Game.
Fans flooded social media over the weekend with anger toward the NHL over the situation, and on Tuesday the NHL tweeted that Scott would indeed serve his captaincy in the Jan. 31 3-on-3 tournament. In announcing the decision, the league said it decided to let him participate after reviewing the "unique circumstance" and considering Scott's desire to play.
"I am looking forward to enjoying a fun and unique experience at All-Star weekend in Nashville with my family," said Scott, whose wife is expecting twins. "While being voted to the All-Star Game by the fans was not something I expected to happen, I am excited to participate in the All-Star events with my fellow players."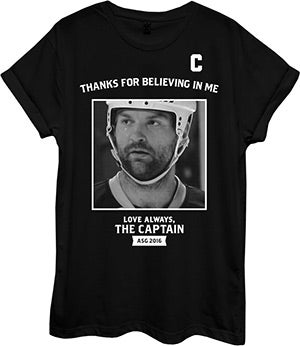 Scott, a popular player in the clubhouse, initially had reservations about the All-Star honor but changed his mind after his Coyotes' teammates encouraged him to have fun with it.
"It's one of those things where not everybody gets to go, so I'm not going to be upset about it and pout about it," Scott said in December. "You've got to roll with it and have fun with it."
Scott even had T-shirts made for his future All-Star teammates with the words "Thanks for believing in me. Love always, the Captain."
The shirts are being sold online, with a portion of the proceeds donated to Hockey Helps the Homeless.
As of Tuesday, there were no plans to include another Coyotes' representative in the All-Star festivities, but one might be added as an injury replacement at a later date.