NHL Playoffs: First-round breakdown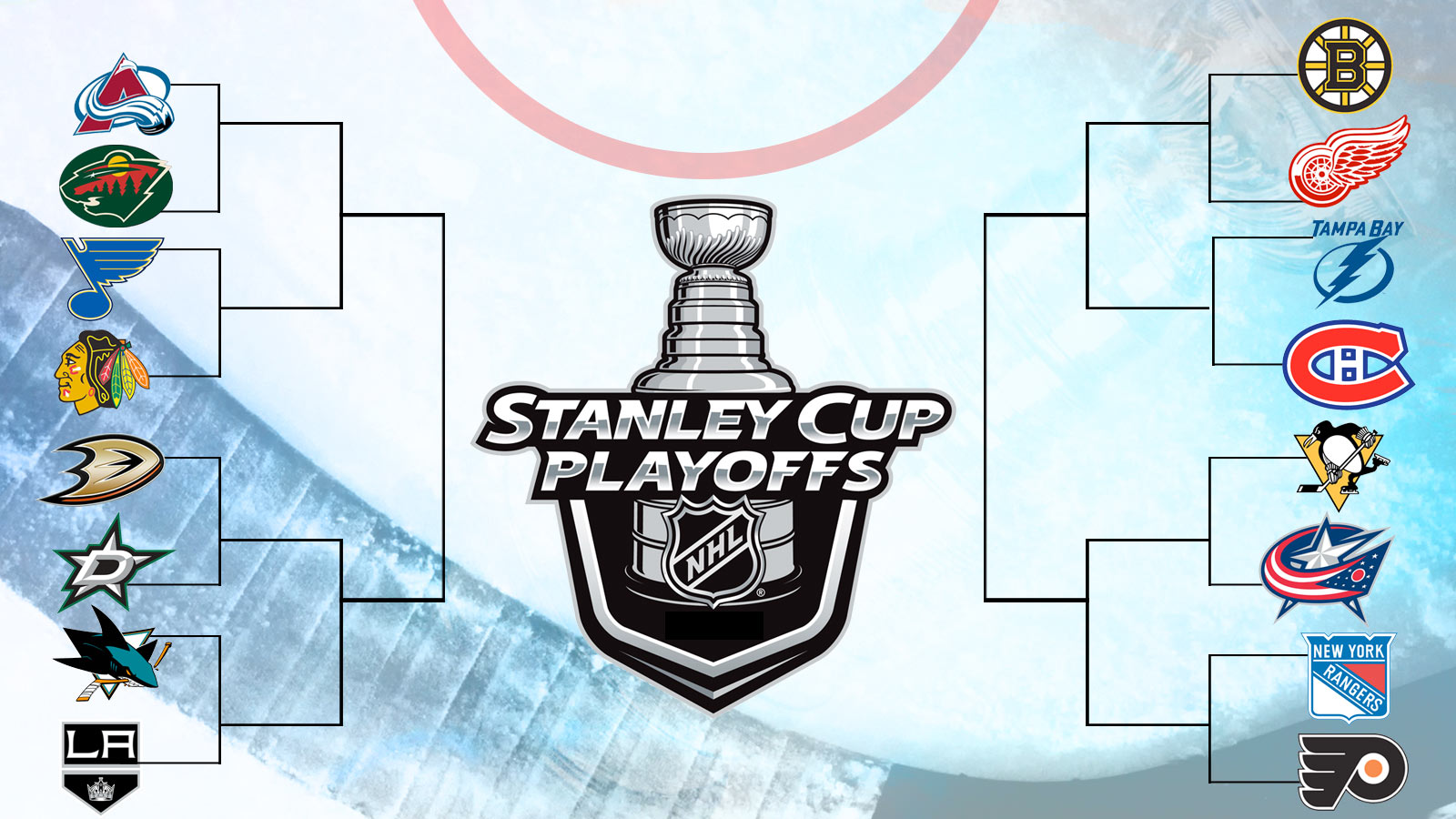 The Boston Bruins are the favorites to capture their second Stanley Cup in four years when the NHL's new playoff format debuts Wednesday with three games involving two wild card teams (Columbus and Dallas), two division winners (Anaheim and Pittsburgh) and Atlantic Division rivals Tampa Bay and Montreal.
The Bruins captured the Presidents' Trophy with 117 points thanks to a torrid March and enviable forward depth, but several teams have legitimate shots at the top prize, including the Sidney Crosby-led Penguins, the defending champion Chicago Blackhawks and a litany of elite Western Conference teams that includes Anaheim, Colorado, St. Louis, San Jose and Los Angeles.
Here's a look at all eight first-round series.
PACIFIC NO. 1 ANAHEIM (54-20-8) vs. WILD CARD NO. 2 DALLAS (40-31-11)
Season series: Dallas, 2-1.
Goalies: Jonas Hiller's numbers (2.48 GAA, .911 save percentage) are mediocre, but Anaheim's goalie doesn't play behind a defensively tight team. If the Ducks keep scoring at their current pace, he won't need to be brilliant. Nobody played more games (65) this season than Dallas' Kari Lehtonen, who has a solid .919 save percentage despite the Stars' defensive deficiencies (2.73 goals against per game).
Key players: Scrappy Dallas center Vernon Fiddler will be asked to corral Anaheim center Ryan Getzlaf, a Hart Trophy candidate. Fiddler did the job in a 1-0 victory in late January, but a lengthy series is a far greater challenge. Former Stars defenseman Stephane Robidas was acquired to lend some poise to the Ducks blue line. He has logged close to 22 minutes a game in April and will play a shutdown role against Dallas' skill players.
Key stats: This is the first playoff berth for the Stars since 2008. Anaheim leads the NHL with 3.21 goals per game.
Breakdown: Of all the first-round opponents to draw, Anaheim probably got the best matchup when it drew Dallas. Aside from the fact that the Stars finished eighth in the West, they are not a particularly strong possession team so that same, season-long weakness of the Ducks may not be exposed here. Anaheim and Dallas both have mediocre to subpar special teams as well, so that appears to wash away the Ducks' two greatest concerns for one series. Both teams have plenty of firepower in their top lines but Anaheim has a little better depth — especially with Stars center Rich Peverley (heart condition) out. Ducks third-line left wing Andrew Cogliano and fourth-line center Nick Bonino both topped 20 goals. A key will be how Anaheim matches up with Dallas' top line that features center Tyler Seguin and left wing Jamie Benn. Conversely, the Stars have to find a way to corral an MVP candidate in Getzlaf, who finished second in the NHL to Sidney Crosby in points (87) this season. Anaheim was upset in the first round last season by Detroit after a strong season, so the Ducks have plenty to prove. They're also riding the emotions of beloved wing Teemu Selanne's final season.
Prediction: Anaheim in 6.
CENTRAL NO. 1 COLORADO (52-22-8) vs. WILD CARD NO. 1 MINNESOTA (43-27-12)
Season series: Colorado, 4-1.
Goalies: Colorado's Semyon Varlamov has been among the league leaders in save percentage all season (.927), but must prove it in the postseason where he has a career 10-9 record. Speaking of proving it in the postseason, Minnesota's Ilya Bryzgalov was 7-0-3 in 10 starts with a 1.65 goals-against average before Sunday's sluggish season finale, but he's 8-14 in his last 22 playoff starts as the No. 1 goalie, allowing 78 goals.
Key players: Only five teams allow more shots per game than Colorado (32.6) and none of them made the playoffs. Goalies are always critical to playoff success, but for the defensively suspect Avs and Varlamov, that goes double. The same goes for Minnesota, which made the playoffs despite no goalie starting more than 26 games or playing more than 29. Bryzgalov has been a train wreck in past postseasons. He's getting another shot.
Key stats: Colorado is 34-0-2 when leading after two periods, tops in the NHL. Minnesota's Dany Heatley was a minus-18 in 76 games. That ranks 843rd in the NHL.
Breakdown: Minnesota's season was saved when it rallied for three third-period goals to win at Phoenix on March 29. The Wild were in a free fall at the time, having won just four times in 12 games. But the Phoenix win started a 6-1 run heading into the season finale. Minnesota is predicated on defense. The Wild were allowing 2.36 goals per game, the sixth-best mark in the NHL — slightly less than they score (2.42) per game. Due to better depth, the Wild were able to withstand key injuries to captain Mikko Koivu and second-leading scorer Zach Parise. Colorado is the most surprising team in the NHL. Picked by many to miss the playoffs due to defensive deficiencies, the Avs came close to nabbing the top seed in the superior Western Conference and overtook both Chicago and St. Louis for the Central crown. Colorado's forward skill is as good any team with Matt Duchene (injured), Gabriel Landeskog, Ryan O'Reilly, Nathan MacKinnon and Paul Stastny. Coach of the Year candidate Patrick Roy drives the Avs and has them believing, but can this style fuel a deep postseason run?
Prediction: Colorado in 6.
CENTRAL NO. 2 ST. LOUIS (52-23-7) vs. CENTRAL NO. 3 CHICAGO (46-21-15)
Season series: St. Louis, 3-2.
Goalies: Few Stanley Cup-winning goalies inspire less confidence than Chicago's Corey Crawford, but he's played well since returning from a lower-body injury on Jan. 2. Crawford is tied for 20th in save percentage at .917 on a team that plays loose. No goalie will be under more pressure to perform than St. Louis' Ryan Miller after he was acquired to be the final piece for a Cup run. Miller's save percentage in his last 11 games is barely above .800.
Key players: Aside from Miller, St. Louis must prove it can score enough to complement its hard-checking, tight defensive game. The banged-up Blues scored two goals or fewer in all eight April games, losing their final six. If Alex Steen and David Backes can't get it going, St. Louis could falter like last postseason, when its 1.67 goals a game led to an L.A. sweep. Chicago's Michal Handzus, 37, will try to reprise his 2013 postseason role as the No. 2 center. This has been a hole in the Chicago lineup for years.
Key stats: Chicago's penalty-killing unit is ranked 20th in the NHL at 81.4 percent. St. Louis has won one playoff series in the last 10 seasons.
Breakdown: One month ago, St. Louis looked like the Stanley Cup favorite and Chicago looked like it was settling into a post-Cup malaise. But while the Blackhawks will get rested stars Jonathan Toews and Patrick Kane back for the playoffs and look to be relatively healthy, St. Louis is dealing with a laundry list of injuries to forwards. T.J. Oshie (head), David Backes (foot), Vladimir Tarasenko (hand), Brenden Morrow (foot), Vladimir Sobotka (lower body) and Patrik Berglund (shoulder), who all missed the season finale. The Blues have been under intense pressure ever since acquiring Miller, but St. Louis hasn't been to the Stanley Cup Finals since 1970 and hasn't been to the conference finals since 2001. Chicago has looked disinterested at times this season after winning its second Cup in the past four years. The Blackhawks' defensive play and penalty killing have been nowhere near the level of those two Cup-winning teams, but there is a mind-boggling level of playoff experience and skill on this roster with Toews, Kane, Marian Hossa, Patrick Sharp and Duncan Keith all warranting the world-class player label.
Prediction: Chicago in 6.
PACIFIC NO. 2 SAN JOSE (51-22-9) vs. PACIFIC NO. 3 LOS ANGELES (46-28-8)
Season series: Los Angeles, 3-2.
Goalies: Sharks coach Todd McLellan hasn't said whether Antti Niemi or Alex Stalock will start Game 1, but Niemi (2.39 GAA, .913 save percentage) has vast postseason experience, having played in 56 playoff games and won a Stanley Cup with Chicago in 2010. Stalock (1.87, .932) has never played in the postseason. Jonathan Quick, the 2012 Conn Smythe winner, makes L.A. a perennial threat with career postseason numbers of 2.03 and .929.
Key players: Sharks forward Joe Pavelski has been a consistent postseason scorer, but San Jose will benefit from the return of forwards Tomas Hertl and Raffi Torres, who are both recovering from knee injuries/surgery, and are expected to play. Hertl had 25 points in 35 games before the injury. Torres brings a gritty, physical, get-under-your-skin presence. L.A. center Anze Kopitar will need his trademark possession and defensive games in order. He regularly plays against the Logan Couture-Patrick Marleau combination.
Key stats: San Jose and L.A. are tied for second in faceoff-winning percentage at 52.8.
Breakdown: Of all the first-round series, this one may boast the best center depth with Joe Thornton, Couture and sometimes Pavelski matching Kopitar, Mike Richards and Stoll. That's where the possession game starts so that's where this series could be decided. There's also the fact that both goaltenders have strong track records of playoff success, with both having won Stanley Cups. Since the 2011 playoffs, the road team has lost 20 of the last 22 games in this series. That may not be as big a factor in the postseason, but the Sharks have home-ice advantage and they are eyeing payback after L.A. knocked them out of the conference semifinals in seven games last season. Given both teams' ability to play the hard, heavy style emblematic of the postseason, this may be the most hotly contested series in the West. Los Angeles never seems to dominate the regular season but we still like the Kings' built-for-playoffs roster and their history in the clutch.
Prediction: L.A. in 6.
ATLANTIC NO. 1 BOSTON (54-19-9) vs. WILD CARD NO. 2 DETROIT (39-28-15)
Season series: Detroit, 3-1.
Goalies: Boston's Tuukka Rask (.930 save percentage) may be the best goalie in the game and has a proven track record in the postseason, having led the Bruins to the Cup Finals last year. Detroit's Jimmy Howard is no slouch, but he'll be facing the NHL's deepest forward group and the league's third-highest scoring team.
Key players: For Detroit, it has to be Howard. The Red Wings are as well coached as any club and they did win the season series, but they have no chance against the NHL's best club unless Howard steals games.
Key stats: Boston is ranked among the NHL's top three in goals for, goals against and power-play percentage. As of Saturday, Detroit had lost more man games to injury (412) than any team but Pittsburgh. It's hard to pick one player for by-committee Boston, but center Patrice Bergeron is one of the best two-way players in the game and will be counted on for high offense and shutdown defense against Detroit's skill, perhaps matching up with Wings center Pavel Datsyuk.
Breakdown: Boston established itself as the Stanley Cup favorite when it won 12 straight games and 15 of 16 in March. It is hard to find a weakness in the Bruins' balanced lineup, which features six players with 51 or more points in David Krejci, Bergeron, Jarome Iginla, Milan Lucic, Brad Marchand and Reilly Smith, the younger brother of Detroit defenseman Brendan Smith. Boston doesn't have the best speed in the NHL, but the Bruins are maniacally disciplined and take care of all the details. Defenseman Zdeno Chara, a Norris Trophy candidate, logs an average of 24:39 per game and touches all parts of the game with his vast wingspan and versatility. Detroit was hoping to have forward Henrik Zetterberg back in the lineup after back surgery on Feb. 21, but the best-case scenario has him returning mid-first round. Without Zetterberg and forward Stephen Weiss (groin), an enormous amount of offensive pressure falls on veterans Datsyuk, Daniel Alfredsson and wing Gustav Nyquist (team-high 28 goals). The Red Wings, behind coach Mike Babcock's brilliance, will probably surprise Boston, just as they did last season with Anaheim and Chicago, but this is the one first-round matchup the Red Wings can't win.
Prediction: Boston in 5.
METROPOLITAN NO. 1 PITTSBURGH (51-24-7) vs. WILD CARD NO. 1 COLUMBUS (43-32-7)
Season series: Pittsburgh, 5-0.
Goalies: Columbus' Sergei Bobrovsky followed his Vezina Trophy-winning year with a solid .923 save percentage to tie for eighth in the NHL. He stopped 235 of 248 shots in April for a .948 save percentage. Pittsburgh's Marc-Andre Fleury posted eerily similar numbers to past his past three seasons that preceded playoff flops. He struggled down the stretch, allowing 15 goals on 157 shots in April.
Key players: Columbus' bottom three centers — Brandon Dubinsky, Artem Anisimov and Marl Letestu — will draw the unenviable assignment of defending Penguins star centers Sidney Crosby and Evgeni Malkin. Good luck with that. Fleury hasn't topped a .900 save percentage in his last four postseasons. He's the only way the Penguins can lose this series.
Key stats: Pittsburgh had lost 512 man games to injury entering the season finale — tops in the NHL by 100 games. Columbus has never won a playoff series and has only qualified for the postseason twice.
Breakdown: The Jackets followed a promising 2012-13 season by making the postseason in their first year in the weaker Eastern Conference via offseason realignment. It didn't come easily. Columbus started 5-10 and was in 14th place in the East before climbing over seven teams in five months. Since New Year'™s Day, the Blue Jackets' winning percentage is .625. They also set franchise records for victories (43), road victories (21) and goals (231). But Columbus couldn't overtake the Philadelphia Flyers for sixth place in the East. That means they couldn'™t escape facing one of the East's two truly elite teams in the first round. Pittsburgh overwhelmed the Jackets in five games this season, outscoring them 16-7. Columbus led for a total of 56 seconds in the season series. Pittsburgh had its own issues down the stretch, but defenseman Kris Letang has returned to the lineup 10 weeks after suffering a stroke and the Penguins still have all that firepower at their disposal.
Prediction: Pittsburgh in 5.
ATLANTIC NO. 2 TAMPA BAY (46-27-9) vs. ATLANTIC NO. 3 MONTREAL (46-28-8)
Season series: Tampa, 3-1.
Goalies: Tampa's Ben Bishop (.924 save percentage) left the Lightning's game on Tuesday against Toronto with an elbow injury and is out indefinitely. The Lightning have won 43 games. Bishop has been in goal for 37 of them. 'Nuff said. Montreal's Carey Price has the third-highest save percentage among current starters (.927) and the confidence of winning an Olympic gold medal.
Key players: Tampa backup goalie Anders Lindback has a goals-against average of 3.26, and a save percentage of .878. If he has to play — and it looks like he will — Tampa could be sunk.
Key stats: Montreal reached 100 points for just the second time since winning the Stanley Cup in 1993.
Breakdown: This looks like a good draw for Montreal in light of the injury to Bishop. The Canadiens played well down the stretch (7-2-1) and nearly overtook Tampa for home ice in this series. Diminutive forward Max Pacioretty had 39 goals for Montreal and mercurial defenseman P.K. Subban had a good year with 10 goals and 53 assists. The Canadiens' depth was helped by two trade deadline additions that have panned out, forwards Tomas Vanek and Mike Weaver. Montreal lacks size in its lineup, but the Canadiens have plenty of skill and experience. Tampa has overcome so much adversity this season, including Steven Stamkos' broken shin bone and the trade of Marty St. Louis, that Bishop's injury seems like cruel and unusual punishment. The Lightning have four 20-goal scorers in Stamkos, Valterri Filppula, Tyler Johnson and rookie sensation Ondrej Palat, but the other end is the concern now and the Lightning may have to circle the wagons to protect Lindback.
Prediction: Montreal in 5.
METROPOLITAN NO. 2 NEW YORK RANGERS (45-31-6) vs. METROPOLITAN NO. 3 PHILADELPHIA (42-30-10)
Season series: Tied, 2-2.
Goalies: New York's Henrik Lundqvist, who posted a .920 save percentage this season, is still among the best in the business and may be the Rangers' greatest advantage in this series. The Flyers? Goaltending hasn't been a strength since Ron Hextall played in the 1990s, but Steve Mason (.917 save percentage, 60 starts) was a big reason Philadelphia righted the ship and got back into the playoff picture after a 4-10-1 start.
Key players: Rangers top defenseman Ryan McDonagh says he is "ready to go" for the playoffs after a shoulder injury suffered April 1. That's a huge relief for New York, which needs his offense and minutes against Flyers star Claude Giroux. Mason suffered an upper-body injury and didn'™t return after a collision in the second period on Saturday. The Flyers can't afford to lose their goalie for any stretch of this series behind an already suspect defense. Ray Emery has not played well as the backup.
Key stats: The Rangers reached the 45-win plateau for just the second time since their 1993-94 Stanley Cup season. Penalty-prone Philadelphia has been shorthanded more times (316) than any other team.
Breakdown: The in-state Pennsylvania rivalry between Pittsburgh and Philadelphia gets a lot of attention, but the Rangers-Flyers rivalry is every bit as heated, with fans regularly riding the trains between the cities to attend games in each other's buildings. It's Broadway Blueshirts vs. Broad Street Bullies in the postseason for the first time since the 1997 Eastern Conference finals when Eric Lindros and the Flyers eliminated Mark Messier, Wayne Gretzky and the Rangers, 4 games to 1. The Rangers have won the last eight meetings with the Flyers at Madison Square Garden by a combined 31-9 score. Rangers right wing Mats Zuccarello has had a terrific season for New York, eclipsing last season's numbers with career highs in goals (19), assists (40) and points (59). Equally impressive for the Flyers is wing Wayne Simmonds, who has a team-high 15 goals on the power play, with 27 goals and 58 points overall, and will create problems for the Rangers in the corner and in front of the net. This series promises to be physical.