D-backs minor-league report: Visalia's Young is pitcher of the week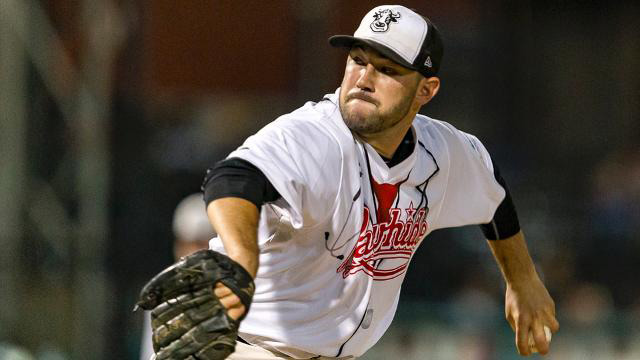 Visalia left-handed Alex Young was named the California League Pitcher of the Week after needing only 88 pitches in a 2-1, nine-inning complete game victory over Inland Empire on Friday night.
Young, a second-round draft pick out of TCU in 2015, gave up four hits, struck out six and did not walk a batter. Inland Empire's only run came in the ninth inning and was unearned as a result of an error by left fielder Cody Regis.
Friday's gem came following a six-inning, one-hit, no-run effort for Young in his previous start. In his last three starts for the Rawhide, he's given up 12 hits, four walks and one earned run in 21 innings.
Young didn't throw more than 15 pitches in any of the nine innings on Friday night.
"He just kept throwing strikes, and they kept swinging," Visalia pitching coach Jeff Bajenaru told MILB.com. "It was a rare game and one as a pitching coach that you dream about."
Young is 5-4 with a 2.90 ERA for the year in 16 starts at two levels — Kane County and Visalia. He has 70 strikeouts in 93 innings.
AROUND THE HORN
Triple-A Reno: Left-hander Anthony Banda continued his impressive pitching for the Aces on Sunday, giving up four hits, no walks and one run over seven innings in an 8-4 victory over Salt Lake. Banda struck out eight and improved to 4-3 with a 4.27 ERA for Reno. He's given up two earned runs or fewer in five of his last six starts, and counting his work at Double-A Mobile, he's 10-5 with a 2.93 ERA for the season.
Second baseman Ildemaro Vargas was 4 for 5 in Sunday's victory to raise his batting average to .382 in the 22 games since he was promoted from Mobile.
Double-A Mobile: Second baseman Domingo Leyba has three consecutive two-hit games for the Bay Bears and his hitting .364 in 19 games since being promoted from Visalia.
Short-season Hillsboro: Catcher Luke Lowery was 5 for 5 with a home run in the Hops' 9-7 victory over Everett on Sunday.
Arizona League D-backs: A.J. Pollock doubled and walked in three plate appearances as the designated hitter Sunday in his second rehab game with the AZL D-backs. Pollock is recovering from a broken elbow and is hoping to be ready for major league action by September.
Catcher Andy Yerzy, the D-backs' second-round draft pick in June, has a seven-game hitting streak, including a four-hit night on Friday. The 18-year-old from Canada is hitting .256 and has yet to homer in his 21-game professional career.