Coyotes, local group help spur hockey's growth in Ariz.
GLENDALE, Ariz. — When the Glendale City Council two years ago voted to approve a 15-year arena lease agreement with the Coyotes, members of Glendale First, a citizens committee dedicated to keeping the team in Arizona, wanted to express their gratitude in the form of community service.
"We saw there was a need to bring in more kids to help grow the game of hockey in Arizona," Desert Hockey Development chairman George Fallar said. "It gave us something to do to stay involved in the community, but it also helped remove some of the stigma we had earned for ourselves over the past two or three or four years of fighting politically to keep the team in town."
While the group's gratitude toward Glendale may feel misplaced, given the city council's recent efforts to void its agreement with the Coyotes, members of Desert Hockey Development have no regrets about the fruits of their labor.
On Saturday, on the ice-less floor of Gila River Arena, 90 kids turned out for a free ball hockey clinic with volunteer instructors teaching them the proper way to hold a stick, the basic rules and structure of the game and the various arts of the wrist shot, slapshot, backhander and stick-handling.
"We call it 'lighting the lamp,'" Fallar said. "You'll see a new kid pick up a stick for the first time and he's holding it backwards. By the time they're done, the light bulb goes on and they've learned a little about the game. More importantly, they're running around screaming and having a great time playing hockey."
Fallar said more than 500 kids have come through the program so far and there is a huge waiting list the group can't yet accommodate.
Glendale resident Ryleigh Flagler, 11, has been to a few Coyotes games but she wasn't sure she wanted to play until her mom, Regina, gave her a gentle nudge to participate in the group's first clinic in January of 2014. Flagler hasn't missed a clinic since.
"A lot of people say hockey in the desert doesn't exist but it does and we love it," Regina Flagler said. "I wanted her to have some exposure."
Phoenix has long been viewed as a non-traditional hockey market by the NHL's more established markets, but in its annual report on state-by-state participation, released last week, USA Hockey reported a 51 percent increase in amateur hockey participation in Arizona.
Pat Kelleher, USA Hockey's Assistant Executive Director of Development, said the majority of that growth was at the youth level. Part of that growth is attributed to more uniformity in the state, with associations that previously weren't under USA Hockey's umbrella now in the fold, but Kelleher said that the numbers also indicate real growth.
"Everybody is on the same page, including the Coyotes, and you're seeing some of the product of the efforts they're putting in," he said.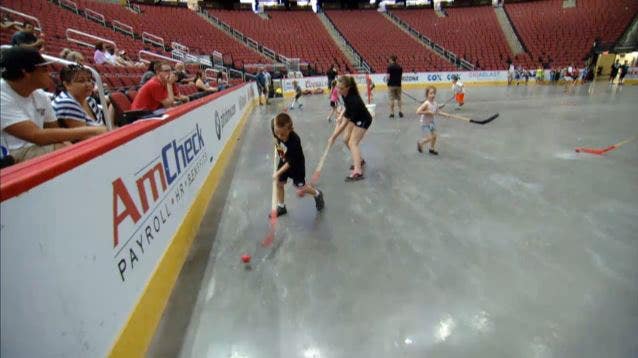 With Arizona State moving to Division I hockey, Scottsdale product Auston Matthews the presumed No. 1 pick in next year's NHL Draft, and retired NHL players such as Ray Whitney and Derek Morris joining the ranks of youth coaches, Kelleher said the state is laying the foundation for future success.
There are only 12 ice sheets available in the Valley, but Kelleher said that number isn't as low as some make it out to me when gauging the accessibility of the sport. He said it is difficult to measure whether street hockey eventually translates into ice hockey for kids, but there are strong indications that it helps.
"For any market to grow it has to continually introduce new kids to the game," Kelleher said. "There's always a new group of 6-year-olds, so it's all about: 'How do we get parents to bring kids to the rink to try hockey?'"
DHD's digs weren't always so cushy. When the group formed, it approached the city about using one of its parks to conduct clinics. Bonsall Park is in former councilmember and agreement opponent Norma Alvarez's Ocotillo district.
"We typically work in areas of town that are disadvantaged," DHD secretary and co-founder Bea Wyatt said. "We knew the City of Glendale did not have the funds to offer free clinics to kids; there are no free sports available in the City of Glendale."
So DHD renovated the rink and then helped a huge cast of Coyotes and the national non-profit KaBOOM! transform the park's playground. In exchange for DHD's initial work, the city allowed it free use of the park to conduct its clinics.
That works well eight months out of the year, but the hot summer months proved challenging so the Coyotes approached DHD about moving the clinics inside Gila River Arena when it was too hot outside.
"I reached out to them and said 'what you guys do is exactly what we do with the schools during the week except now it gives them a thing to do on the weekend," said Matt Shott, the Coyotes manager of amateur hockey development. "It was a no brainer of a partnership. Their big thing is making it as inexpensive as possible so we want to be able to provide that for them as much as possible."
The arena wasn't the only assist the Coyotes provided.
"The Coyotes have been an amazing partner in so many ways," Wyatt said. "They helped with the initial equipment donation of stick and balls, they taught us how to be coaches so we could teach clinics and whenever we need to call attention to one of our events they'll send out a tweet and it has a huge impact."
Aside from the Coyotes' help, all of the money for DHD's clinics comes out of the founding members' pockets. Most of the associated costs are for insurance and feeding the kids Hebrew National hot dogs and Granola bars after the clinics.
The thrill of playing is enough of a draw for the kids, but on occasion, Coyotes players show up at the events, creating a major distraction for the players, and especially the parents.
Coyotes defenseman Connor Murphy attended Saturday's event and spoke to the kids. In assessing the importance of player appearances, Murphy recounted a story of meeting former Atlanta Thrashers forward Dany Heatley while he was still a kid.
"He walked in front of me going into a restaurant and he just said 'hi' and patted my head," Murphy said. "I remembered it my whole life
"Little things like that, you see how far they go and you see how much it affects these kids. It's such an easy thing for us to do."
Having grown up in the suburbs of Miami and Atlanta while his dad, Gord, was playing in the NHL, Murphy believes wholeheartedly in the value of street hockey as a transition to ice hockey.
"You actually gain a lot of skill, and development doing stuff of the ice because you can try a lot of stuff," he said. "You don't have to worry about being cut off with 45 minutes to an hour of ice time.
"With the weather and the shortage of rinks compared to being in Canada, it's expensive to get ice and play hockey. For kids to be able to play hockey in any fashion — whether it's roller hockey or floor hockey — it all counts the same. As long as they're enjoying the game, that's all that matters."