Lengthy list of Sun Devils preparing for NFL opportunities
A year ago, the NFL Draft came and went without a single Sun Devil selected for the first time in more than 50 years. This year, there's no worry about a repeated disappointment.
All-American defensive tackle Will Sutton and linebacker Carl Bradford seem certain to be drafted, perhaps in the draft's first three rounds; running back Marion Grice also is a strong possibility; and several others fall somewhere in the possible-late-round or undrafted-free-agent categories.
Here's a rundown of the draft prospects for the Sun Devils' NFL hopefuls.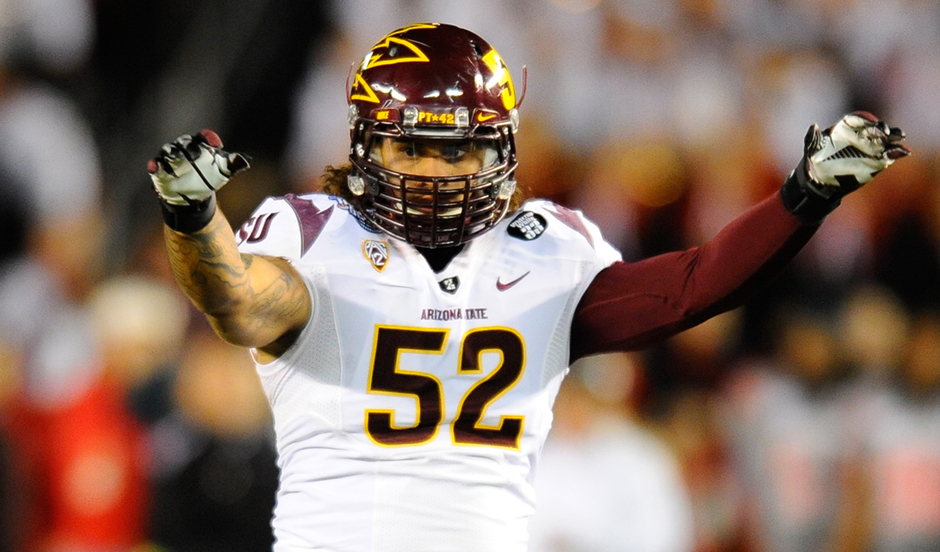 Based on recent buzz, Bradford could end up being ASU's highest drafted player, which would certainly validate his decision to forego his senior season.
Bradford, ASU's leader in tackles for loss last season, had a solid performance at the NFL Scouting Combine but seemed to raise his stock most at ASU's pro day with an improved 40-yard dash time and a strong showing in on-field drills. That performance led to visits with the San Francisco 49ers, San Diego Chargers and Pittsburgh Steelers. The Atlanta Falcons and New England Patriots also worked Bradford out locally, and Cardinals general manager Steve Keim said last week he admires Bradford's versatility and motor.
While Bradford was primarily a down lineman as ASU's hybrid "Devilbacker," the common perception is that he'll be a standup linebacker in the NFL, either on the outside or inside. Bradford says he's comfortable with either.
Multiple rankings services list Bradford as a potential second- or third-round pick.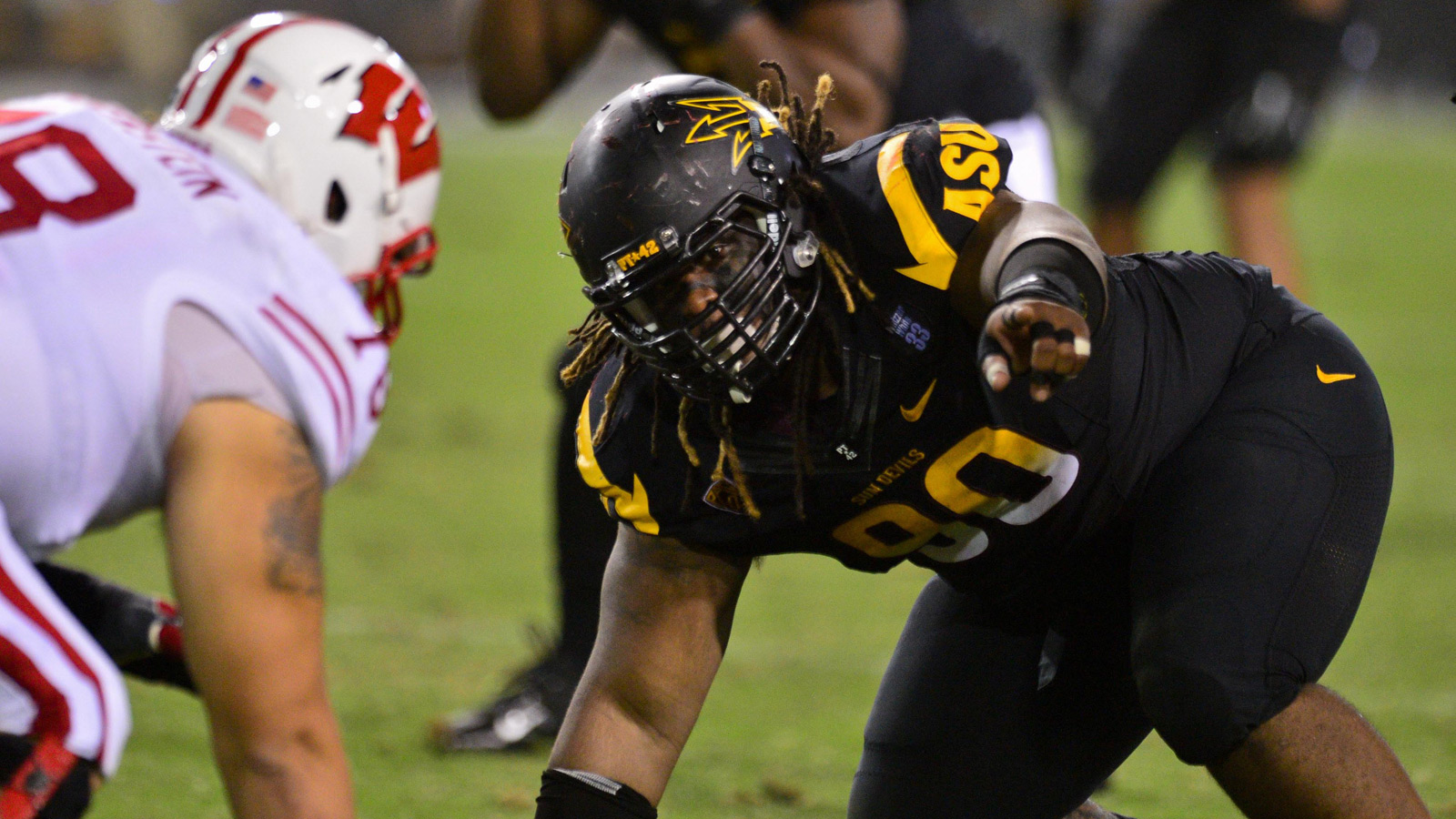 Though he repeated as the Pac-12's Defensive Player of the Year, Sutton's draft stock remains subject of debate.
Sutton, who hasn't given any interviews since the Combine, drew criticism early in the season for having added "bad weight" in the offseason and apparently losing some explosiveness. The criticism dissipated later in the season, as Sutton had a solid year despite a statistical dropoff that that could be at least partly attributed to increased attention from opposing offenses.
At the Combine, Sutton didn't do much to help himself, especially with a 5.36 in the 40-yard dash. He had a better time at ASU's pro day and also has shed some weight, coming in below 300 pounds — close to his playing weight at the end of his stellar 2012 season.
He is most frequently projected as a second- or third-round pick.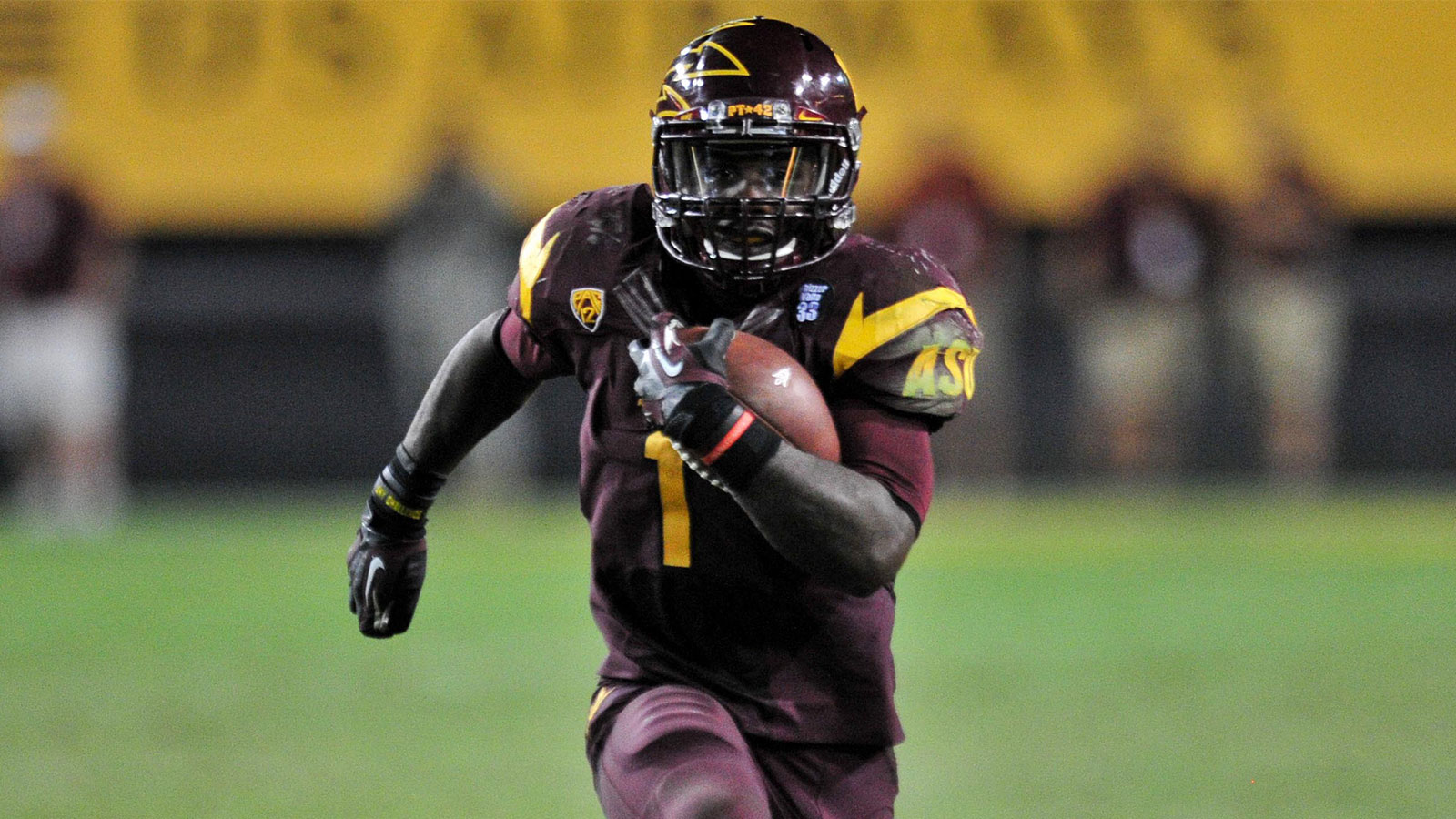 A broken fibula that ended Grice's season on Nov. 23 likely took a toll on Grice's prospects, but he's maintained a positive attitude.
"It actually kind of gave me more time to prepare," Grice said. "If people want to judge me off that, that's fine, but whatever team picks me won't regret it at all."
Grice held his own pro day in April that drew about a dozen NFL scouts, who saw a healthy, agile runner. The scouts also seemed eager to see Grice as a receiver, which he believes makes him a more valuable running back in today's NFL.
"That helps me a lot," Grice said. "It's turned into a passing league, so if you can't catch, it's going to hurt you."
That versatility and Grice's knack for finding the end zone has attracted a good deal of interest. The Redskins had Grice in for a visit, and he also worked out for the Texans and Patriots.
Grice is projected by most services as a third-day draftee.
A second-team All-Pac-12 selection last season, Irabor was quietly one of the more efficient cornerbacks in the conference.
At 5-11, he's average in size, and he's never been a flashy player. He wasn't happy with some of his pro day numbers, but he has always made technique his calling card anyway.
"My position is all about technique, being able to move your feet, getting in and out of your breaks," Irabor said. "Just showing them that is the most important part."
Irabor said he was disappointed to not receive an invitation to the Combine.
"You've got to play with the cards you're dealt and move on," Irabor said. "When I get into camp I'll have my opportunity just to show everyone I am a good player and I can play at that level."
Irabor, who has been training in California, is projected to go in the final round of the draft or as a free agent.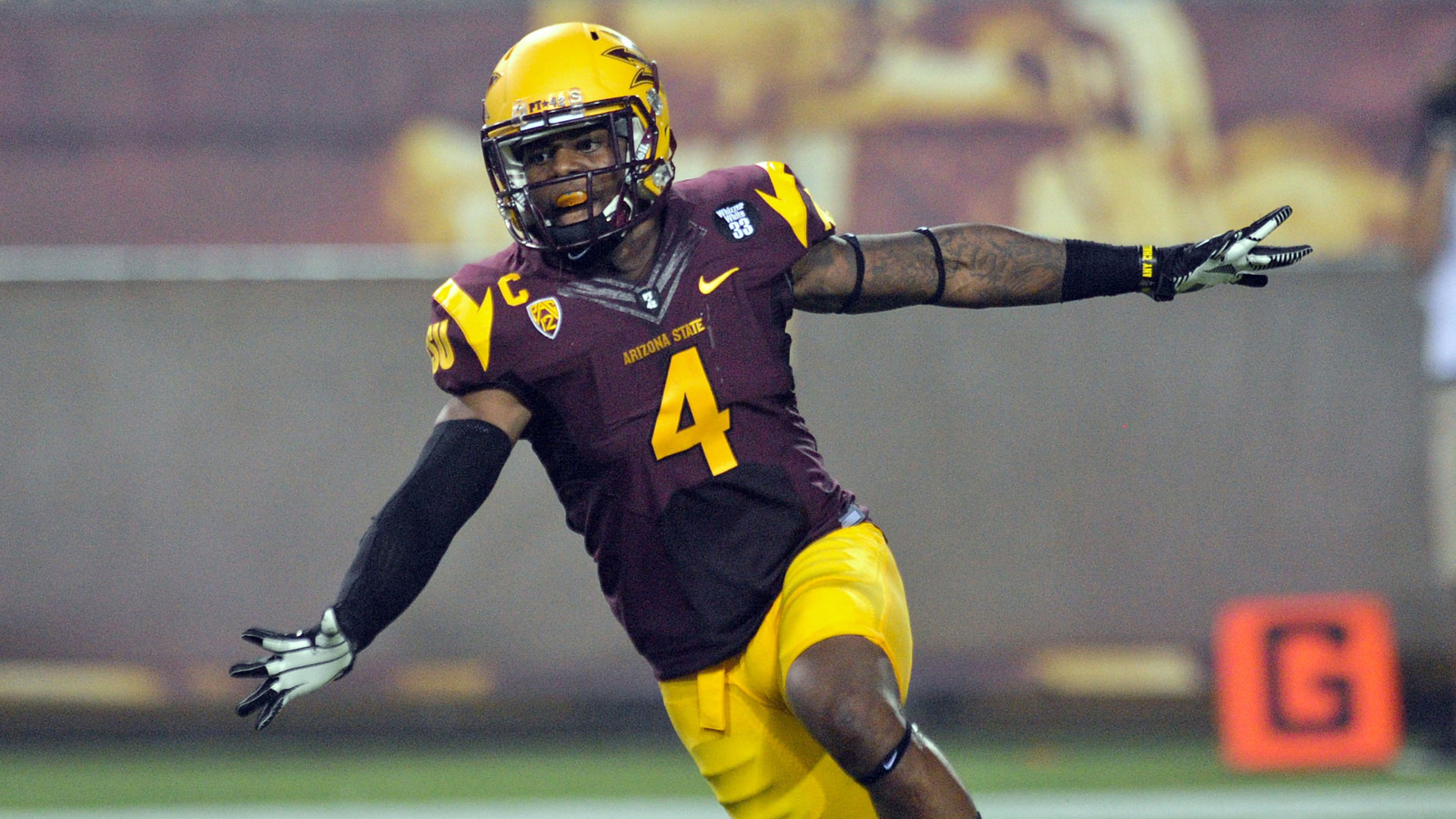 Darby, a first-team All-Pac-12 safety, said he has worked out for the Chargers, Patriots, Raiders and Falcons.
He's considered versatile enough to play nickel corner at the next level.
"It's really wherever they need me, I'll play," Darby said. "Whichever one they want me at, I'll fine tune my techniques and make it happen."
He demonstrated strong intangibles and a knack for big plays as ASU, and his on-field energy was unmatched. That figures to get him at least a free-agent contract, if not a call on the third day of the draft.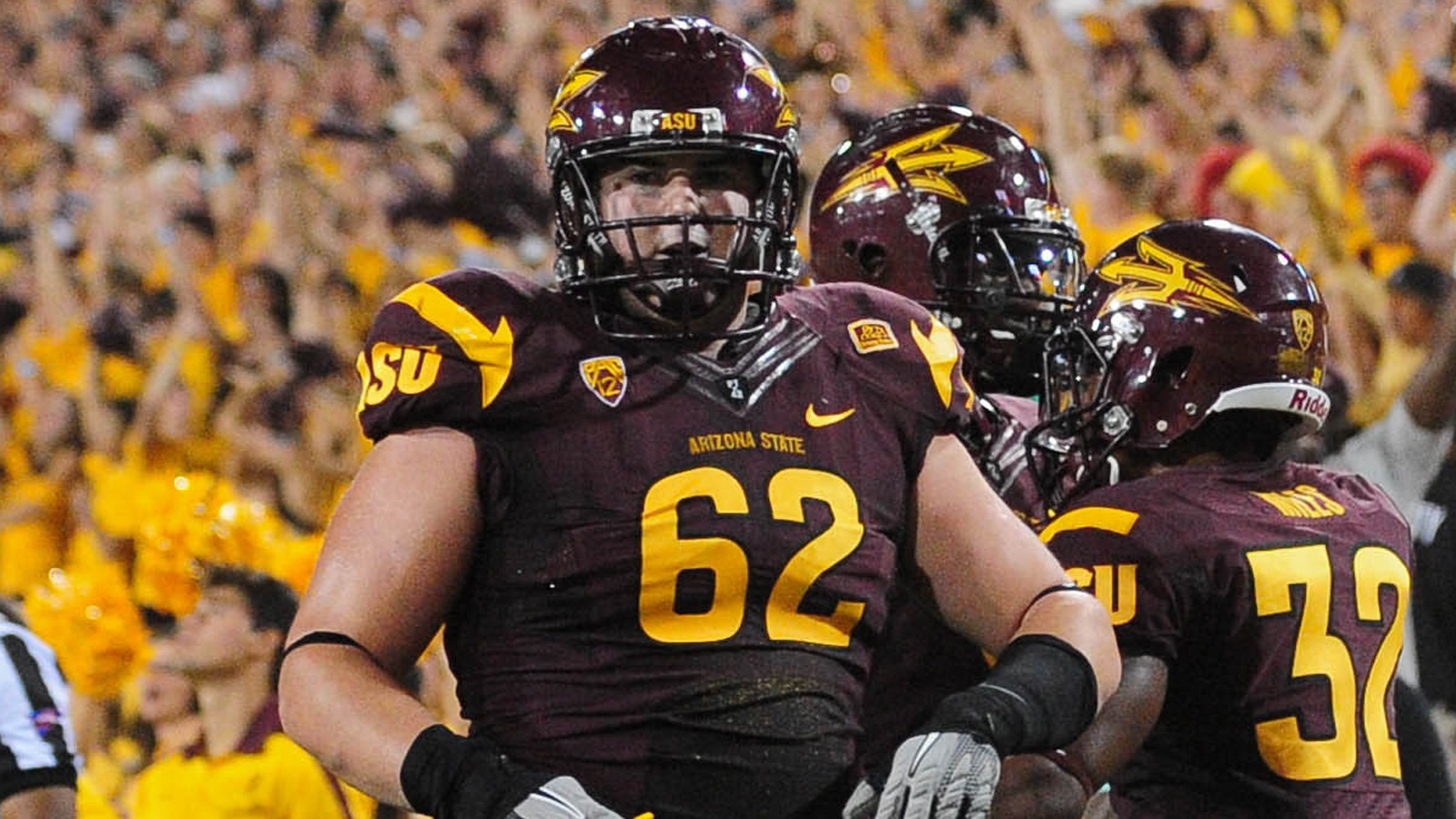 Finkenberg could be a dark-horse draft pick. A four-year starter at ASU, he said he has heard from 10 to 12 teams, with the Chargers, Jaguars and Broncos reaching out multiple times.
A few teams told him he is on their draft board, but Finkenberg understands the fluid nature of the draft.
"Every team can say whatever they want to, but it's up to them once the actual time comes whether they're going to pick your name or not," Finkenberg said. "I understand it's a very complicated kind of process and there's not much you can control at this point."
A starter at left tackle in college, Finkenberg has been told almost unanimously he projects best as a guard in the NFL. Finkenberg is confident the transition inside won't be too difficult due to his athleticism.
"They like that I'm an experienced player, having started 48 games in college and having played at a Pac-12 school against top competition for pass rushers," Finkenberg said.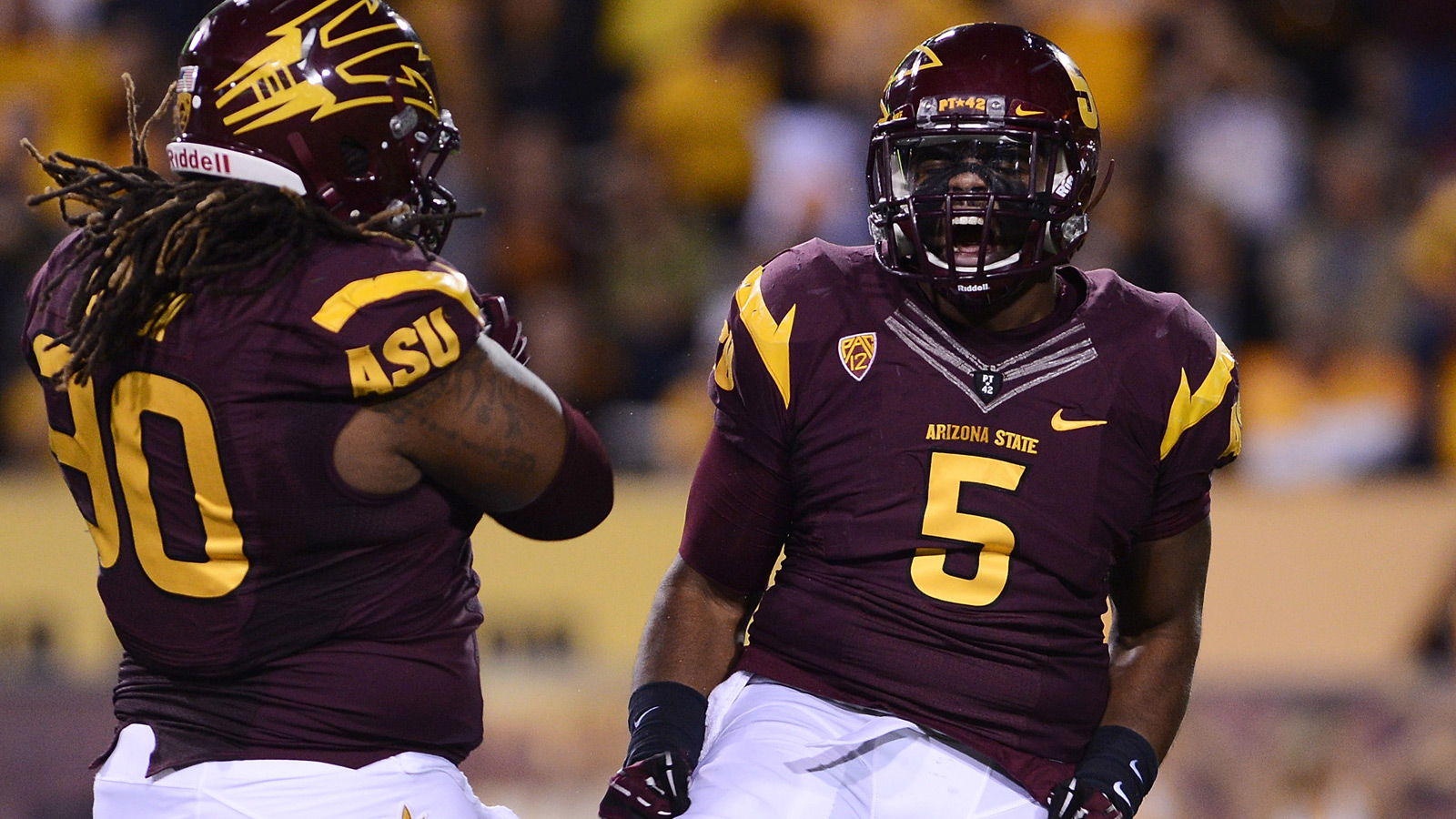 Young led ASU in tackles and was second in tackles for loss, but beyond that, he showed outstanding intelligence and instincts.
Those intangibles get noticed by NFL scouts, but what might give team pause is his size. He bulked up for his senior season so he could move to will linebacker, more of a run-stopping position. One ASU coach believes Young will need to drop some of the weight to play in the NFL.
Young, who was unavailable for comment, is regarded as a likely late-round pick or undrafted free agent.
Coleman was one of ASU's breakout players on defense in 2013 and wound up leading the team in sacks — no small accomplishment on a team that features Bradford and Sutton.
He followed that up with an outstanding showing at ASU's pro day. He led all participants with 35 reps on the 225-pound bench press and garnered attention from scouts after on-field drills. But Coleman might have harmed his chances by betting suspended from ASU's Holiday Bowl appearance. At the very least, he's had to answer some questions about his character.
Coleman said he visited with the Dallas Cowboys and has talked to several teams.
"Most of the teams like my versatility," Coleman said. "I really like playing inside, but I also really like being versatile. I like being moved around, so I'd play all four positions if I could. The more ways they can use you, obviously that helps."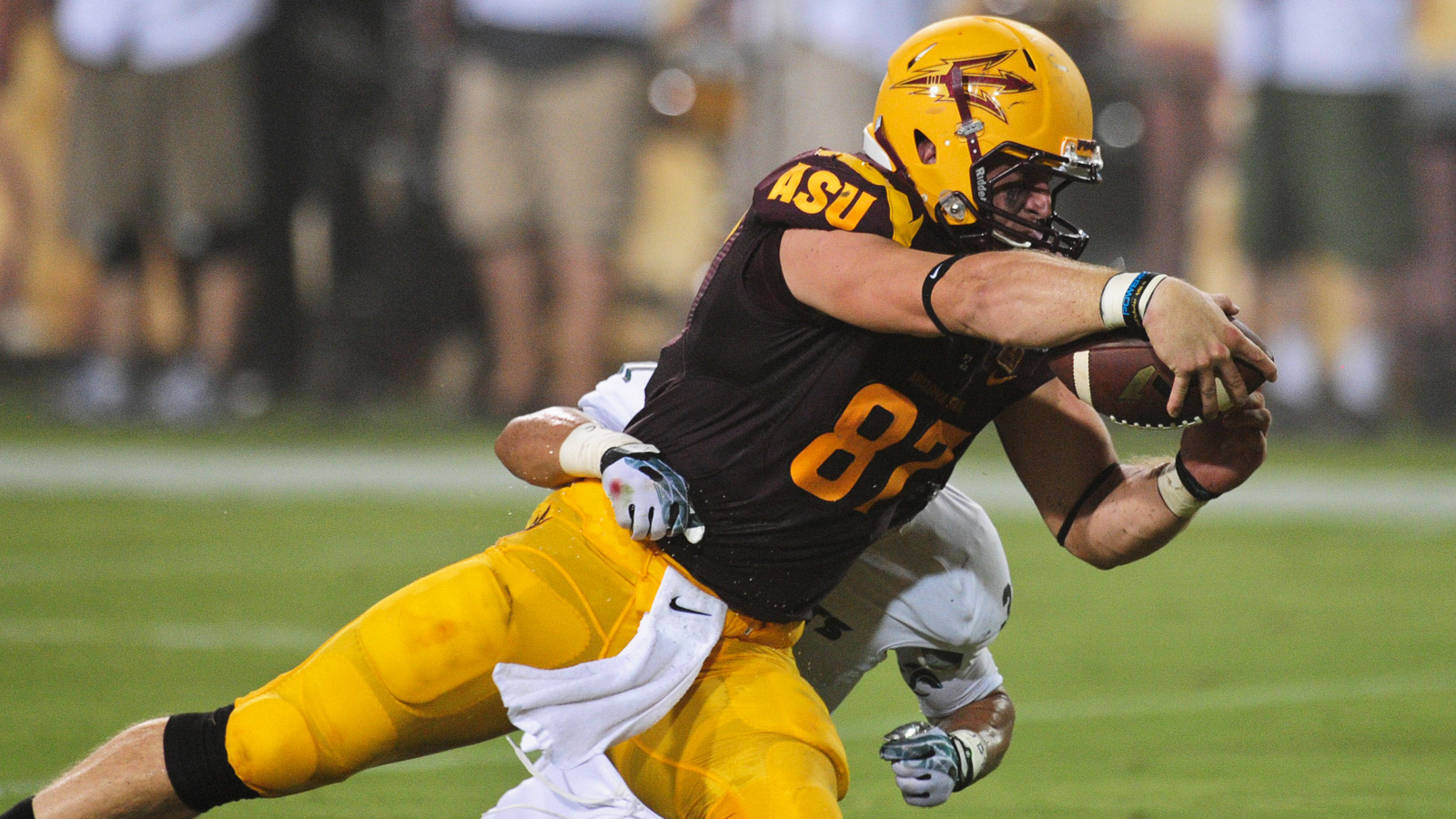 Coyle, perhaps ASU's most reliable receiver the past two seasons, said he has heard from 15 or so NFL teams, with the Eagles, Chargers and Cardinals among them. The level of interest has varied, Coyle said, but there's no doubt Coyle will get an opportunity.
"I definitely have interest," Coyle said. "Whether or not that means I could get picked up in the draft, I'm not really worrying about it. I'll be happy to get any sort of opportunity, whether it's drafted or undrafted, because it's all about longevity."
Teams have told Coyle they like him as an "H-back" and a motion tight end who can get downfield to create mismatches for other receivers. Coyle's excellent hands and toughness should be assets as well.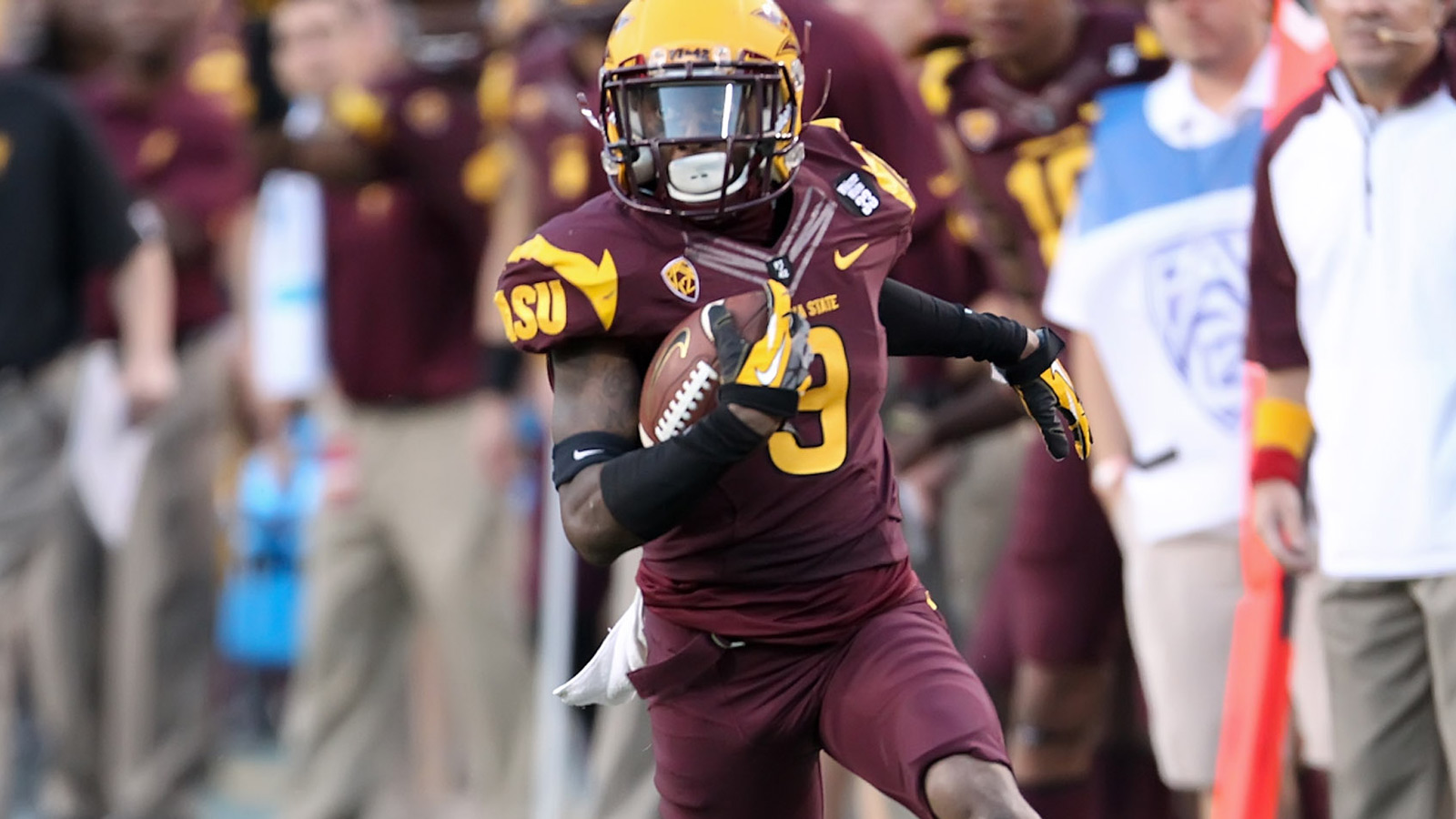 Everywhere Robert Nelson has gone, he's had to prove himself. As the draft and his NFL future approaches, he's ready to do it again.
"It's been that way all my life," Nelson said. "I'm used to it, and I have to play with a chip on my shoulder."
That chip made Nelson a first-team All-Pac-12 selection and the conference's interceptions leader last season. Nelson, who has added 10 pounds since the end of the season, said he's heard from the Rams and Cardinals more than once, and also from the Bears and Packers.
Most teams have said told Nelson they like his nose for the ball, and at least a few have said he plays bigger than 5-foot-11. His versatility should also be attractive to potential employers.
"The more positions you can play, the better your chances are of making a team," Nelson said. "I played safety, I played nickel my junior year, and I've played corner my whole life — that's three positions they can throw me in, and then I've played all special teams."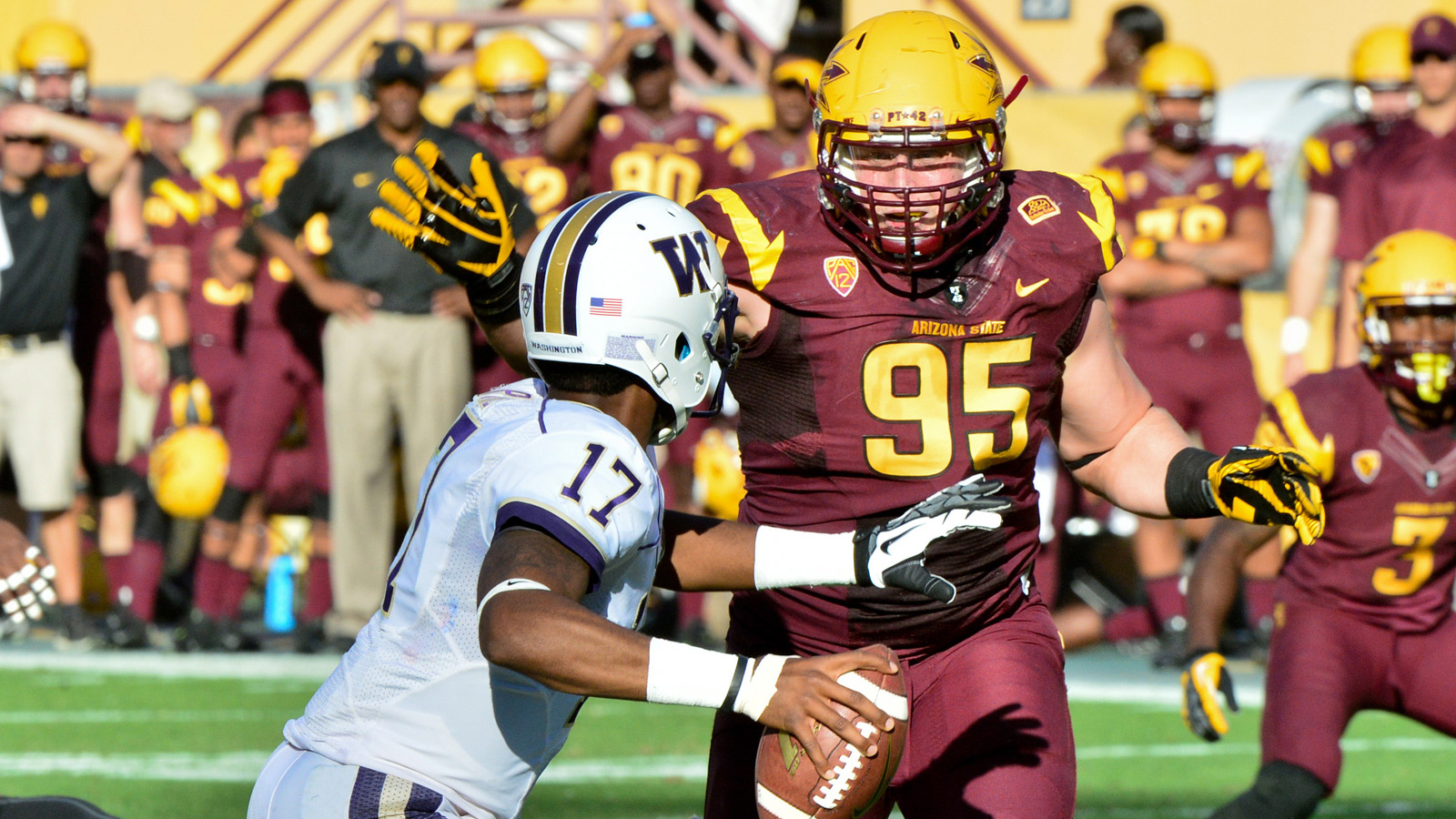 Before ASU's pro day, Conway seemed like a bit of a longshot for the NFL. He'd had a strong senior season, having gone from walk-on to impact starter at defensive end, but with little fanfare. Pro day changed that.
"I kind of sparked a little bit of interest," Conway said. "I put up some good numbers, which made people take a look at my film again and see what I can do."
Conway was among the top performers in the weight room portion of the day and garnered significant interest after the on-field portion. He has since heard from a handful of teams, including the Cardinals, Jaguars and Dolphins.
About half the teams that contacted Conway asked if he'd be willing to add about 10 pounds and play defensive tackle. Conway never played the position in college and knows it would be an adjustment, but for a shot at playing in the NFL, he's on board.
Conway laughed when asked about his expectations of the draft, mostly because he's trying not to have any. He admitted the chances seem better he'll end up signing somewhere as a free agent.
"I couldn't tell you either way what's going to happen," Conway said. "I just hopes it's a team where I'll fit."