From tanking talk to playoff hopes: How'd the Suns get here?
When the Suns put their five-game winning streak on the line against the Knicks on Friday night, there will be only 10 games left in the NBA regular season. As we prepare to count down to the finish line, we offer up this top 10 countdown of reasons they're battling for a playoff spot instead of prime slouching position for the NBA draft lottery.
No self-respecting playoff run would be made possible without assistance from some conference peers.
In this case, we'll start with the Grizzlies, who certainly have a good chance to participate in the postseason. But after reaching the conference finals last season, we expected Memphis — even with a coaching change — to be considerably more formidable.
Additional support was provided by another underachieving campaign from the still-talented-but-lottery-bound Timberwolves and a plummet into the abyss by the Lakers.
And let's not forget the Nuggets, who fired reigning Coach of the Year George Karl.
Although he's struggled lately, the Suns would have been goners if the second-year pro had failed to provide a bit of an inside presence after the trade of Marcin Gortat.
Plumlee's ability and willingness to protect the rim enabled the Suns to begin the season with better-than-reasonable results on defense. And his capacity to roll hard to the rim (and finish far above it) in pick-and-roll situations generated far more offensive openings than the Suns and their fans expected when he was acquired from the Pacers.
With rookie center Alex Len nowhere near physically ready to cut his NBA teeth, Plumlee didn't flinch when asked to rise from seldom-used Indiana project to starting Phoenix center.
One positive constant on last season's awful edition of the Phoenix Suns was the way-above-average defensive effort of Tucker.
But P.J., who returned to the NBA after being forced to find basketball employment abroad, didn't exactly offer much on the offensive end. Not satisfied to just be back in the league, Tucker spent the offseason attempting to erase his weaknesses.
That work has translated into upgrades in almost every statistical category. Tucker has increased his per-game scoring average by more than three points, his rebounds by over two and his 3-point accuracy by almost 10 percentage points.
Oh, and he's still doing defensive work against the league's top perimeter threats.
When this season began, one of the main reasons league observers expected so little from the Suns was their anticipated lack of perimeter shooting. Well, let's refer to it as perimeter making.
Sure, Frye was on the roster and cleared to play after missing all of last season with an enlarged heart, but nobody (maybe even Channing) thought he'd give the Suns 72 starts by this point in the season.
About once a month last season, teammate Goran Dragic reminded reporters that Frye's absence was killing Phoenix's ability to space the floor on offense. Even when he's not making shots, the threat of a Frye 3-pointer keeps a larger defender riding the arc.
Not only did Frye accelerate the pace of his return but he's actually increased his 3-point accuracy by two percentage points over what he shot two seasons ago while increasing his scoring average by more than a point.
In addition to on-court production, the veteran has provided leadership for a young team in need of it.
This is the guy who sort of bounced out of China a couple of years ago and was a Pacers throw-in as a part of a deal that sent Luis Scola to Indiana. Suns general manager Ryan McDonough knew Green from their days together in Boston and was very aware of how much talent he was bringing to Phoenix.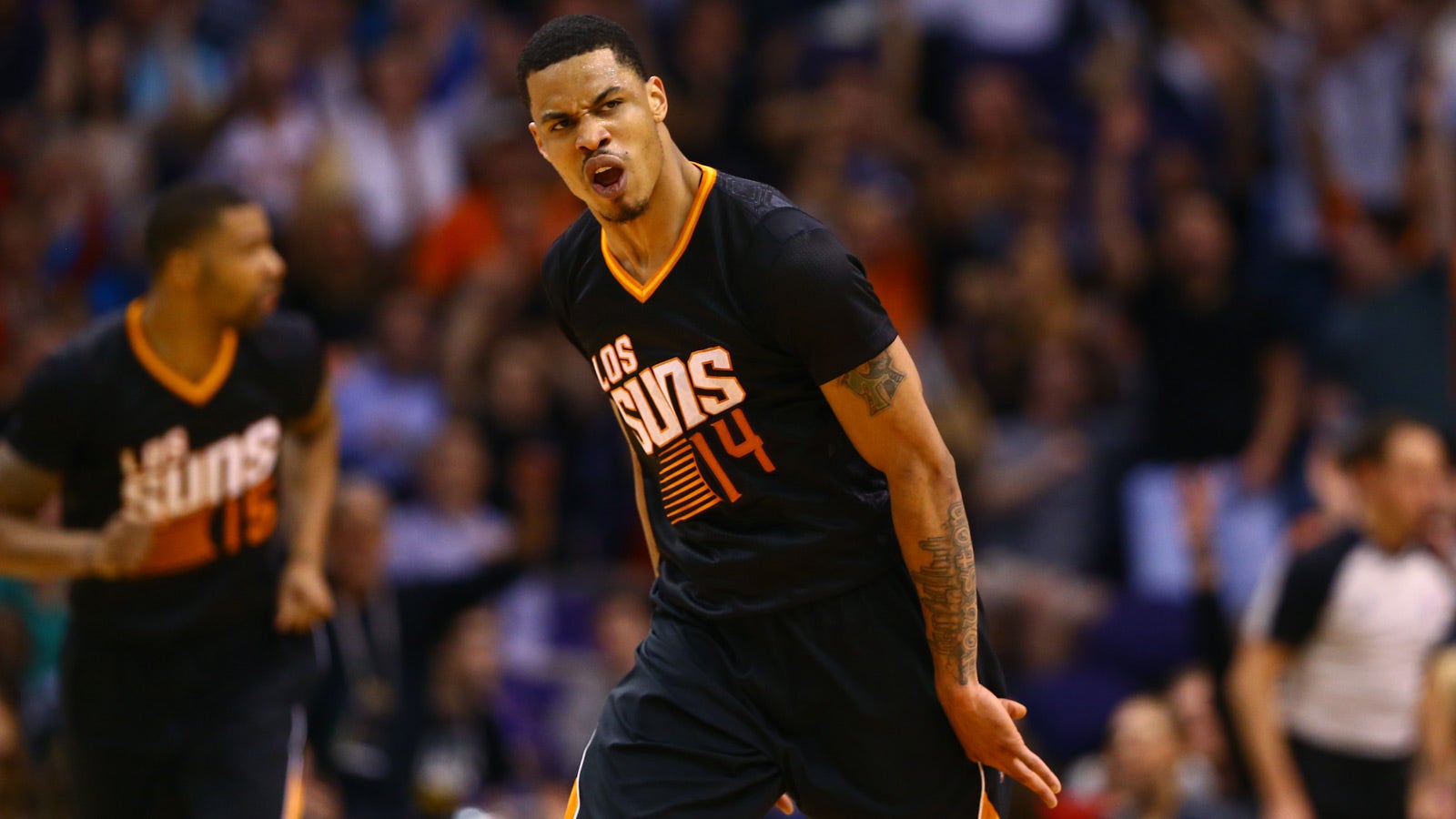 But an older, wiser Green — especially compared to the model that jumped directly from high school to the NBA — has been a revelation. After averaging about 7 points per game in limited minutes for the Pacers last season, Green is giving the Suns more than 15.
What's made his season even more special is a willingness to do whatever is required. If the Suns need offense off the bench, Green keeps quiet and does his job. When they've needed a starter to work as a top gun, he's carried the team to big victories.
That includes a 25-point quarter during his 41-point performance in a big win over the Thunder.
It would be easy to just lump Markieff together with twin brother Marcus (a deserving top-10 candidate), but the larger Morris deserves more notice because he's been one of the league's most improved players.
A big reason for this improvement is an increased awareness of his strengths and weaknesses. This includes less settling for 3-point attempts and more decisive work from the mid-post area. While hiking his scoring average from 8.2 to 13.7 points per game, Morris has had interludes of near-greatness and earned one Western Conference Player of the Week distinction.
As the leader of the Suns' second unit and one of the top off-the-bench players in the league, Markieff also has improved his defensive focus. Beyond working against card-carrying power forwards, Morris often finds himself battling centers when coach Jeff Hornacek chooses to roll with a small-ball lineup.
The Suns' first-year general manager easily could have been placed a spot or two higher on this list; we just think a bit more credit is due the players who actually make the plays. But McDonough's fearlessness in doing deals has played a major role in this rapid rebuild.
As a former colleague of Clippers coach Doc Rivers, McDonough had a great opportunity to add a major talent — perhaps even before the Suns were expecting to add such pieces — and acquired point guard Eric Bledsoe.
But in his quest to add draft-night assets, McDonough pulled the deal with Indiana that brought Gerald Green and Miles Plumlee. Without their contributions, the notion of reaching the postseason would have been finished a long time ago.
Under his watch, the Suns also added point guard Ish Smith, whose work to help keep the season alive can't be minimized.
While any reasonably talented player would show statistical improvement commensurate with a large jump in minutes played, Bledsoe truly seems worth the advance notice.
Much of that chatter was attached to comments from pal LeBron James, who predicted a high level of play from Chris Paul's former understudy. Former Clippers teammates Caron Butler and Jamal Crawford also forecast greatness for Bledsoe, who — while not yet established among the NBA's upper elite — certainly seems to be on his way.
Although critics wondered if his skills would mesh with those of Goran Dragic, Bledsoe managed to thrive alongside another point guard without creating chemistry issues — in a contract year, no less.
And after missing a large chunk of the season, Bledsoe worked hard to return and spearhead the current playoff push, choosing to validate his market value rather than sitting back and assuming it had been established.
All he does is whatever is required for the Suns to thrive.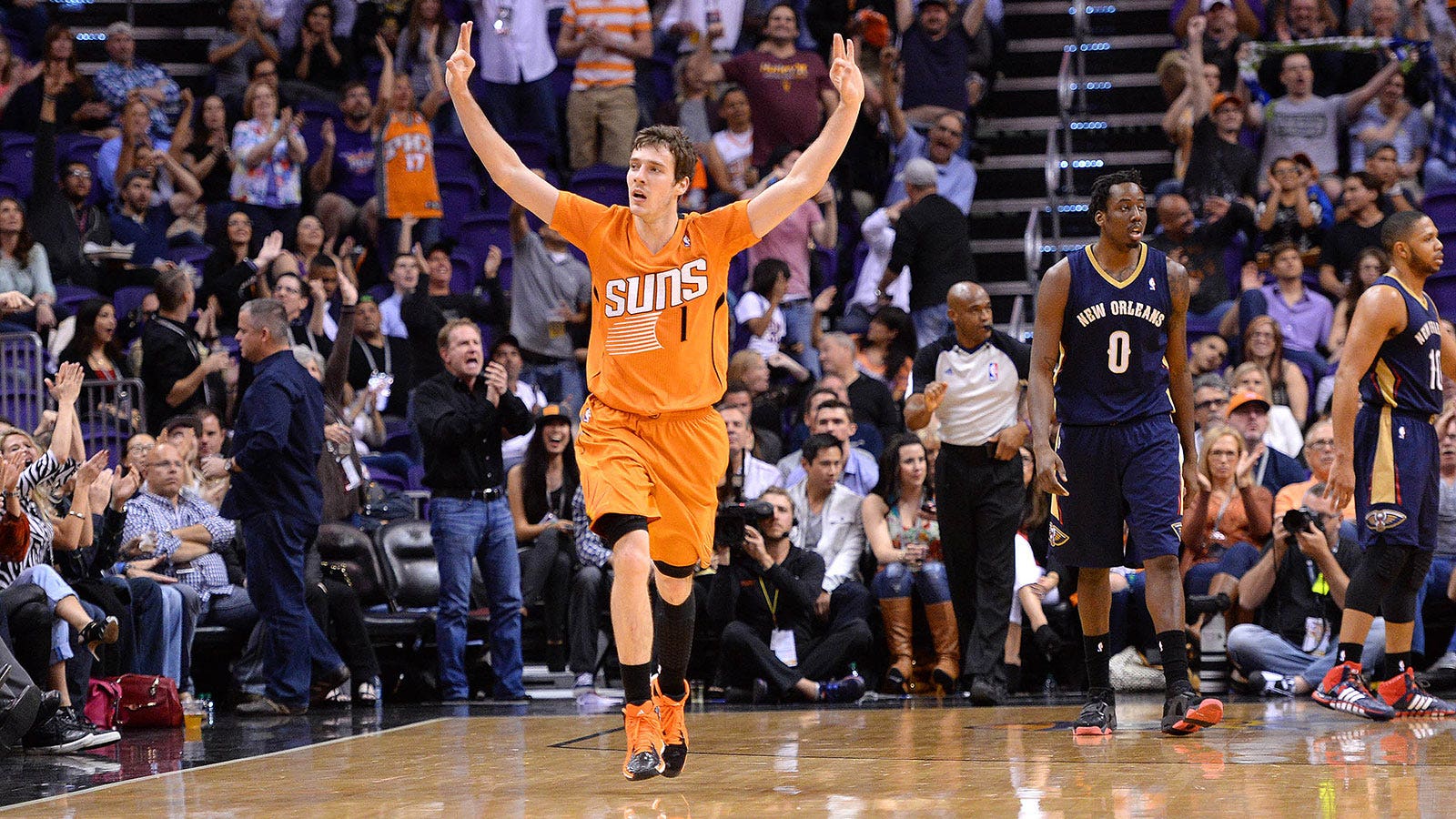 When the season began, the point guard from Slovenia was asked to blend with Bledsoe. Working more off the ball than he's used to, Dragic did, and the Suns began to shock the pro basketball world.
When Bledsoe was injured, Dragic simply elevated his performance to levels that inspired players and coaches from other teams to refer to him as an All-Star. This run of elite play included a series of career highs in scoring that reached 40 points. Despite the physical and mental challenges, Dragic continued to lead the Suns and keep them in the playoff chase.
Now that Bledsoe has returned, The Dragon has continued playing at an All-Star level while sharing primary ballhandling duties.
In a time when many athletes worry about getting theirs, Dragic has yet to complain about touches or publicity. He simply wants to win.
In his first season as an NBA head coach, Hornacek has done little more than take a collection of players with minimal or marginal NBA portfolios and steer them to the cusp of the playoffs.
While many league skeptics believed the Suns would be even worse than last season, the former Phoenix guard immediately instilled a sense of confidence in every player on the team. Assisted by his coaching staff, Hornacek helped accelerate the players' development curve in terms of skill development while giving them the latitude to do what they do best.
By letting players play and expecting the best from a group from which the worst was forecast, Hornacek is now considered a strong candidate to be the league's Coach of the Year.
Maintaining an even temperament while demanding a high level of performance from his players, Hornacek also has been the most important factor in a culture change for the entire franchise.