FOX Sports Arizona presents 'Salute to the Troops' on Memorial Day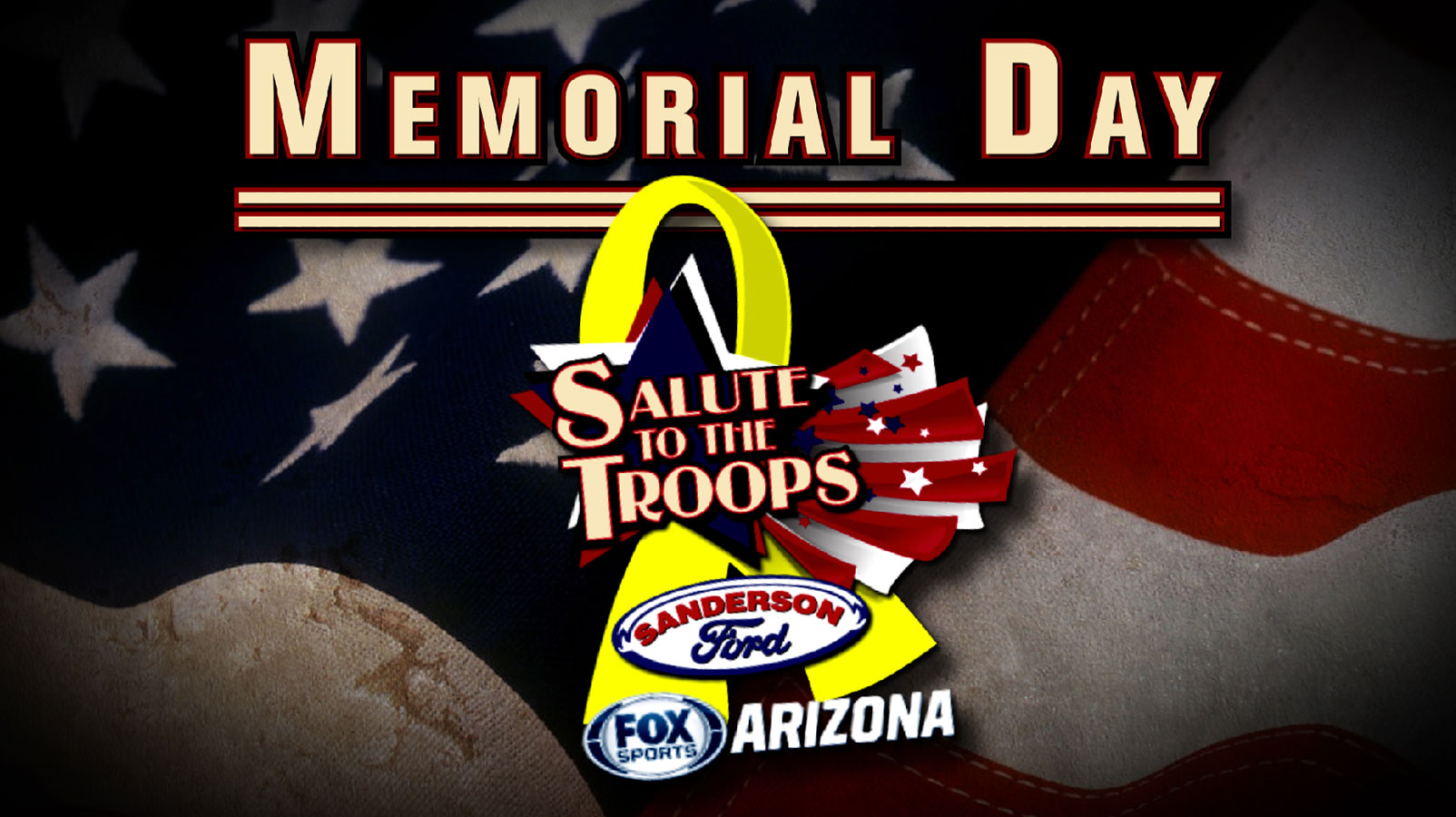 Network's Fan Express Buses will provide transportation for 42 World War II, Vietnam War and Korean War veterans to Chase Field for D-Backs vs. Padres game
For the seventh year in a row, FOX Sports Arizona will honor the United States Military during its Memorial Day telecast of an Arizona Diamondbacks baseball game. This year's production is set for Monday, May 26, when the D-Backs welcome the San Diego Padres to Chase Field. The network's coverage begins at 4:30 p.m. with the "Diamondbacks Live" pre-game show.
FOX Sports Arizona's "Salute To The Troops, Presented by Sanderson Ford" telecast will pay tribute to those who currently serve and those who have given their lives to protect the freedoms America enjoys. This year's telecast shines the spotlight on Honor Flight Arizona — a local non-profit organization created solely to honor America's World War II veterans for all their sacrifices. Throughout the year, Honor Flight Arizona pays to travel these heroes to Washington, D.C. to reflect and be honored at their memorials.
There will be 42 veterans of World War II, the Korean War and Vietnam War transported to the game in a pair of FOX Sports Arizona's Fan Express buses. Once the groups leave from Mesa and Sun City and arrive at Chase Field, they will be able to enjoy the game in a suite provided by the Arizona Diamondbacks. FOX Sports Arizona will share their moving stories to the viewing audience via interviews during both the pre-game show and game coverage.
Among the 24 World War II veterans coming to the game, one is a 98-year-old who will be attending his very first Major League Baseball game, while another, who entertained troops by playing baseball during World War II, will throw out the game's first pitch.
Also on Memorial Day, FOX Sports Arizona will air "The Pat Tillman Legacy" at 3 p.m. and "FOX Sports Salutes The Troops" at 3:30 p.m. The latter show highlights a FOX Sports trip to Fort Bragg back in February that includes MLB players, broadcasters and FOX Sports Girls, including FOX Sports Arizona's Sarah.
FOX Sports Arizona televises the most regional sports action in the state and is the exclusive cable television home of the Arizona Diamondbacks, Phoenix Suns, Phoenix Coyotes, Arizona Cardinals, Northern Arizona University, Phoenix Mercury and the Arizona Interscholastic Association. FOX Sports Arizona is currently seen in 2.5 million households in Arizona and New Mexico and can also be seen across the country via home satellite services. And for even more coverage of the local sports scene, log onto www.foxsportsarizona.com, www.twitter.com/foxsportsaz and www.facebook.com/foxsportsarizona.