Greinke gets another shot against former team
PHOENIX — Right-hander Kenta Maeda and left-hander Zack Greinke will face off for the second time in 11 days Friday night as the Los Angeles Dodgers and Arizona Diamondbacks meet for the second game of their four-game series.
The Dodgers come into the game with a four-game lead in the NL West despite alternating wins and losses over the past eight days. Los Angeles has been in first since August 21.
Maeda scattered three hits and allowed one run over 6 1/3 innings in the Dodgers' 10-2 win over the Diamondbacks on Sept. 5. He was decidedly less sharp in his last outing, giving up three runs on a season-high eight hits over six innings and taking the loss in the Dodgers' 3-0 loss to Miami.
Maeda (14-9) will try for the second time to move into second-place on the club's single season rookie victory list. He currently is tied with fellow Asian imports Hyun-jin Ryu and Kazuhisa Ishii.
Greinke, meanwhile, is looking to reverse his month-long slide. The former NL Cy Young-runner up allowed eight runs on nine hits, including five home runs, in only 4 2/3 innings. Greinke (12-6) has lost four of his past six starts, a stretch that started when he gave up nine runs on 10 hits in only 1 2/3 innings in Boston on August 14.
In his last start, against San Francisco, the normally reserve Greinke was clearly frustrated, arching his back and throwing his head back after several pitches.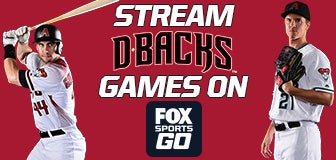 "I felt pretty good. Not perfect, but then the last inning, just missing by a little bit on just about every pitch," Greinke said. "Getting behind and trying to make a good pitch, and just missing by little bit again."
Greinke has struggled at Chase Field all season, posting a 5-4 mark and a 5.08 ERA with 80 hits and 10 homers allowed in 72 2/3 innings.
The Diamondbacks, like Greinke, have struggled all season at Chase Field but have shown signs of life in the past week. Arizona has won four straight home games, the team's longest streak since winning four straight in July 2014.
"You want to build momentum but you also want to play well every night," said Arizona manager Chip Hale.
Outfielder Brandon Drury has been Arizona's most consistent player the past week, driving in at least one run in each of his past seven games, the longest streak by a rookie in franchise history.
The Dodgers' offense has sputtered recently, scoring fewer than four runs six of its past eight games. Utley was the only Los Angeles hitter with more than one hit in the series opener, finishing 3-for-4 with a double, a run scored and an RBI.
"Whatever it is, whatever it might be, it goes in spurts," said Dodgers manager Dave Roberts. "It is up and down but I know we are a good offensive club and we will win our share of games."