Goldschmidt holds a nearly 250,000-vote lead over Adrian Gonzalez
Kirk Gibson on Sunday watched Paul Goldschmidt for the second straight day give the Diamondbacks an early lead with a first-inning home run and after the game quietly lobbied — as much as Gibson will –€" for Goldschmidt to gain some national recognition.
"It's just impressive and somehow, someway I'd like to see him start that All-Star Game over there (at first base) where he deserves to be," Gibson said.
Gibson may get that wish, as Goldschmidt leads all National League first basemen in All-Star voting, it was announced Sunday night. Goldschmidt had garnered 1,291,052 votes to 1,049,222 for the Dodgers' Adrian Gonzalez.
If Goldschmidt is able to hang on to the lead, he would become the first D-backs player to start an All-Star Game since outfielder Luis Gonzalez in 2001.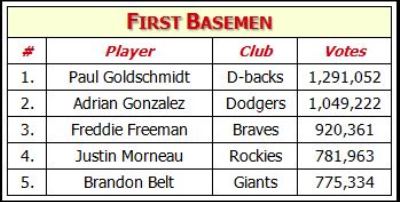 Goldschmidt was fifth in voting a few weeks ago and initially moved up to fourth and then second last week, when he trailed Gonzalez by more than 100,000 votes.
"He's probably got a bigger market than Paul is drawing from," Gibson said of Gonzalez when the D-backs arrived in L.A. on Friday. "I feel the same way that you do about Goldy and the belief that he can start the All-Star Game. I think he's an elite first baseman in the National League. Hopefully he'll get to be designated as a starter. If he doesn't, true to Goldy's form, he'll be ready to help his team any way he can."
In an effort to keep Goldschmidt in the lead, the Diamondbacks and FOX Sports Arizona will encourage fans to vote for "America's First Baseman" both in-stadium and online during the broadcast of Saturday's game against the Giants.
Throughout Saturday'€™s telecast, FOX Sports Arizona will encourage fans to vote up to 35 times on dbacks.com or to visit the voting headquarters at Chase Field, located by Section 131. Laptops will be set up in order to assist fans in voting, and any fan or viewer who votes online more than 20 times will be entered into a drawing to receive an autographed Goldschmidt bat and meet the D-backs' first baseman.
Fans also can fill out paper ballots in stadium, and any fan that fills out 100 ballots will be entered into a drawing with the opportunity to throw out the ceremonial first pitch at an upcoming game.
The D-backs are also running a contest on Twitter and encourage fans to tweet photos of them voting along with the hashtag #VoteDbacks. One lucky fan will win a baseball signed by the D-backs'€™ 2014 All-Star(s).
The 2014 American League and National League All-Star teams will be unveiled on the 2014 MLB All-Star Game Selection Show during the weekend of July 5-6.
The 85th All-Star Game, from Minneapolis, will be televised nationally on FOX.