D-backs video chief loves pressure of challenge system
PHOENIX — When Diamondbacks outfielder Mark Trumbo attempted to steal second base with two outs in the seventh inning Sunday, it appeared obvious he did so safely. Yet Trumbo was called out.
D-backs manager Kirk Gibson charged onto the field to challenge the ruling, and it took replay officials in New York 122 seconds to overturn the ruling. It took Allen Campbell less than 10 seconds to know the D-backs would win the challenge.
The D-backs lean on Campbell, their veteran video coordinator, in baseball's first season of expanded instant replay, and Campbell relishes the role, directly impacting the game without ever stepping between the lines.
Consider him the D-backs' 26th man, the man behind the challenge.
Most challenges are more difficult to determine than Trumbo's stolen base. It was one of the easiest calls Campbell has made all season. Much of the time, Campbell feels the pressure of the big new responsibility he took on in his 15th season with the team.
"It's ramped up the intensity level 100 fold," Campbell said. "When all of a sudden you've become a part of what's happening in the game and you have an opportunity to maybe change the outcome, it's a little more anxiety-ridden. But I love it. I think it's awesome."
While fans see Gibson spring out of the D-backs dugout to challenge close plays, it's Campbell that has the best view of things and ultimately guides the manager's action. From the video room in the D-backs' clubhouse, Campbell has instant access to replays.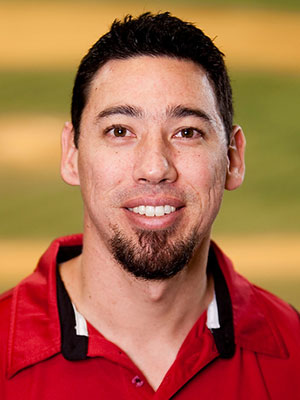 Each time a close play occurs on the field, Campbell turns to two large screens that offer 15 different camera feeds. Within 10 seconds, he's on the phone with D-backs bench coach Alan Trammell, who will relay to Gibson whether or not the D-backs should challenge.
At times, Campbell needs only 10 or 20 seconds to determine if the D-backs have a good chance at winning a challenge. Other plays require a little more time. Sometimes Campbell wants to wait for the "X-mo" slow-motion video — what Campbell calls "the pinnacle of video review" — which requires another 40 seconds or so to be sent to him from the TV broadcast.
"I don't want my manager out there just twiddling his thumbs because you've already stalled the game and everyone's waiting on me," Campbell said. "I try to get to it as quickly as I can, but I also know there's times when I've got to tell them 'Can you give me 10 seconds?' "
With the Hawkeye replay system, which derives from the replay system used in tennis and is standard across the league in home and visiting clubhouses, Campbell can delay any of the 15 feeds.
When all of a sudden you've become a part of what's happening in the game and you have an opportunity to maybe change the outcome, it's a little more anxiety-ridden. But I love it.
Allen Campbell
"So it's literally within a second I can divert my attention to Hawkeye and it's happening now," Campbell said. "I can then manipulate it from there. I can zoom in on plays, I can frame-by-frame plays, I can take pictures of them — I can do a lot of things."
Campbell originally joined the D-backs in 2000 as a staff assistant in the front office after playing collegiately at University of Arkansas-Little Rock. The D-backs put him through the MLB Scout Development Program in 2002, and in 2003 he was the organization's associate scout for Arizona.
In 2004, Campbell served as hitting coach for the team's short-season rookie league affiliate in Missoula, Mont., but after some front office shuffling, his contract wasn't renewed. Still, Campbell asked then-general manager Joe Garagiola Jr. if there might be another opportunity within the organization.
The D-backs were ramping up their video scouting efforts, and Campbell took on the role of assistant video coordinator.
"I kind of just fell into it," Campbell recalls.
By 2009, Campbell was the head video coordinator, tasked with preparing advanced scouting reports, video packages for upcoming opponents and generally assuring players and coaches have access to whatever video they need on themselves or opponents.
Campbell has also been charting games since taking over as the top video coordinator. The process involves logging every pitch — including placement and velocity — and play, all of which are instantly archived on video in the team's database, so players can even watch it during the game.
With Campbell already watching every pitch of every game, the D-backs felt he'd be a natural choice to serve as their replay man. Other teams have a separate person just for instant replay.
"I was just sort of there when they said 'I think we have a guy that can do this, why not let him do it?' " Campbell said. "For me it was a huge vote of confidence from the front office and the major league staff."
As relatively simple as Campbell's duties used to be, they were suddenly a lot more meaningful. The D-backs had given him a responsibility that can change the outcome of games.
So far, Gibson has challenged 21 calls and had 11 of them overturned. That number doesn't tell the whole story, as it took time for umpiring crews to adjust to the new system.
"We've had some calls throughout the year that we felt we were right on that didn't get reversed certainly earlier on," Gibson said. "I think everyone just understands how the system works better right now."
Campbell remembers all those calls and has even saved some screens shots, which he says show definitively the call was wrong. On other occasions, he hasn't been so sure. As decisive as Campbell's responsibility requires him to be, he can't be certain all the time.
"There are times where I'll say 'You know what, I don't have a 100 percent definitive shot here, I don't think we can challenge this,' " Campbell said. "You have to be absolutely decisive, but you have to give yourself the ability to say 'Hey, I just don't have a good enough shot.' "
In the case of those 50-50 calls, the game situation typically dictates whether or not the D-backs will use their challenge. If it's the sixth inning and the D-backs have nothing to lose, they'll go for it. There are also times when Campbell tells Trammell a challenge won't be won and the D-backs challenge anyway, hoping the officiating crew sees something Campbell didn't.
Campbell says he has adapted his process as the season has gone and he's gained a better understanding of what calls are likely to be overturned.
The D-backs have tweaked their process, too. Gibson used to stall for time on the field as Campbell reviewed the play, but now unless it's the end of an inning Gibson remains on the bench, instead having catcher Miguel Montero or another player stall. This might be because Gibson has at least once misread Trammel's signal from the dugout.
"We've had one, maybe two occasions where I misinterpreted information and we possibly could have got it overturned," Gibson admits.
Gibson feels the system was well thought out and has been well executed in its first season. Campbell agrees and says he doesn't expect any drastic changes, though he hopes replay systems will eventually have instant access to the X-mo video.
Campbell's biggest takeaway from expanded instant replay and how it has changed baseball: Every close play now gets a second look and a phone call.
"I think it was built to catch the overly egregious ones, and now we use it for every bang-bang play, which is fine," Campbell said. "Now you're taking it to another level where you're trying to be proactive with it, trying to look for little things you might be able to grab, trying to steal an out, which is huge."
Campbell says he hasn't considered his place in baseball history as one of 30 men playing a key role in such a significant development for the game. It might hit him a little more when the time comes that he or another instant replay man decides to challenge a call with postseason or World Series implications.
"I love the pressure," Campbell said. "It makes it interesting, makes it fun. It brings you into the game."
Follow Tyler Lockman on Twitter
Manager, team
Challenges
Overturned
Success rate
Mike Redmond, Marlins
18
14
77.7
Joe Girardi, Yankees
17
13
76.5
Fredi Gonzalez, Braves
16
12
75.0
Ned Yost, Royals
26
17
65.4
Ron Washington, Rangers
20
13
65.0
Bo Porter, Astros
19
12
63.2
Brad Ausmus, Tigers
23
14
60.9
Bruce Bochy, Giants
28
17
60.7
Matt Williams, Nationals
22
13
59.1
Ron Roenicke, Brewers
17
10
58.8
Don Mattingly, Dodgers
23
13
56.5
Bob Melvin
16
9
56.3
Mike Scioscia, Angels
18
10
55.5
Buck Showalter, Orioles
18
10
55.5
Robin Ventura, White Sox
20
11
55.0
John Farrell, Red Sox
20
11
55.0
Clint Hurdle, Pirates
26
14
53.8
Ron Gardenhire, Twins
22
12
54.5
Bud Black, Padres
15
8
53.3
Kirk Gibson, D-backs
21
11
52.4
Terry Collins, Mets
19
9
47.4
Lloyd McClendon, Mariners
19
9
47.4
Rick Renteria, Cubs
32
15
46.9
Terry Francona, Indians
22
10
45.5
Walt Weiss, Rockies
25
11
44.0
Ryne Sandberg, Phillies
21
9
42.9
Joe Maddon, Rays
33
12
36.4
John Gibbons, Blue Jays
31
8
25.8
Bryan Price, Reds
12
3
25.0
Mike Matheny, Cardinals
16
3
18.8