Coyotes look to snap skid as Panthers visit
A dose of home cooking did nothing to change the fortunes of the Arizona Coyotes, who saw their season-long losing streak reach seven with Thursday's 5-1 loss to Anaheim.
The Coyotes will try to nip the streak in the bud Saturday night against Florida before heading back out on the road for a four-game trip.
The game can be seen on FOX Sports Arizona, starting at 6:30 p.m.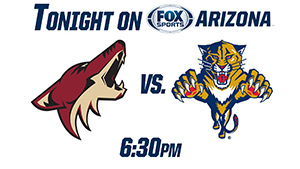 The Coyotes (27-31-6) have been outscored 11-1 in losing their last two games — Thursday's defeat came on the heels of a 6-0 loss in Pittsburgh that capped a winless five-game Eastern road trip. After Saturday, the Coyotes head north for games at Colorado (Monday) and the western Canada trio of Vancouver (Wednesday), Calgary (Friday) and Edmonton (Saturday).
Niklas Treutle gave up all five Anaheim goals on 16 shots in his first NHL start and Louis Domingue was forced to make a 12th consecutive appearance. Domingue will be back in the net on Saturday.
"I'll take the responsibility. We put a young player in a position where he's not ready for," coach Dave Tippett said. "It's obvious he's not ready for it, but Louis had played 11 straight (and) looked tired on the road. That's where we are. We have to give Louis a break."
Arizona's skid is its longest since an eight-gamer last March. The Coyotes also lost 10 in a row last season for their longest slump since relocating from Winnipeg in 1996-97.
It's unclear if the Coyotes will have second-leading scorer Max Domi to help stop the slide. He might get a one-game suspension because of his instigator penalty with less than five minutes to go in a hot-tempered third period Thursday.
Arizona has been outscored 29-12 during the losing streak, which included a 3-2 loss to Florida on Feb. 25.
The Panthers headed out on the road after their victory over Arizona and are only 1-2-1 on a five-game trip that ends in Glendale. Their most recent outing was a 3-2 loss at Colorado on Thursday.
Jaromir Jagr had an assist in Thursday's loss — giving him 1,851 points for his career, tying Gordie Howe for third place on the NHL's all-time scoring list. Saturday will be the 1,612th game of his career, tying Ray Bourque for ninth place all-time.
"I always said if you want to be a good hockey player, you've got to know the history of hockey," Jagr said. "You've got to appreciate those guys who were stars before you came in the league. I had a chance to meet almost everybody in the top 10 (in scoring), and I respect them so much."
Jagr had an assist in last month's win over the Coyotes and Aleksander Barkov had a pair of goal for the Panthers (36-20-8), who are tied atop the Atlantic Division with Tampa Bay, which has won eight in a row.
Florida has lost four of five in Arizona and scored one goal in regulation in each of the past four visits.