Coyotes, FOX Sports Arizona announce 2018-19 TV schedule
GLENDALE, Ariz. — The Arizona Coyotes and FOX Sports Arizona announced today that 80 Coyotes regular season games will be televised on FOX Sports Arizona and FOX Sports Arizona Plus during the 2018-19 National Hockey League season, including the season opener on October 4 at the Dallas Stars and the home opener against the Anaheim Ducks on October 6. All of the FOX Sports Arizona & FOX Sports Arizona Plus broadcasts will also be streamed on the FOX Sports app.
Fifty-six Coyotes games will be televised on FOX Sports Arizona and 24 on FOX Sports Arizona Plus (48 will be offered on both FSAZ and FSAZ Plus at the same time), reaching over 2.5 million cable and satellite households throughout Arizona and New Mexico. Combined, the two channels will televise 40 Coyotes home games and 40 of the team's road games.
"We are thrilled that our fans will be able to watch all 80 of our non-nationally televised games on FOX Sports Arizona this season," said Coyotes' President and CEO Ahron Cohen. "FOX Sports Arizona is a great partner and does an outstanding job providing our fans with excellent Coyotes coverage all season long. We can't wait for the puck to drop for the 2018-19 season."
"Our unmatched commitment to the Arizona Coyotes on television continues in 2018-19," said Brian Hogan, FOX Sports Arizona Sr. Vice President & General Manager. "When you combine an 80-game schedule along with pre and postgame shows, plus original programming and game replays throughout the season, it adds up to approximately 900 hours of Coyotes content this season."
In addition to the 80 games broadcast on FOX Sports Arizona and FOX Sports Arizona Plus, NBC Sports Network will televise the Coyotes game against the Minnesota Wild on Tuesday, October 16 and the Coyotes vs. San Jose Sharks game on Wednesday, January 16. In total, all 82 Coyotes games will be televised this season.
The FOX Sports app, available to iOS and Android devices, provides live streaming video of FOX Sports content along with highlights and instant alerts for scores and key plays.  Fans can download the mobile app for free from the Apple App Store and Google Play. Streaming on the FOX Sports app is also available on connected devices, including on AppleTV, Android TV, FireTV, Roku and Xbox One.
Information on channel locations for FOX Sports Arizona Plus can be found at FoxSportsArizona.com and ArizonaCoyotes.com or by using the following link: http://www.foxsports.com/arizona/story/fox-sports-arizona-plus-channel-finder-040714.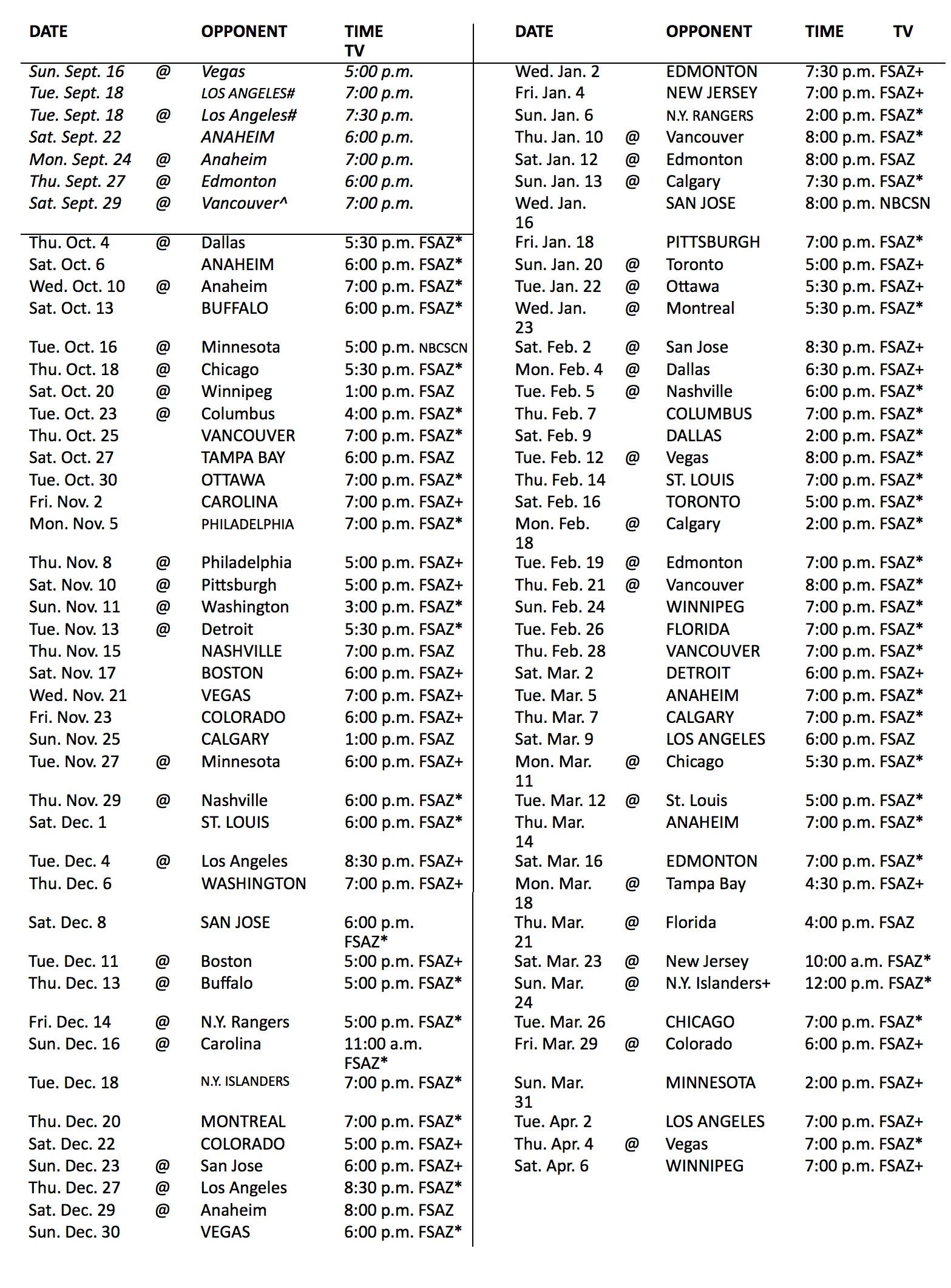 *Games will be televised on both FSAZ & FSAZ+
Preseason games in italics
# Split squad games
^ Game to be played at Prospera Place in Kelowna, BC
+Game to be played at NYCB Live: Home of the Nassau Veterans Memorial Coliseum