Cardinals camp preview: 10 burning questions
Training camp is the time for NFL teams to sort out myriad questions, many of which are not contained in our top 10.
10. Will the excitement return to the return game?
Ever since Patrick Peterson tied an NFL record with his fourth punt return for a TD in 2011, the standard has been high in Glendale. Subsequent seasons have fallen far short of that standard. The Cardinals haven't returned a punt or a kickoff for a TD since, and both their punt and kick return games ranked near the bottom of the NFL last season. The Cards hope the signing of free agent Ted Ginn Jr. and the drafting of speedster John Brown will change that, but return success has as much to do with the guys blocking as it does with the guys fielding the kicks. The Cardinals need players to fill the losses of key special teams players like LaRod Stephens-Howling and Michael Adams.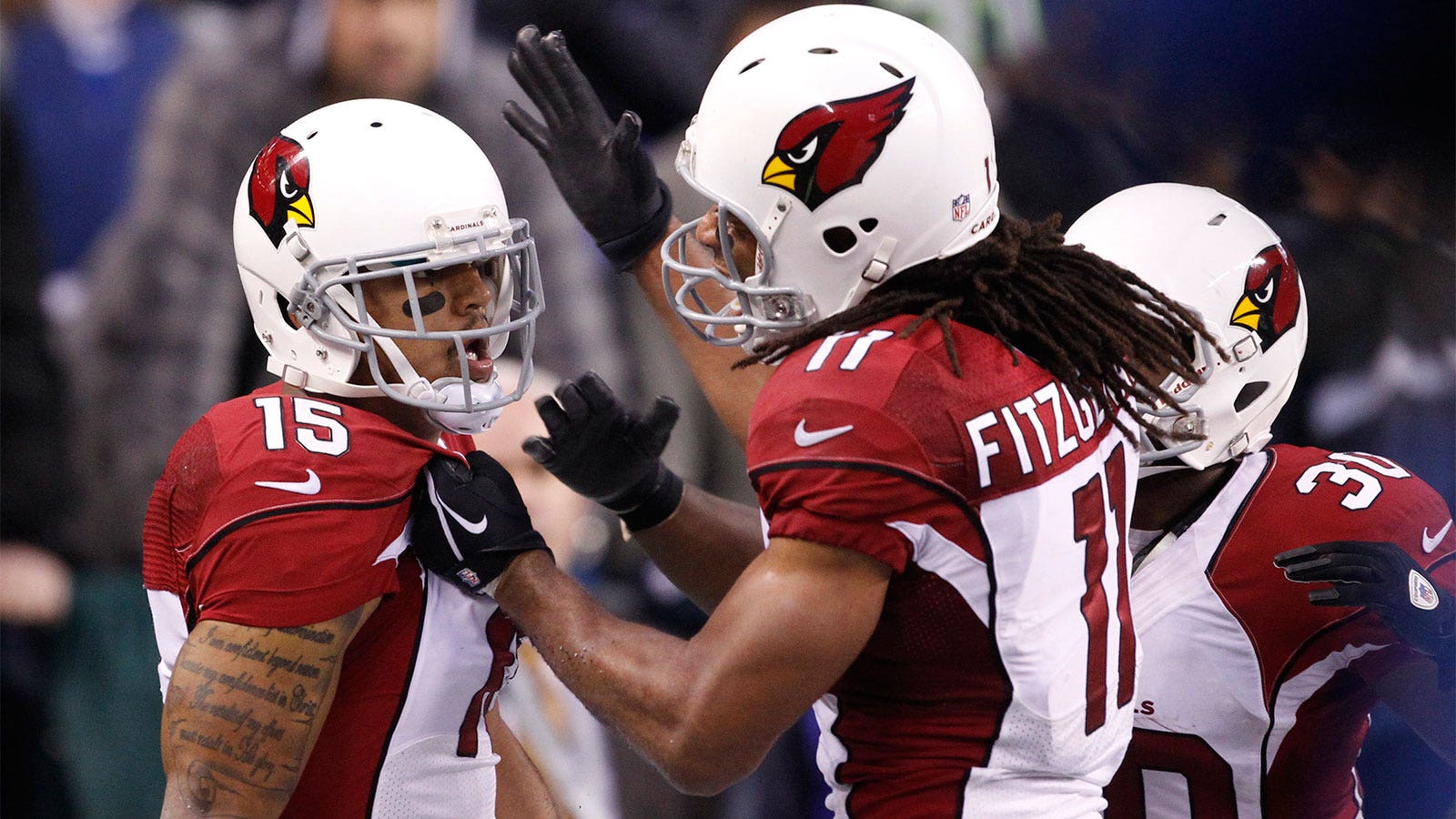 9. Is Michael Floyd ready to supplant Larry Fitzgerald as the team's top receiver?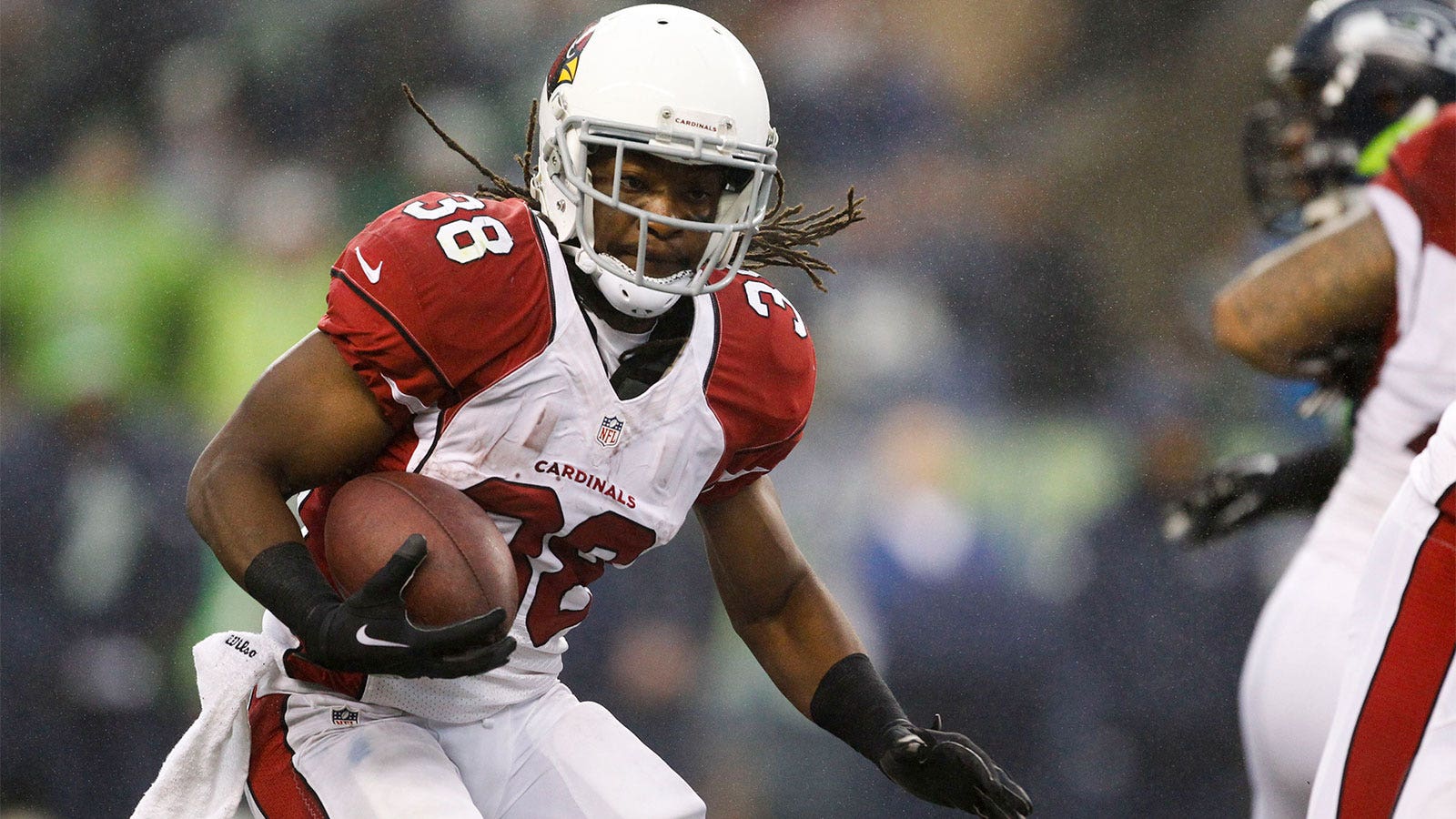 CBS Sports senior NFL columnist Pete Prisco raised this question on a podcast with FOX Sports' Peter Schrager last week. Floyd had more yards than Fitzgerald last season 1,041 to 954 and he certainly represents the team's future at the position. His top four games in terms of receiving yards all came over the second half of the season, lending credence to this idea that he's ready for a big jump. But Fitzgerald still had 82 receptions to Floyd's 65 and he caught 10 TDs to Floyd's five. Those stats read like a Carson Palmer security blanket. Fitzgerald is sure-handed, experienced, reliable and still quite capable of maintaining his elite status. The shift from Floyd to Fitzgerald may happen if Fitzgerald leaves the team at some point due to his ballooning cap hit, but the distinction between these two players is likely to remain more subtle as long as Fitz is around.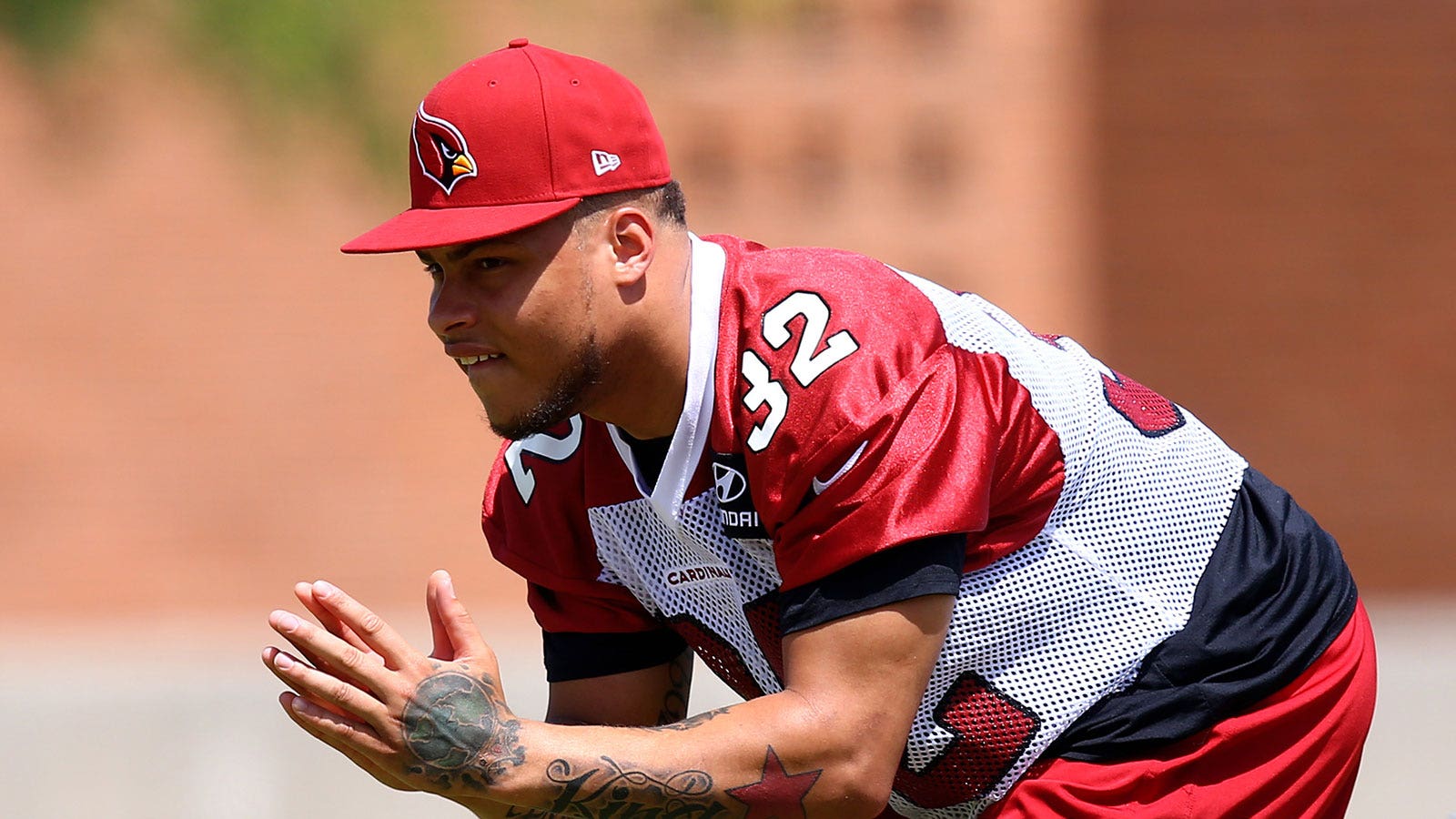 8. Can Andre Ellington shoulder the load of a No. 1 back?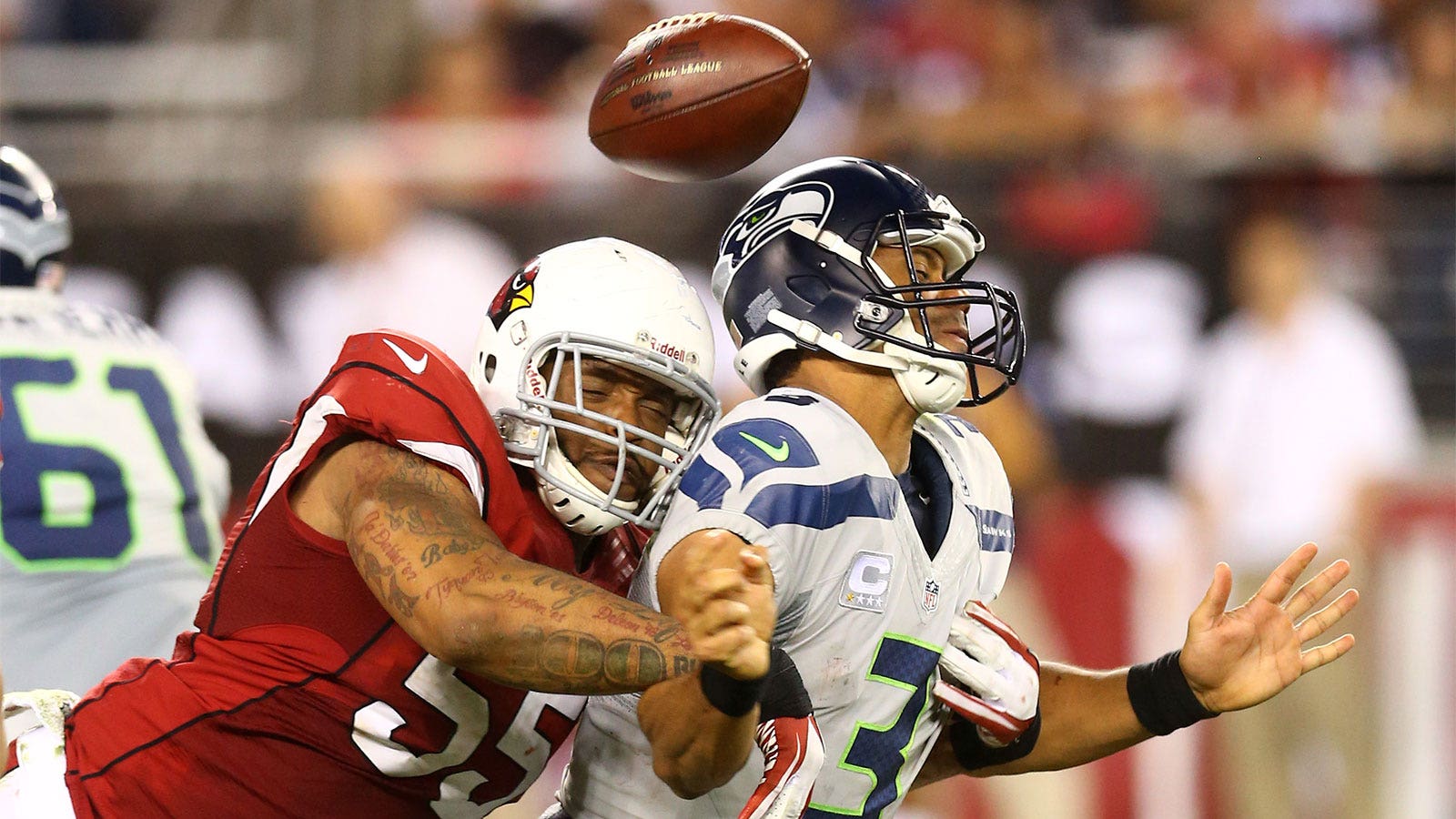 Coach Bruce Arians can be prone to hyperbole. Nowhere was that more evident than when he said during OTAs he'd like to get Ellington 25 to 30 touches a game. When you consider the Cardinals ran an average of about 65 offensive plays last season — and when you consider Larry Fitzgerald, Michael Floyd, John Carlson and others will need the ball — it's unlikely Ellington will turn into Matt Forte and become the focal point of the Arizona offense. Still, the Cardinals will probably use Ellington in more ways to exploit his ability in space. They don't have a proven back alongside him, even if you're not impressed by what veteran Rashard Mendenhall accomplished last season. Arians has said in the past that he wants to be careful not to wear out the smallish Ellington like the Steelers did with Willie Parker. That could mean that Stepfan Taylor and Jonathan Dwyer will run the hard yards between the tackles, but it's reasonable to expect considerably more touches for Ellington than last year, when he averaged about 7.4 carries and 2.4 receptions per game.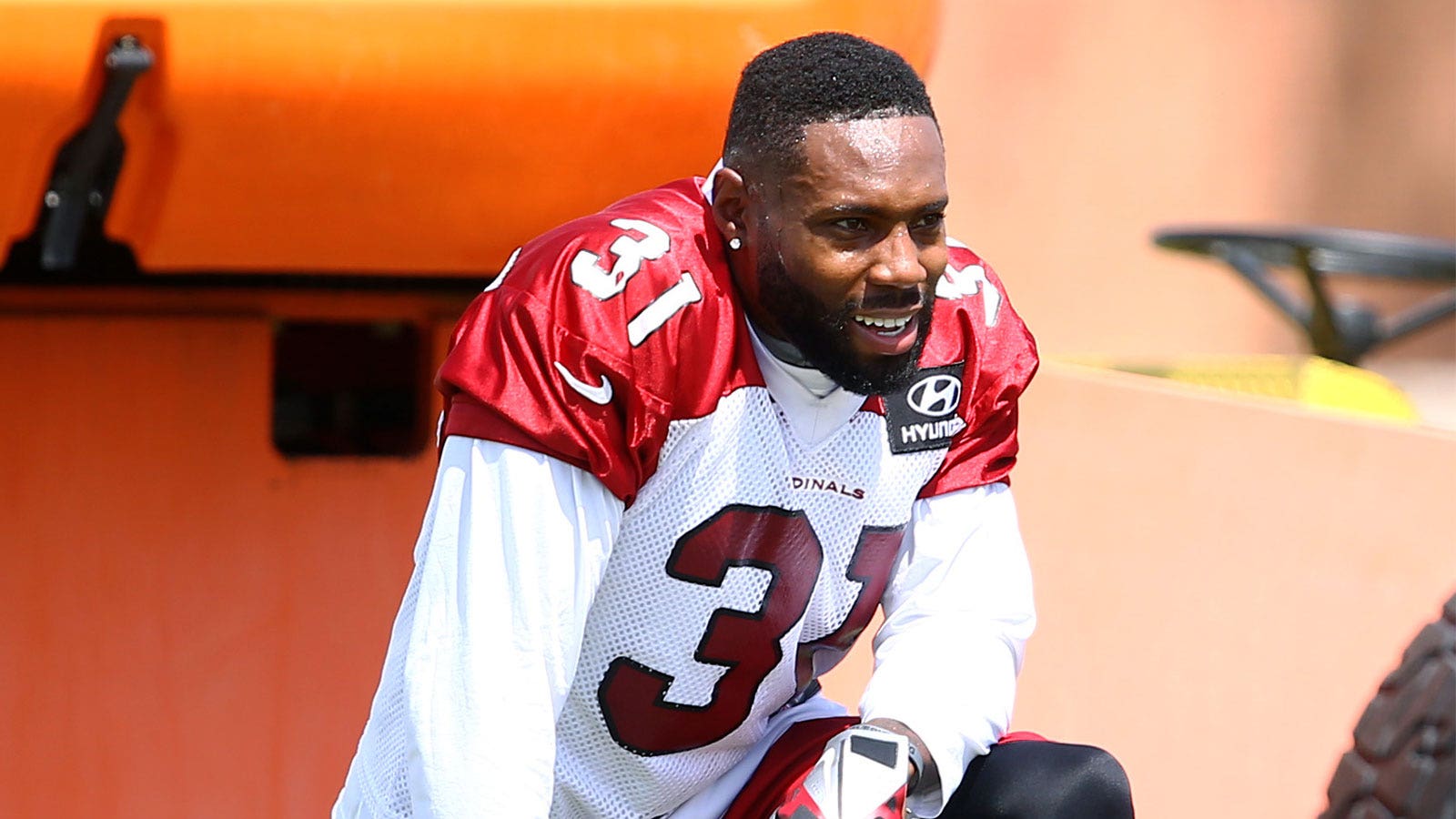 7. How quickly and how well will Tyrann Mathieu recover from offseason knee surgery?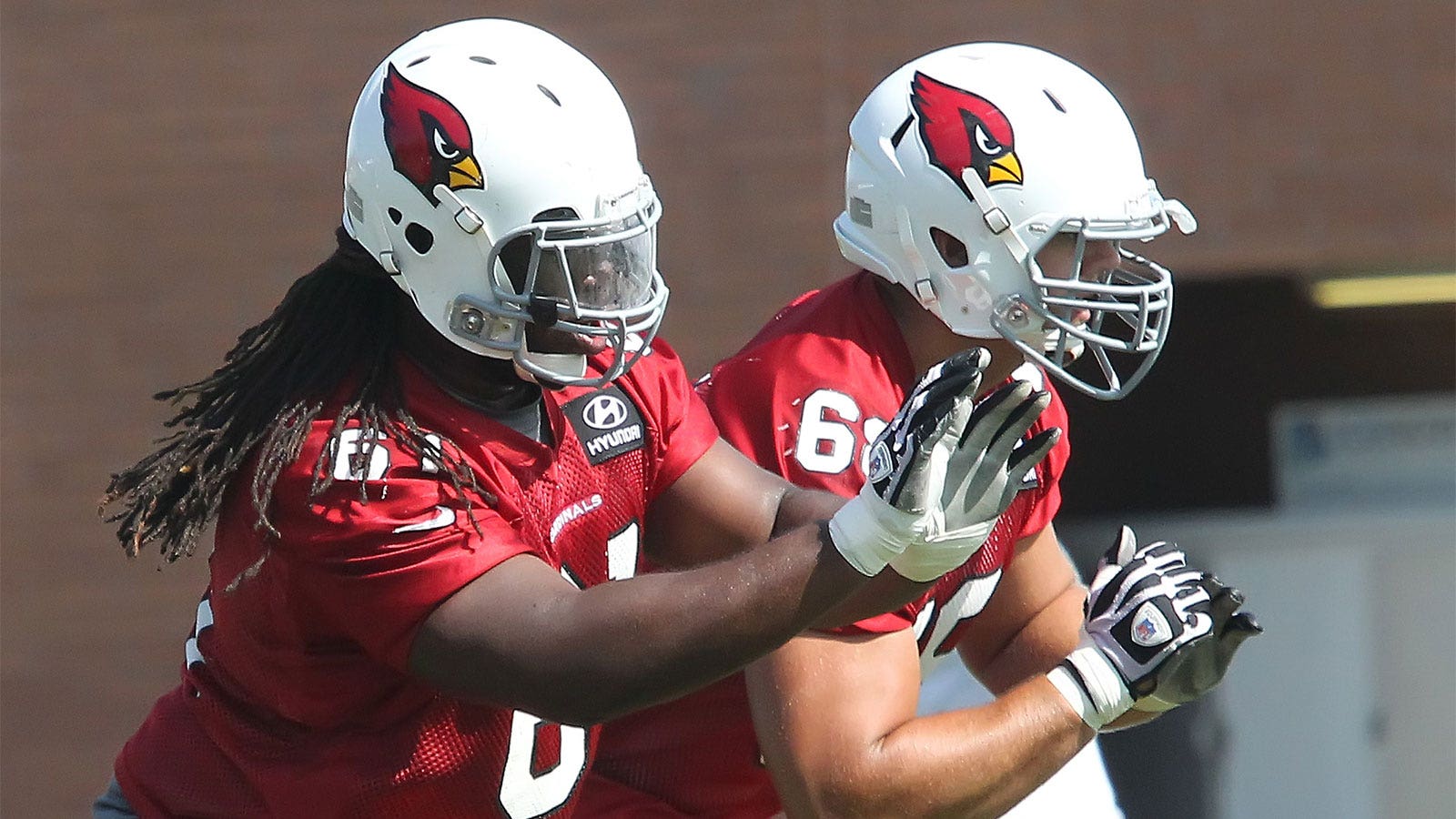 Arians put a bit of a damper on GM Steve Keim's earlier projections when he said late in OTAs that he isn't expecting Mathieu to play until after the team's Sept. 28 bye. Mathieu will start camp on the PUP list and said late in OTAs that it's impossible to determine a timetable right now, given the inherent ups and downs of the rehab process. The Cardinals will also be cautious, as they should, with a guy who played like first-round talent last season until he tore two knee ligaments on a punt return Dec. 8 against the Rams. Even when he returns, it's impossible to know whether Mathieu's game will return to its former level. His injury was significant. Sometimes a player fully recovers from such injuries; sometimes he doesn't.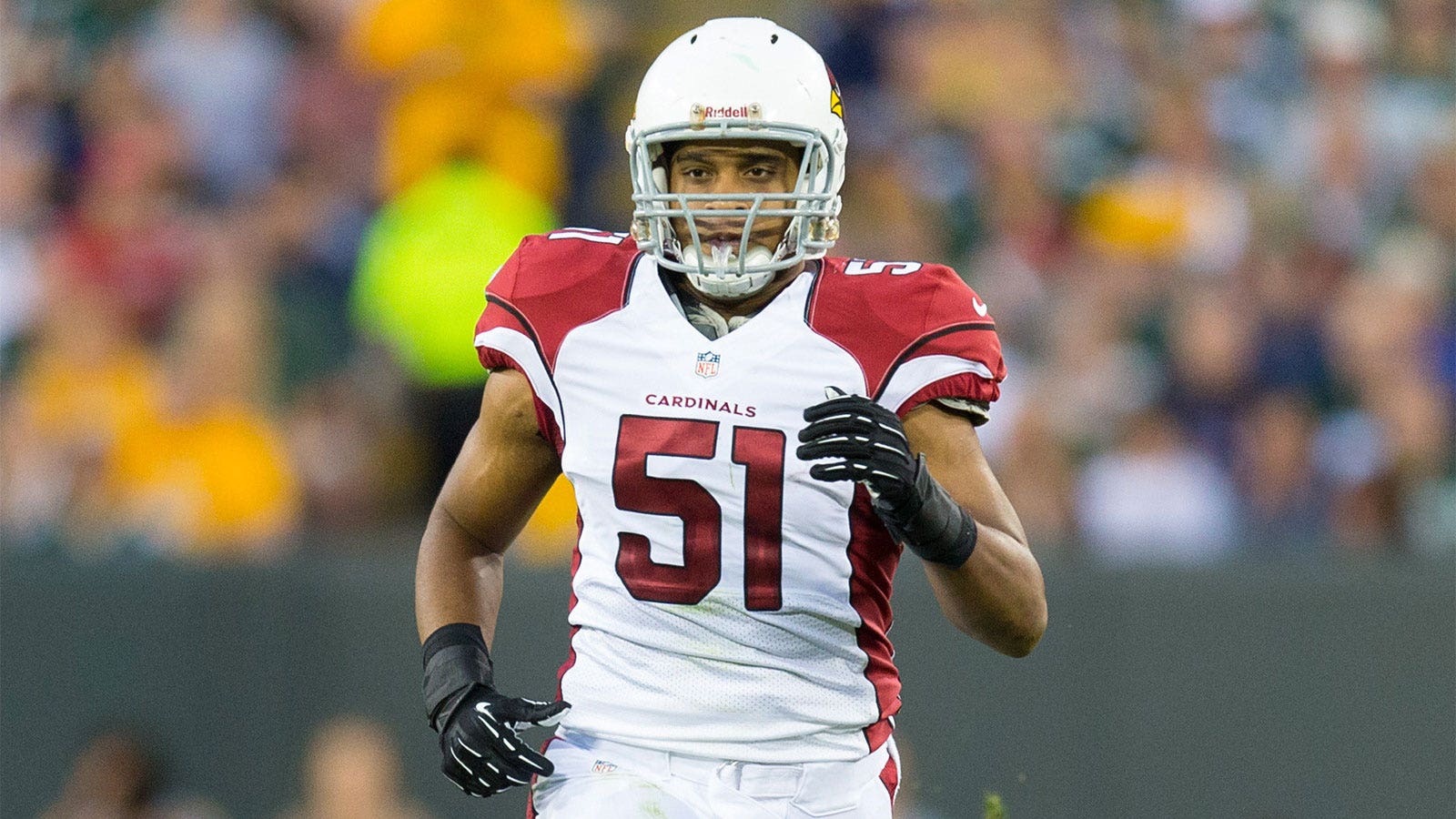 6. Can John Abraham remain a super sack man or will the Cards return to their by-committee approach?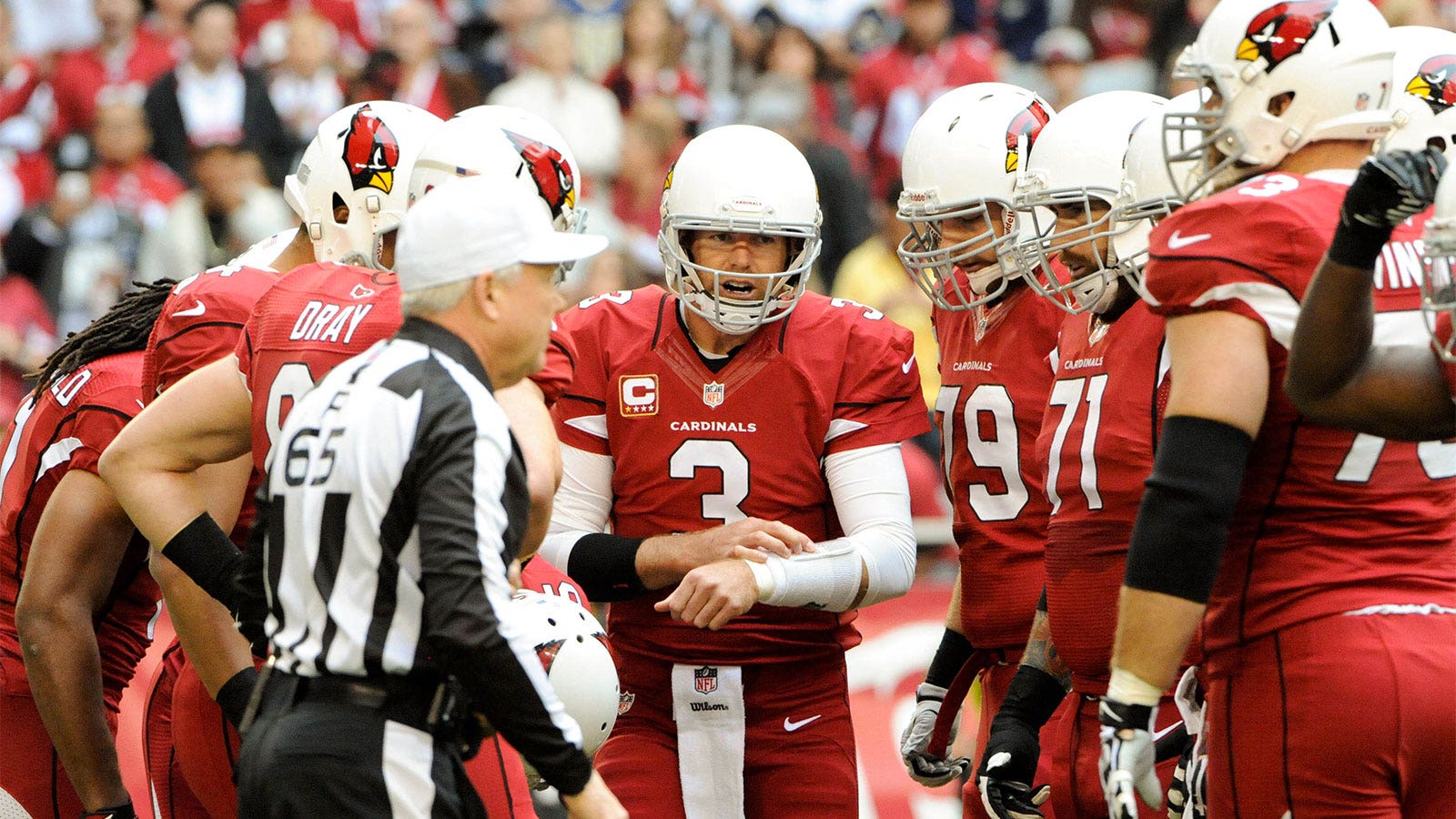 Abraham was a backup when the 2013 season started; a specialist who was supposed to see limited action in obvious passing situations. Then the Cardinals lost three outside linebackers in one week and Abraham climbed all the way to seventh in the NFL in sacks (11.5) in less than a full season. That was a godsend for a team long seeking a consistent edge threat, but Abraham also surprised the coaching staff by playing well against the run. Abraham turned 36 in May, so health and wear will be concerns, but they were last season, too. He was granted a hall pass from OTAs to keep his body fresh. Even if he falls short of repeating last season's performance, the returning depth at outside linebacker could allow the staff to rest him more.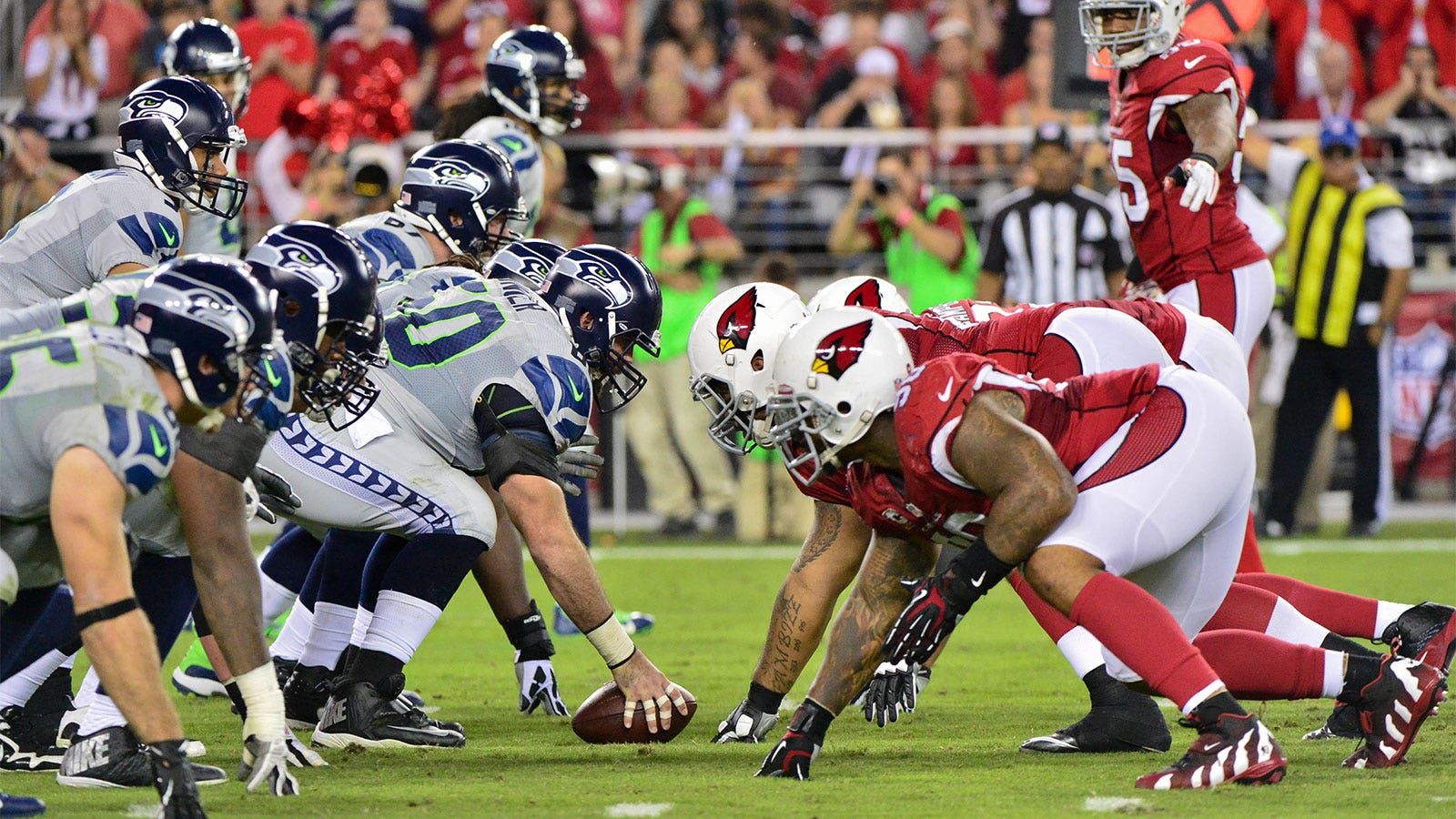 5. Can Antonio Cromartie and Patrick Peterson become one of the league's elite corner tandems?
When Cromartie was asked during OTAs what the key would be to he and Peterson becoming an elite tandem, his answer was health. Peterson, 24, hasn't had any significant health issues in his career, but Cromartie has. A bad hip limited him last season, and despite his Pro Bowl selection, he admits it wasn't a great year. If the hip is truly healed — he says it is — and he can stay healthy, Cromartie, 30, should have plenty left in the tank to perform at a high level. Pairing two Pro Bowl cornerbacks would be a dream for coordinator Todd Bowles. There isn't a more important defensive position in the pass-happy NFL.
4. Will Jared Veldheer and Jonathan Cooper finally give the team an elite O-line?
The Cardinals' biggest free-agent signing was Veldheer, a former Carson Palmer teammate in Oakland who has earned the praise of none other than Darnell Dockett for his weight-lifting prowess and work ethic. With left guard Jonathan Cooper returning from a season-ending leg injury suffered last preseason, the Cardinals feel like they are adding two significant pieces too a much-maligned offensive line that hasn't produced a Pro Bowl selection since tackle Lomas Brown in 1996 (Levi Brown was an alternate in 2009). There are no guarantees. Cooper hasn't played a single regular season NFL down, and his athleticism hasn't fully returned to the level it was before the injury. Veldheer came at a reasonable price (five years, $35 million) for a left tackle and was viewed by some analysts as a rising star. At 6-feet-8, 330 pounds, he strikes the profile.
3. How will the Cardinals compensate for their inside linebacker void?
It's the team's job to put a brave face on whatever obstacles come its way. What else can it do? But the losses of Karlos Dansby (free agency) and Daryl Washington (year-long suspension) will sting all season long. The Cards won't replace them; they'll be compensating all season long. Dansby's replacement, Kevin Minter, is more of a thumper along the line of scrimmage and far less versatile at this stage of his career. He played just one defensive snap last season. Whichever veteran fills Washington's shoes — right now it looks like Larry Foote — will be a decided downgrade. Coordinator Todd Bowles insists the Cardinals won't change anything about their defense despite the losses, but we don't believe him. You don't remove two players who performed at a near-Pro-Bowl level and maintain the status quo. There will be adjustments, and they won't be minor.
2. How much can Carson Palmer improve?
As we detailed last week, improvements in Palmer's game might be more about the personnel around him than Palmer himself. Players can always improve, make better reads and play more intelligently, but at this stage of his career, Palmer is who he is. The team needed better protection and attempted to acquire that by signing Veldheer (and drafting Cooper the year before). The team needed more speed at receiver, so it signed Ginn and drafted Brown. The team needed better, more versatile options at tight end, so it signed John Carlson and drafted Troy Niklas. In the end, those players' performance will play a major role in how much Palmer can improve on that promising second half of the 2013 season.
1. Can this really be a playoff team?
Seattle won the Super Bowl last season, San Francisco advanced to its third consecutive NFC Championship and St. Louis might have the most formidable defensive line in the NFL after drafting defensive tackle Aaron Donald (No. 13 overall) to add to star ends Robert Quinn (19 sacks), Chris Long and tackles Michael Brockers and Kendall Langford. Those three NFC West teams (and six games) represent the Cardinals' divisional concerns, but then there's the rest of the NFC, where there are no shortage of legitimate playoff hopefuls. There is enough talent here to win the division or earn a wild card spot, but it's also possible the Cardinals could endure a season just like 2013 where they play well, win a lot of games and sit home again in January. The difference between the two hinges upon the answers to the questions listed above.
Follow Craig Morgan on Twitter
CAMP SITE: University of Phoenix Stadium, 1 Cardinals Drive, Glendale, Arizona, 85305
PRACTICES: Open practice sessions will be held from 2-4:30 p.m. beginning Saturday and concluding Aug. 22. The full practice schedule is shown below.
PARKING: Carparks on the east side of the stadium (Green and Grey) will open each practice day at 12:30 p.m. Guests are advised to use the Green entry off of 91st Ave. For Friday-Sunday practices, additional lots on the West (Orange) side of the stadium will be available.
STADIUM ENTRY: Fans should enter through Gate 3 on the east side of the stadium beginning at 1:30 p.m. each afternoon. Fans can also enter through the AZone Team store at the north end near University of Phoenix Gate 2. For Friday-Sunday practices, fans can also enter through Gate 1 on the west side of the building. All fans will be subject to screening prior to entry including an inspection of all items brought inside the stadium.
FAN SEATING: Open seating for fans will be available on the east side of the stadium in the lower level for all Cardinals practices throughout training camp. For Friday-Sunday practices, additional lower bowl seating will be provided on the west side of the stadium.
KIDS INTERACTIVE ZONE: Located at the north end of the stadium on the main concourse. Activities include an inflatable obstacle course, quarterback toss and combine-like football drills. All children who wish to participate in this activity must register prior to entering the area. Registration tables are located at the entry to the area.
AUTOGRAPHS: Following practices, select players will sign autographs along the lower field walls for a limited time prior to leaving the field. To ensure all fans have an enjoyable and safe experience, fans are asked to be considerate of each other and especially to those younger fans attempting to get an autograph.
CHILDREN'S AUTOGRAPH EXPERIENCE: A limited number of children between the ages of 2 and 12 will have the opportunity to participate in a free post-practice player autograph experience. Wristbands for access to this experience will be distributed on a first-come, first-served basis at the Children's Autograph Experience table at the entry to the Kids Interactive Zone.
CONCESSIONS: A wide array of food and beverage offerings will be available at locations throughout the stadium including Cards Camp Combos intended for families.
AZone TEAM STORE: Cardinals merchandise will be available at the AZone Team Store located at the north end of the stadium by Gate 2. The store will be open and accessible from outside of the stadium. Beginning at 1:30 p.m., fans coming to practice can enter the stadium through the team store.
Saturday, July 26: 2-4:30 p.m.
Sunday, July 27: 2-4:30 p.m.
Monday, July 28: 2-4:30 p.m.
Tuesday, July 29: 2-4:30 p.m.
Wednesday, July 30: 2-4:30 p.m.
Friday, Aug. 1: 2-4:30 p.m.
Saturday, Aug. 2: 2-4:30 p.m. (Fan Fest)
Tuesday, Aug. 5: 2-4:30 p.m.
Wednesday, Aug. 6: 2-4:30 p.m.
Thursday, Aug. 7: 2-4:30 p.m.
Saturday, Aug. 9: Preseason game No. 1 vs. Houston Texans
Monday, Aug. 11: 2-4:30 p.m.
Tuesday, Aug. 12: 2-4:30 p.m.
Wednesday, Aug. 13: 2-4:30 p.m.
Thursday, Aug. 14: 2-4:30 p.m.
Saturday, Aug. 16: Preseason game No. 2 at Minnesota Vikings
Monday, Aug. 18: 2-4:30 p.m.
Wednesday, Aug. 20: 2-4:30 p.m.
Thursday, Aug. 21: 2-4:30 p.m.
Friday, Aug. 22: 2-4:30 p.m.
Sunday, Aug. 24: Preseason game No. 3 vs. Cincinnati Bengals