Cactus League stadium guide: Tempe Diablo Stadium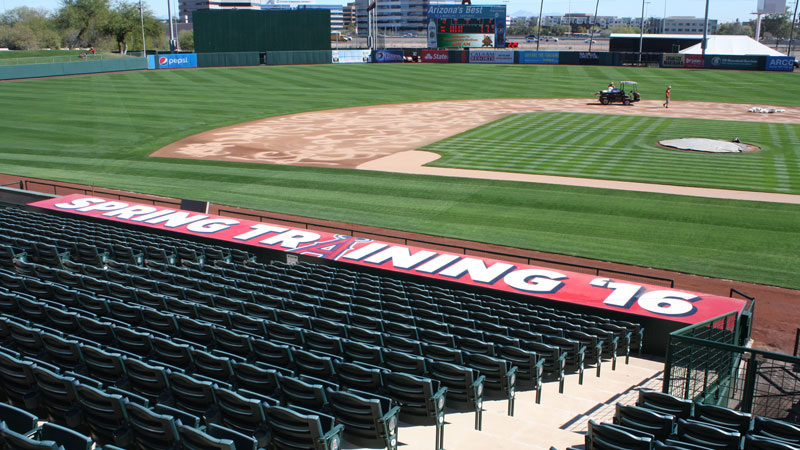 The temperatures are back in the 80s in the Valley of the Sun and with them, 15 major league teams have returned for spring training. Each of the 10 ballparks where they practice and play offer something special for fans who attend, from the delectable garlic fries imported from San Francisco to the opportunity to shag fly balls during batting practice. Cronkite News went from ballpark to ballpark and gathered a list of the must-sees and must-dos while in and around these Cactus League venues.
TEMPE DIABLO STADIUM
Team: Los Angeles Angels of Anaheim
Year opened: 1968
Feature: At 9,315 capacity, the stadium is the second smallest Cactus League venue, which gives fans an intimate feeling.
Autographs: Line up along the first base line and players will sign for you.
Signature food: The popular nachos are piled high inside an Angels baseball helmet.
Don't miss this: Before you head to the lawn, make sure to grab free samples of sunblock throughout the stadium. Also look for the Budweiser Clydesdales that make a surprise visit from time to time.
Most expensive seat: For an up-close-and-personal look at the players, buy a $95 ticket in the Home Plate VIP section.
Cheapest seat: Get some sun on the lawn with a $15 ticket.
Pregame hotspot: If you want some local food before the game, head to South Mountain Park's Morning Glory Cafe for breakfast.
Postgame sports bar:The fun continues on Mill Avenue after the ninth inning. Check out the bars and restaurants that even the players frequent.
Nearby attractions: Take a stroll over Tempe Town Lake Bridge, but you can't rent a boat, as the lake has been drained for repairs.
Tempe Diablo Stadium: 2200 W. Alameda Drive, Tempe 85281
Mill Avenue: 520 S. Mill Ave., Tempe 85281
Morning Glory Cafe: 6106 S. 32nd St., Phoenix 85042
Tempe Beach Park & Bridge: 80 West East Side of Mill Avenue and South Side of Rio Salado Parkway, E. Rio Salado Pkwy., Tempe 85281