Cactus League stadium guide: Surprise Stadium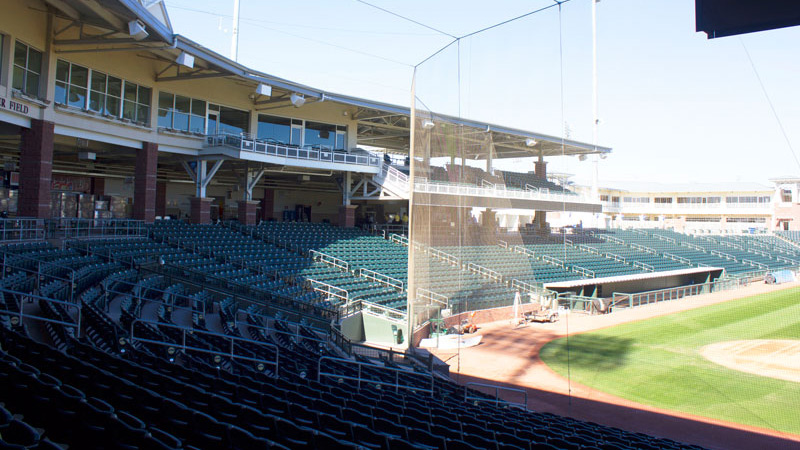 The temperatures are back in the 80s in the Valley of the Sun and with them, 15 major league teams have returned for spring training. Each of the 10 ballparks where they practice and play offer something special for fans who attend, from the delectable garlic fries imported from San Francisco to the opportunity to shag fly balls during batting practice. Cronkite News went from ballpark to ballpark and gathered a list of the must-sees and must-dos while in and around these Cactus League venues.
SURPRISE STADIUM
Teams: Kansas City Royals, Texas Rangers
Year opened: 2003
Feature: Join fans in the Home Run Party Tent located in right center field and enjoy catered food and drinks while watching a game. Cost: $30.
Autographs: Arrive early and get autographs at the edges of the dugout. Also attend an early morning practice and you will be given access to autographs at the practice fields.
Signature food: Food at the stadium changes every year, but you can always count on funnel cakes and cheese steaks. Chill out at the beer garden with a frozen margarita.
Most expensive seat: Lower dugout premium seats right behind home plate for $35.
Cheapest seat: Save some bucks by bringing your own chair and sit in the lawn for only $8.
Pregame hotspot: Just a little ways down from the stadium is Booty's Wings, Burgers and Beers. Enjoy wings that have won multiple awards at the National Buffalo Wing Festival in Buffalo, NY. This family friendly place includes karaoke and live music.
Postgame sports bar: Less than 10 minutes away, Runners Sports Bar is the best way to finish off your day. Hit the pool tables or try karaoke.
Nearby attraction: If you want to work off baseball food, the Surprise Recreation Center is located in front of Surprise Stadium, complete with a tennis and racquet complex, dog park, aquatic center and lake.
Feels like home: Rangers fans might recognize the roped off section of the grass that makes up the lower half of the hitter's backdrop in center, because just like at the Rangers Ballpark, fans can retrieve home run balls that fall in that area. Royals fans can buy World Series championship attire in the team shop.
Surprise Stadium: 15960 N. Bullard Ave., Surprise 85374
Surprise Recreation Center: 15831 N. Bullard Ave., Surprise 85374
Runner's Sports Bar: 12751 W. Bell Rd, Surprise 85374
Booty's Wings, Burgers and Beer: 15557 W. Bell Rd #405, Surprise 85374