Cactus League stadium guide: Peoria Sports Complex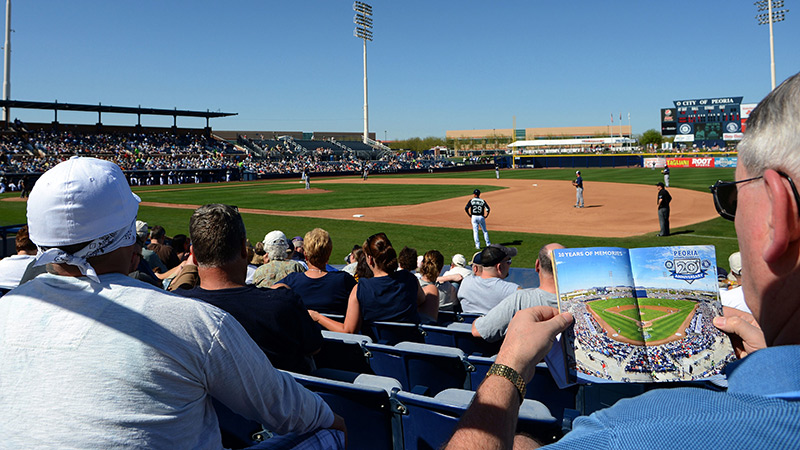 The temperatures are back in the 80s in the Valley of the Sun and with them, 15 major league teams have returned for spring training. Each of the 10 ballparks where they practice and play offer something special for fans who attend, from the delectable garlic fries imported from San Francisco to the opportunity to shag fly balls during batting practice. Cronkite News went from ballpark to ballpark and gathered a list of the must-sees and must-dos while in and around these Cactus League venues.
PEORIA SPORTS COMPLEX
Teams: San Diego Padres, Seattle Mariners
Year opened: 1994
Feature: Kids 12 and under can do public address announcements, stand with a player during the National Anthem and run the bases after the game.
Autographs: If your hand is small enough, you can stick your hand through the fence as the players are entering or exiting the field from the clubhouse. Hence, the nickname — "Autograph Alley." You can also receive autographs at the main stadium before the start of the National Anthem or during early morning workouts on the practice fields.
Signature food: If you are feeling up for the challenge, you can buy the Foot-Long "Ruthian" Hot Dog.
Don't miss this: Bring your best four-legged friend March 14 to the PAW-tio section. (Don't forget to share that Foot Long Hot Dog with him.)
Most expensive seat: Premium Infield Box (Sections 100-118) costs $32.
Cheapest seat: Get a tan in the outfield section of lawn seats that cost from $7-$10.
Pregame hotspot: Stop by the P83 party, which is the post-game street festival right by the stadium. Admission is $10 but free with a Peoria game ticket.
Postgame sports bar: If you are from San Diego, you can feel right at home at Oggi's Pizza and Brewing Co., which started in San Diego in 1991.
Nearby attraction: The Arizona Broadway Theatre is only a couple miles away from the stadium. Go ahead, mix some baseball and theatre into your day. Fiddler on the Roof is playing at the theater from Feb. 26 through April 3.
Feels like home: Petco Park features grass seating in the outfield. So does Peoria.
Peoria Sports Complex: 16101 N. 83rd Ave., Peoria 85382
Oggi's: 6681 W. Beardsley Rd., Glendale 85308
Arizona Broadway Theatre: 7701 W. Paradise Lane, Peoria 85382