Cactus League stadium guide: Maryvale Stadium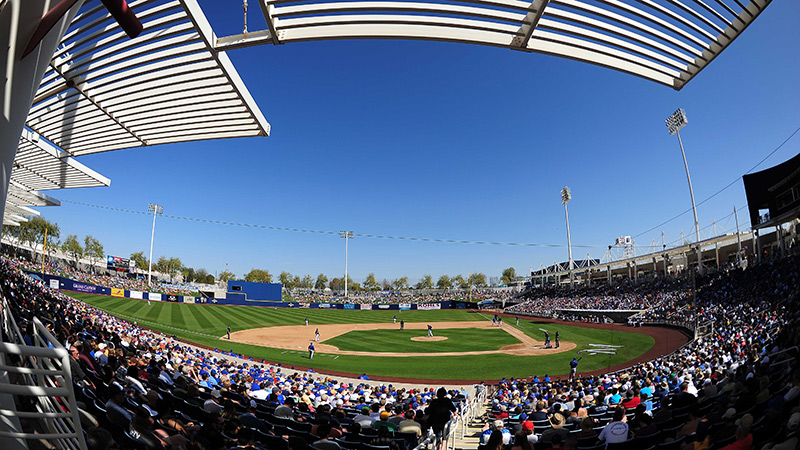 The temperatures are back in the 80s in the Valley of the Sun and with them, 15 major league teams have returned for spring training. Each of the 10 ballparks where they practice and play offer something special for fans who attend, from the delectable garlic fries imported from San Francisco to the opportunity to shag fly balls during batting practice. Cronkite News went from ballpark to ballpark and gathered a list of the must-sees and must-dos while in and around these Cactus League venues.
MARYVALE STADIUM, PHOENIX
Team: Milwaukee Brewers
Year opened: 1998
Feature: A lot of Cactus League teams have started a trend of playing college baseball teams and the Brewers will be joining in on the fun this year. They will be playing the University of Wisconsin-Milwaukee to kick off spring training.
Autographs: Fans can grab Brewers autographs after their pregame stretching down the right field line, lawn and behind their dugout.
Signature food: Sink your teeth into some true Milwaukee flair with a juicy bratwurst.
Don't miss this: If you love to collect baseball memorabilia, then don't miss the six games the Brewers are giving away bobbleheads.
Most expensive seat: For those who want to feel like they're part of the action and close to the players, pay $27 to sit anywhere behind the third base to first base line.
Cheapest seat: A popular destination to soak up the sun: lounge out in the lawn for $8.
Pregame hotspot: While in Maryvale, to get that true Miller Park experience, join Brewers fans who tailgate in the parking lots before the game.
Nearby attraction: Recently renovated and re-opened just last month is GCU Golf Course, formerly known as the Maryvale Golf Course. Just down the street, it is open to the public from 8-5.
Feels like home: Just like Miller Park, fans are treated to the Sausage Race before the bottom of the sixth inning.
Maryvale Baseball Park: 3600 N. 51st Ave, Phoenix 85031
GCU Golf Course: 5902 W. Indian School Rd., Phoenix 85033