Cactus League stadium guide: Goodyear Ballpark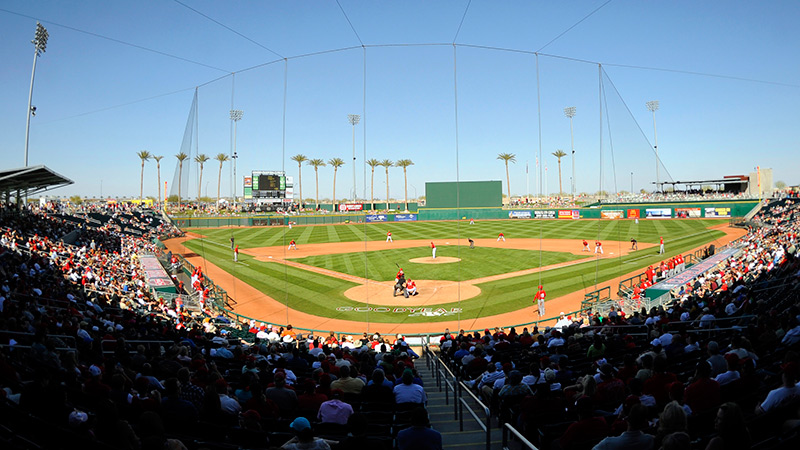 The temperatures are back in the 80s in the Valley of the Sun and with them, 15 major league teams have returned for spring training. Each of the 10 ballparks where they practice and play offer something special for fans who attend, from the delectable garlic fries imported from San Francisco to the opportunity to shag fly balls during batting practice. Cronkite News went from ballpark to ballpark and gathered a list of the must-sees and must-dos while in and around these Cactus League venues.
GOODYEAR BALLPARK
Teams: Cleveland Indians and Cincinnati Reds
Year opened: 2009
Feature: The Ziz, a statue that is hard to miss right outside the ballpark, is sculpted to represent a bird in flight. The Ziz stands at 60 feet, 6 inches, exactly the same distance between home plate and the pitcher's mound.
Autographs: Before every game the Reds and the Indians sign autographs in sections 106 and section 118.
Signature food: You can find Cleveland's famous Bertman Ballpark Mustard. For Cincinnati lovers, you can find Skyline Chili right inside the park.
Don't miss this: The Estrella Falls Kid's Zone, which is free for all ages at every game and features a whiffle ball field and inflatable bounce houses.
Most expensive seat: For an up-close-and-personal experience with your favorite Ohio team. premium field box tickets are $29; it is the same price in Club level seating.
Least expensive: If you want to sit back and relax, you can get a spot in berm seating for $8 for adults and only $4 for children.
Pregame and postgame hotspot: In the nearby town of Goodyear, check out Saddle Mountain Brewing Company, which features food like corned beef or pastrami sandwiches – brined in house for at least 21 days.
Nearby attraction: For all of your hiking, fishing or camping needs, spend the day at the Estrella Mountain Regional Park, only a seven minute drive from the stadium.
Feels like home: Goodyear Stadium knows how to make an Ohio native feel welcome with walls decorated in Ohio memories and images of past Reds and Indians including Barry Larkin. Also don't miss out on retired Indians and Reds players who show up to sign autographs and memorabilia.
Goodyear Stadium: 1933 S. Ballpark Way, Goodyear 85338
Saddle Mountain Brewing Company: 15651 W. Roosevelt St., Goodyear 85338