ASU unveils new plans for renovated Sun Devil Stadium
Arizona State on Tuesday unveiled plans for a renovated Sun Devil Stadium behind a university investment of $210 million, with groundbreaking expected in 2015.
In conjunction with the announcement, made following a donor event on campus Tuesday night, ASU launched a public fundraising campaign to raise an additional $50 million in private donations to upgrade the aging stadium.
"Arizona State University takes pride in its status as an elite institution with an elite athletics program," ASU president Michael Crow said in a statement. "Sun Devil Stadium has been a landmark in the Valley for the last 56 years. The plan to renovate Sun Devil Stadium gives ASU an opportunity to increase our investment in the community and to set the standard for collegiate athletics facilities. We will need philanthropic support from our community in order to provide features that will take the game experience to a new level."
Along with private donations, the renovation will be paid for through Pac-12 Conference revenue, stadium naming rights, Athletic District revenue and incremental revenue from stadium operations.
The demolition of roughly 5,700 upper deck seats in the north end zone already began as a separate project from the renovation. ASU in September will seek approval from the Arizona Board of Regents to begin the full-scale renovation. ASU estimates an updated capacity of 60,000 following the renovation.
The renovation, ASU said, will happen in phases, and the Sun Devils will continue to play at Sun Devil Stadium during the process. ASU previously planned to play elsewhere for the 2015 season and was in negotiations to play at Chase Field in downtown Phoenix.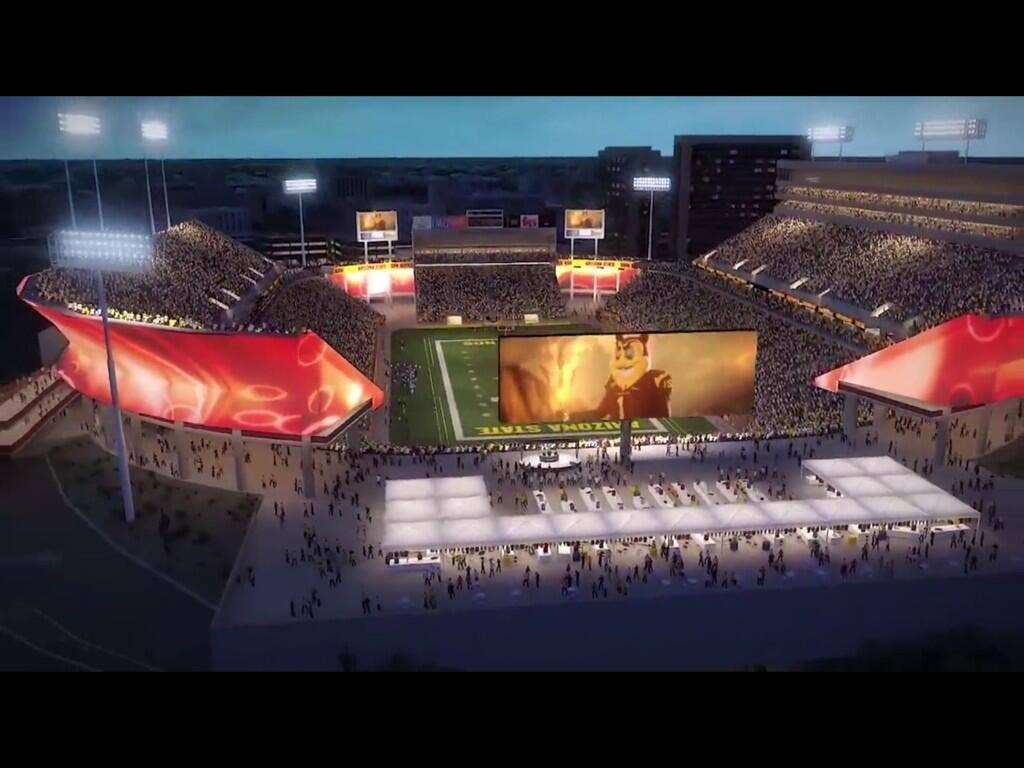 Estimated costs of moving ASU out of Sun Devil Stadium started at $2.5 million and $7.5 million over three years. ASU also determined moving out of the stadium "would negatively impact the game-day experience for ASU students, season ticket holders, student-athletes, as well as the Tempe Community."
Also scrapped in the new plans was the concept of a shade canopy that would have made early kickoffs more feasible and comfortable with temperatures still in the triple digits early in the football season. ASU decided to exclude the canopy after estimating it would cost $132.2 million on its own and after receiving "overwhelming feedback and concern over the ability to see fireworks after touchdowns."
Focus groups and surveys revealed the need for shade fell behind the desire for enhanced seat comfort, improved quantity and quality of restrooms, increased legroom, higher quality concessions and improvements to the scoreboard and sound system.
All of those needs are addressed in the new renovation plans. If all goes as planned, the renovations will be completed in 2017. A detailed timeline will be revealed once an architectural plan is approved.
Preserved amid the renovation will be Tillman Tunnel, the south end zone entrance to Frank Kush field named in to honor the late Pat Tillman, the former ASU linebacker who died in April 2004 in Afghanistan while serving in the U.S. Army. The tunnel was renovated before last season.
"Sun Devil Stadium is the cornerstone of the legacy and tradition of Arizona State football," ASU coach Todd Graham said in a news release. "It was important to keep intact that same tunnel that Pat Tillman ran onto the field from on game day. This venue will blend that tradition with all the elements of a top-tier facility and put us at the top of the league."
Last season, ASU was 10-4, won the Pac-12 South and hosted the Pac-12 Championship game. The program is 18-9 in two seasons under Graham, hired in Dec. 2011.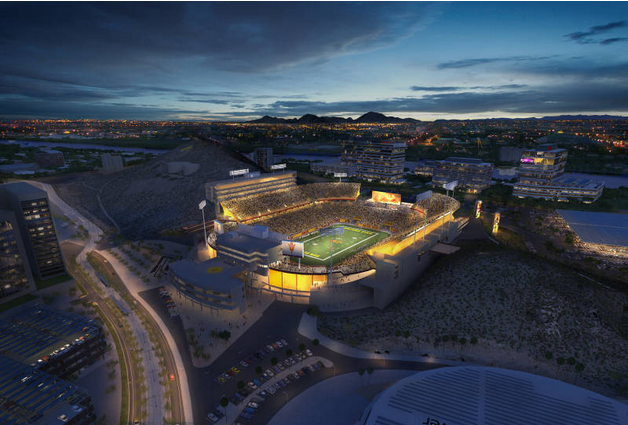 The iconic stadium, situated beside 'A' Mountain, hosted many major events in the sports world and otherwise. Since it was built in 1958, Sun Devil Stadium hosted the Super Bowl (1996), Fiesta Bowl (1971-2006) and the Insight/Buffalo Wild Wings Bowl (2006-present). It was home of the Arizona Cardinals from 1988 until 2005.
Sun Devil Stadium has appeared in multiple movies, including the Oscar-nominated film Jerry Maguire in 1996, Rolling Stones concert film "Let's Spend the Night Together" in 1983 and U2's 1988 documentary "Rattle and Hum." It also hosted Pope John Paul II in 1987 and President Barack Obama in 2009.
ASU is one of two schools in the Pac-12 that has not renovated its stadium in the past decade. Sun Devil Stadium last was renovated in 1988, as 1,700 seats were added when the Cardinals moved from St. Louis.
ASU's football program generated $39.3 million in fiscal year 2013, according to the school, accounting for approximately 60 percent of the athletic department's total revenue. That revenue helped fund 22 varsity sports and provided scholarship opportunities to more than 500 student-athletes.