ASU unveils copper-accented 'Desert Fuel' uniforms
TEMPE, Ariz. — In a nod to the state's history as a top copper producer, Arizona State on Monday unveiled its new "Desert Fuel" uniform combination featuring anthracite jerseys, white helmets and copper accents.
"We wanted to pay homage to this great state while keeping the team's look consistent," ASU coach Todd Graham said in a release. "We are one of the top few teams in the nation with as many looks and combinations as we have, and this plays an important role in building a national fanbase and molding Arizona State University into a household name."
The anthracite color is a coal-like black, lighter than ASU's existing black uniform. On the pants and jersey the pitchfork logos, the "PT42" patch, player names and "Arizona State" are copper. The numbers on the jersey are a copper and white gradient. The white helmets feature a copper pitchfork logo, a copper stripe over the top of the helmet and a copper facemask. (If you are unable to view the video below, please refresh the page.)
"As players, we love to look like one of a kind on the field," quarterback Taylor Kelly said. "Uniforms are important because they have a huge impact on recruiting and our fan base, and this new looks is awesome and very unique in a number of ways, especially the gray and copper chrome facemask."
Arizona State's alternate uniforms are the best in college football http://t.co/DycyZCViWn via @forthewin

— Dan Wolken (@DanWolken) August 18, 2014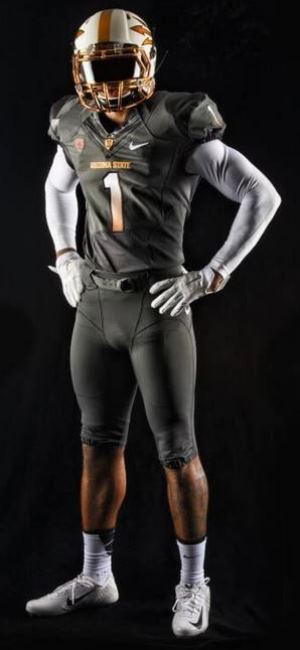 ASU did not say when the uniforms will be worn, only that they are an option this season. Uniform combinations were announced in July for every 2014 home game except Utah on Nov. 1 (student/fan vote) and Notre Dame on Nov. 8.
With the addition of this latest uniform, the Sun Devils have four jersey options and five pants options. The new helmet gives ASU 10 distinct helmet designs in three seasons.
In its release, ASU noted it was the first school in the state to incorporate copper into a uniform when the baseball team debuted a black and copper jersey in 2012. That same year, Arizona's football team debuted chrome copper helmets. ASU, though, noted it is first to incorporate copper into all aspects of the uniform.
"We love the maroon and gold, and it is well represented in our uniform options," ASU vice president for university athletics Ray Anderson said. "But we are also fortunate to be a part of a university that prides itself on change and the ability to break the mold. With the support of a great partner in Nike and tremendous donors, we are able to explore new and unique ways to represent our home state of Arizona as well as continue to reimagine Sun Devil Athletics."