ASU season preview: Offense aims to be best in country
TEMPE, Ariz. — It makes sense that an offense losing a starting running back, two starting linemen, a starting tight end and a starting receiver might take a small step back.
Not so this season at Arizona State, which should be better offensively in 2014 than it was in 2013, a year in which the Sun Devils finished 10th nationally in scoring.
"We could be the best that we've ever been," quarterback Taylor Kelly said. "Our goal is to be the No. 1 offense in the country."
ASU plugged all its holes quickly, and it some cases may have even upgraded. Factor in a returning quarterback and receiver from last year's All-Pac-12 Second Team and it's not hard to see why many expect this year's ASU offense to be perhaps the best in school history, or at least the highest-scoring.
"It always takes its own shape," offensive coordinator Mike Norvell said. "I think every offense is going to form its own identity. Right now we're working on continuing to execute better. Once we get to that point, I know they're going to be physical, I know they're going to play hard, I know there are going to be guys of great character, but I'm ready to see it on Thursday night for the first one. I'm ready to see it."
With the season opener a week away, here is a position-by-position look at the ASU offense: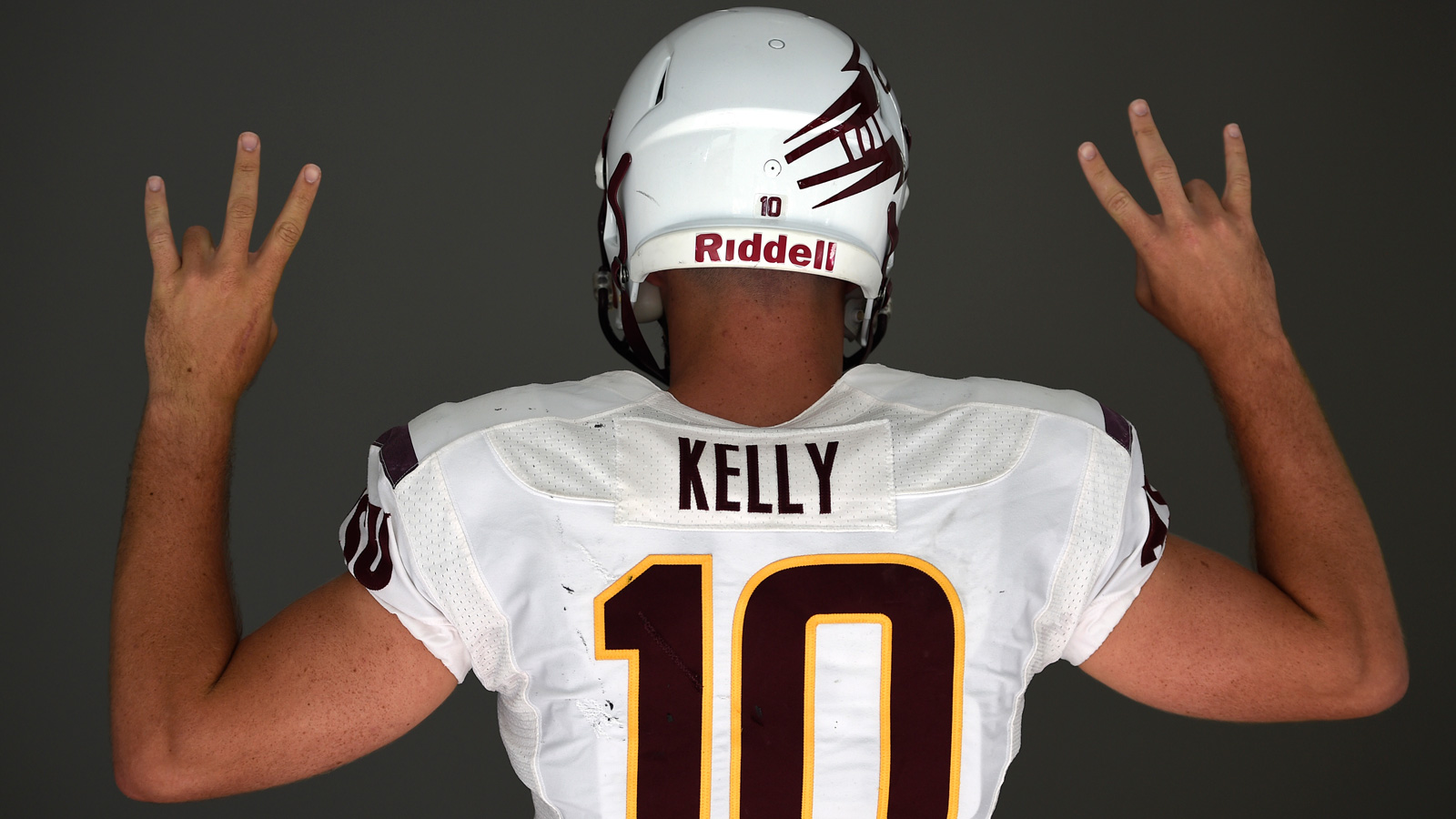 Projected starter: Taylor Kelly
Outlook: It's hard to be in much better position than returning a third-year starter who earned All-Pac-12 Second Team honors the year before and has posted back-to-back 3,000-yard passing seasons. ASU has that with Kelly, and this year, ASU is giving him more control of the offense, allowing him to adapt as he sees fit. Considering all the weapons he'll have this season, it's conceivable Kelly could surpass the 3,635 passing yards and 28 touchdowns he collected last season, and with an improved offensive line, he may not have to run as much. Backup Mike Bercovici, meanwhile, has had a solid preseason and should be a capable option if needed.
Player to watch: Kelly gets lost behind fellow Pac-12 quarterbacks Marcus Mariota, Brett Hundley and Sean Mannion, but he has as many weapons as any of them this year and is considered by some to be a dark horse Heisman Trophy candidate.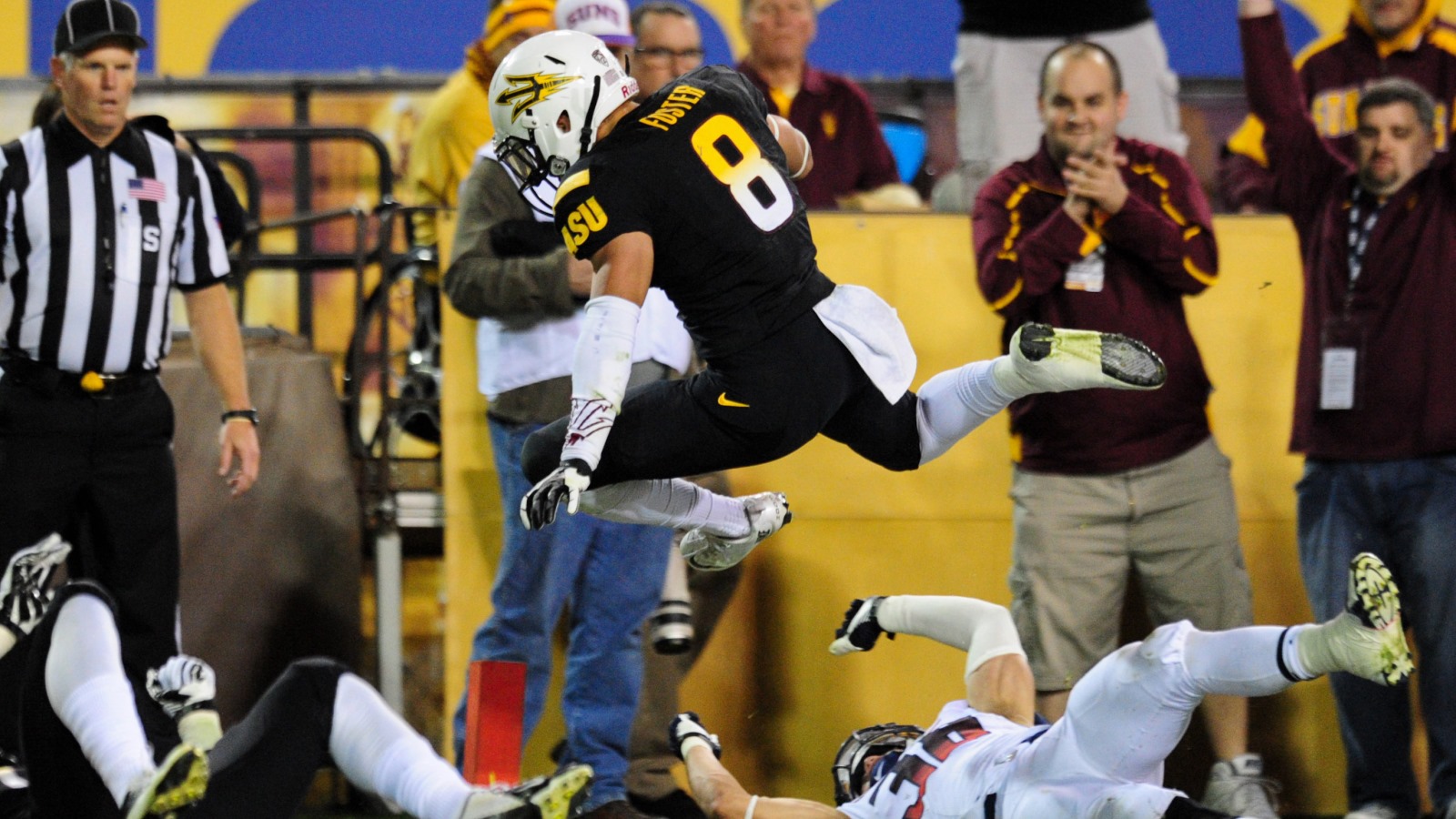 Projected starter: D.J. Foster
Outlook: Foster, a junior, steps into the featured back role Marion Grice held the past two seasons. If his stellar performance in that role the last three games of 2013 is any indication, he should be in for a big year.
"I'm excited, I'm hungry," Foster said. "I just want to go out there and do everything I can for my team."
Foster tallied more than 1,000 all-purpose yards in each of the past two seasons, and coaches believe this year he could collect 1,000 yards rushing and 1,000 receiving, though he'll likely be used less as a receiver.
Though coaches say they are not concerned, there are durability questions with Foster, who was injured in last year's Pac-12 title game and this fall missed a week of camp. But ASU has more depth than it has had under the current coaching staff. Veterans Deantre Lewis and Kyle Middlebrooks should be able to spell Foster while freshman Demario Richard should see meaningful action as a running back and receiver. Freshman Kalen Ballage, too, will contribute once he is past a back injury.
Player to watch: Richard, the Palmdale, Calif., product got opportunities in camp with other backs on the shelf, and he made a big impression. He may even be No. 2 on ASU's running backs depth chart right now. ASU's has big plans for this freshman.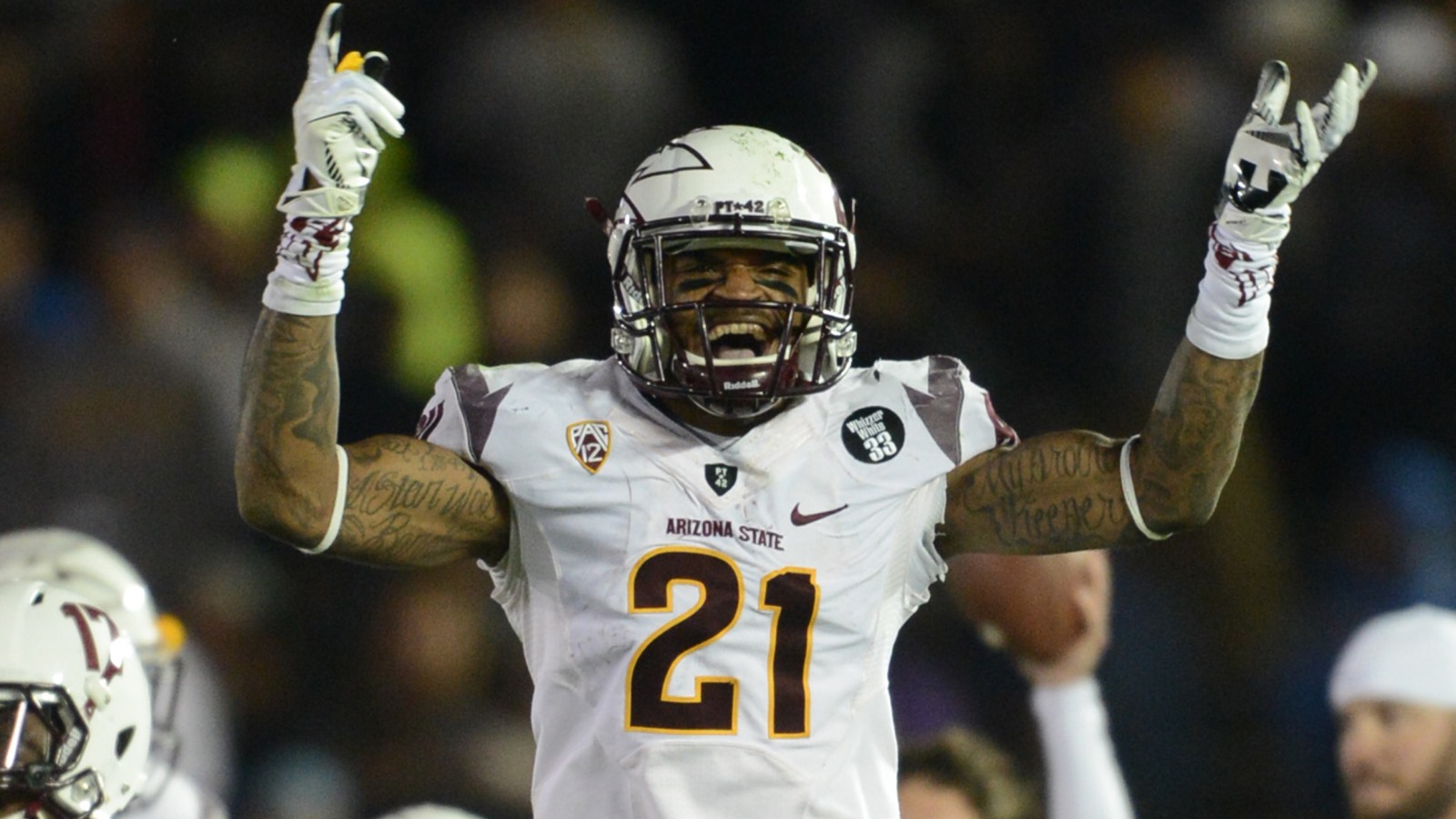 Projected starters: Jaelen Strong, Cameron Smith, Gary Chambers
Outlook: Only Strong is a true starter among this group, as ASU plans to go five receivers deep behind him without set starters. Along with Smith and Chambers, Fred Gammage and Ronald Lewis will be in the picture.
"I'm excited about the receivers," Norvell said. "Other than really Jaelen and a couple spurts in the last couple years, that's been a position that we've probably not been as deep or as strong at, but I'm really starting to see that group come along."
No doubt, this is the deepest group of receivers ASU has had since Graham's arrival. That's good news for Kelly, who has more targets, and for Strong, who could get more chances when defenses have to cover other receivers.
Strong is poised for an even bigger year than he had last season, his first at ASU. Norvell says Strong has improved in every aspect, perhaps most notably his strength after a summer in the strength and condition program. He should be able to top the 1,122 receiving yards and seven touchdowns he collected last season and figures to be one of the Pac-12's best receivers.
Player to watch: No receiver came on as strong as Smith in the second half of camp, and Norvell says Smith, a sophomore, "is a guy that's going to play a ton." He should be key to stretching the field and opening things up for Strong.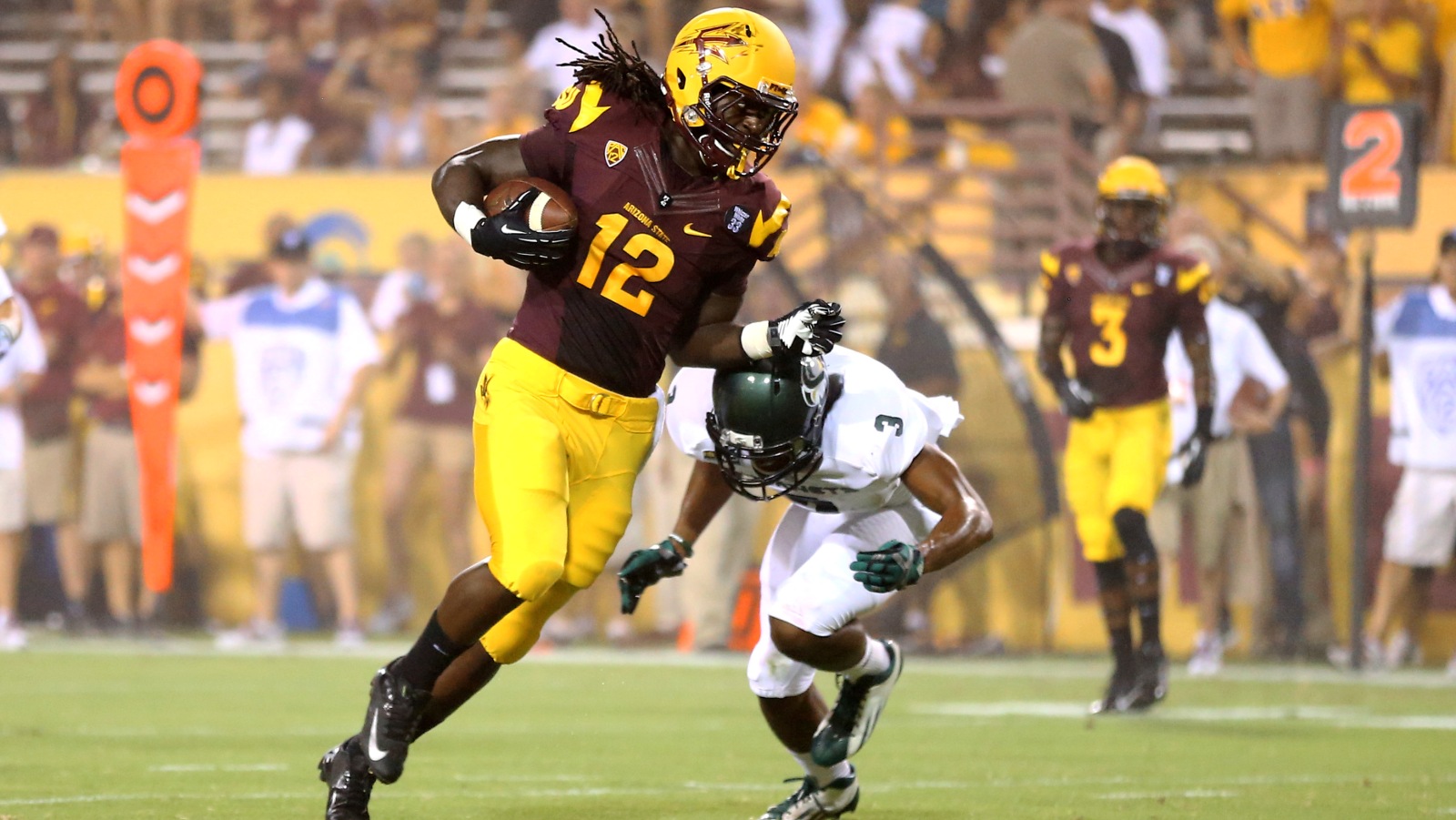 Projected starter: De'Marieya Nelson
Outlook: This spot looked like a potential weakness when ASU planned to play Nelson primarily at Devil-backer, but with him back to being the primary tight end/H-back this should be a position of strength, though different than it was with Chris Coyle playing it the past two years.
Nelson showed against Arizona last season how versatile of a playmaker he can be. Whether he's carrying the ball as a receiver or back, he has big play potential every time. But Nelson will still get time on defense, so ASU needs the players behind him to contribute, and coaches are confident about its depth.
"Really deep at that position," Graham said. "Just need a high level of play, which I think De'Marieya will provide most of, and Kody (Kohl)."
Kohl will likely be ASU's more traditional tight end and has looked solid in his second preseason. ASU also expects redshirt freshman Grant Martinez and freshman Brendan Landman to contribute at tight end this season.
Player to watch: A summer of weight training did wonders for Martinez, who added much-needed strength and has started to look like a prototypical tight end. He has shown a penchant for making big catches throughout the preseason and should only continue to improve.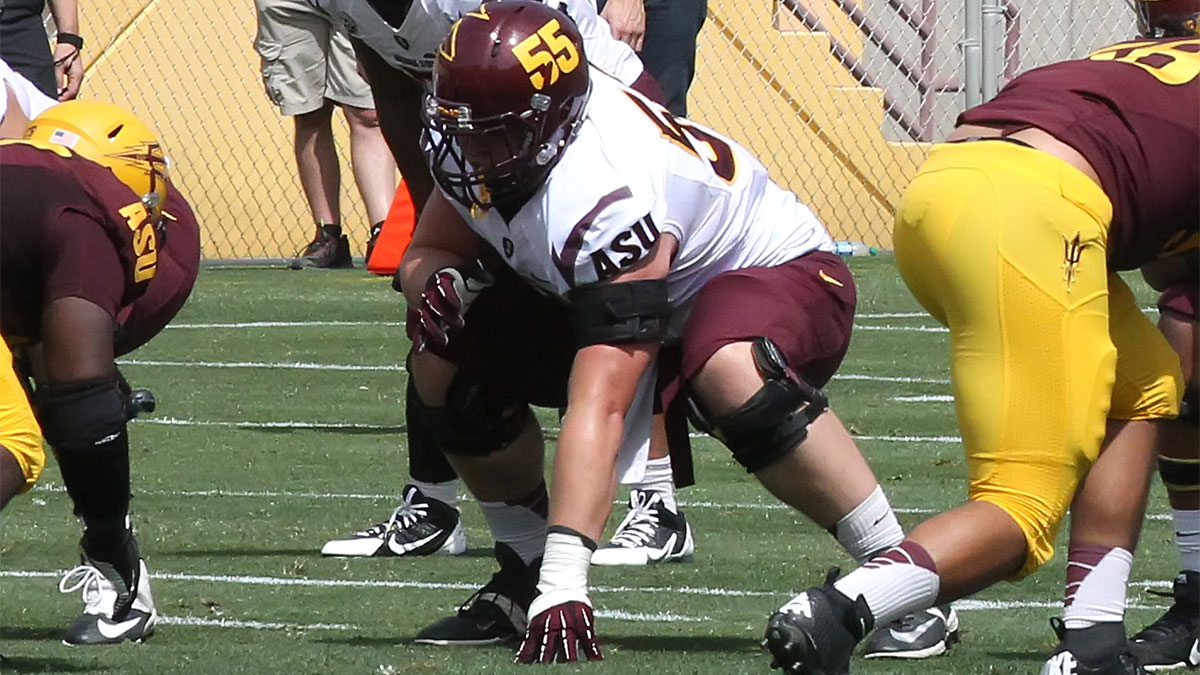 Projected starters: Jamil Douglas (LT), Christian Westerman (LG), Nick Kelly (C), Vi Teofilo (RG), Tyler Sulka (RT)
Outlook: Coaches and players hesitate to say it, but if things go as planned this could be the best offensive line ASU has had under Graham. With Auburn transfer Westerman now eligible, athletic center Kelly now starting and Douglas moved to left tackle the line looks very different but appears to be upgraded.
"I think we're bigger and probably stronger," Norvell said. "I'm excited about this group. I think it has a chance to be definitely the best group that we've had. … I think they could be a pretty dominant force up front if they continue to work and get better."
It's never easy replacing established starters like Evan Finkenberg and Kody Koebensky, but ASU seems to have found the pieces to make for a smooth transition. That won't truly be clear until ASU plays tough opponents like UCLA and USC, but ASU believes the offensive line to be a big time strength.
Player to watch: Much of the attention is on Westerman, a monstrous physical presence, but Kelly could be the key to this line's improvement. His athleticism allows him to change directions quickly, and he should help give Taylor Kelly more time in the pocket.