ASU's McKissic finds happiness at the end of the road
TEMPE, Ariz. — Shaquielle McKissic knew what he would say. It is his life, after all.
He just wasn't sure he would be able get through it without the emotion bubbling over. He made it. Others, not so much.
In the Arizona State film room Monday, McKissic laid out the path that led him to one year of NCAA eligibility following a thriving high school career at Kentridge High in Seattle.
Attempted burglary and jail time kept him from immediately enrolling in a junior college. A friend and high school teammate were shot to death outside a house party. When his mother moved back to the Midwest, he slept first at friends' homes and finally with a friend in a car for a three-week stretch in the parking lot of a Seattle area 24 Hour Fitness two summers ago.
In between were two years of odd jobs before a return to the court at Edmonds (Wash.) Community College last season. Those who were there said McKissic's story "moved the room." Observer and TNT analyst Doug Collins was moved to tears.
McKissic owns it. He wears it. And while it is not the road he would have chosen, it made him who he is. McKissic earlier this season was asked what he would tell his younger self if he could go back in time.
"I wouldn't say anything," McKissic said Tuesday. "I wouldn't have it any other way. Experience is the teacher. For me, maybe I wouldn't have been able to take advantage of the opportunity I was able to have without the obstacles I had to overcome.
I wouldn't have it any other way. Experience is the teacher. For me, maybe I wouldn't have been able to take advantage of the opportunity I was able to have without the obstacles I had to overcome.
Shaquille McKissic
"The thing about it is you have to develop that hunger from somewhere. It's not any type of magical potion that you can take to get the grit and grind and hunger to want more for your family, for yourself, a better life. There have to be those kinds of things that (make you) keep pushing. Some people have their own demons that they deal with. I don't say my life is harder than anybody else's. Even though it was a lot of sad things that have happened and a lot of things that affected me in negative ways, ultimately it was a positive."
McKissic, a 6-foot-5 small forward, is averaging 8.4 points and 4.9 rebounds for the Sun Devils (13-5, 2-3), who continue Pac-12 play Thursday night versus Utah and then against Colorado on Saturday at Wells Fargo Arena.
He leads the team with 23 steals and has only eight turnovers in 417 minutes, numbers that are testaments to his athleticism and precision. He jumps like his @shaqinthebox Twitter handle suggests, and he's played some of his basketball recently.
McKissic scored in double figures in seven of his last nine games, averaging 12 points and 5.7 rebounds while returning to the starting lineup the last eight games. He had his first double-double Dec. 6 against DePaul and a career-high 19 points a week later against Grambling.
His athleticism is NBA-caliber and his defense is improving. This is the first season he had to learn high-level techniques.
"He's had a crash course in advanced basketball," ASU coach Herb Sendek said. "A lot of things that he is experiencing are first-time. He has had a relatively steep learning curve, only to be offset by his great athleticism and his desire to get better."
Sendek developed an admiration for McKissic's determination to make the most of an opportunity that at times seemed unattainable, even though it was his dream all along.
"I feel very blessed to be able to coach him because he has a heart of gratitude," Sendek said. "This means so much to him. I know I sound like a proud father. Shaq obviously has taken a very bumpy road to this opportunity, and he doesn't for one second take it for granted. He has a grateful heart. He is trying to jam-pack a whole career into one year, and so it means a lot to him."
McKissic might get his athletic genes from his mother, Vivian, who remains among the top 10 in Wisconsin's single-season rebound leaders for her work in the 1981-82 season, when the Badgers won 21 games and made it to the quarterfinals of the AIAW national tournament.
"She could dunk. She would always tell me, 'You know where you got all this game from,'" McKissic said, eyes twinkling.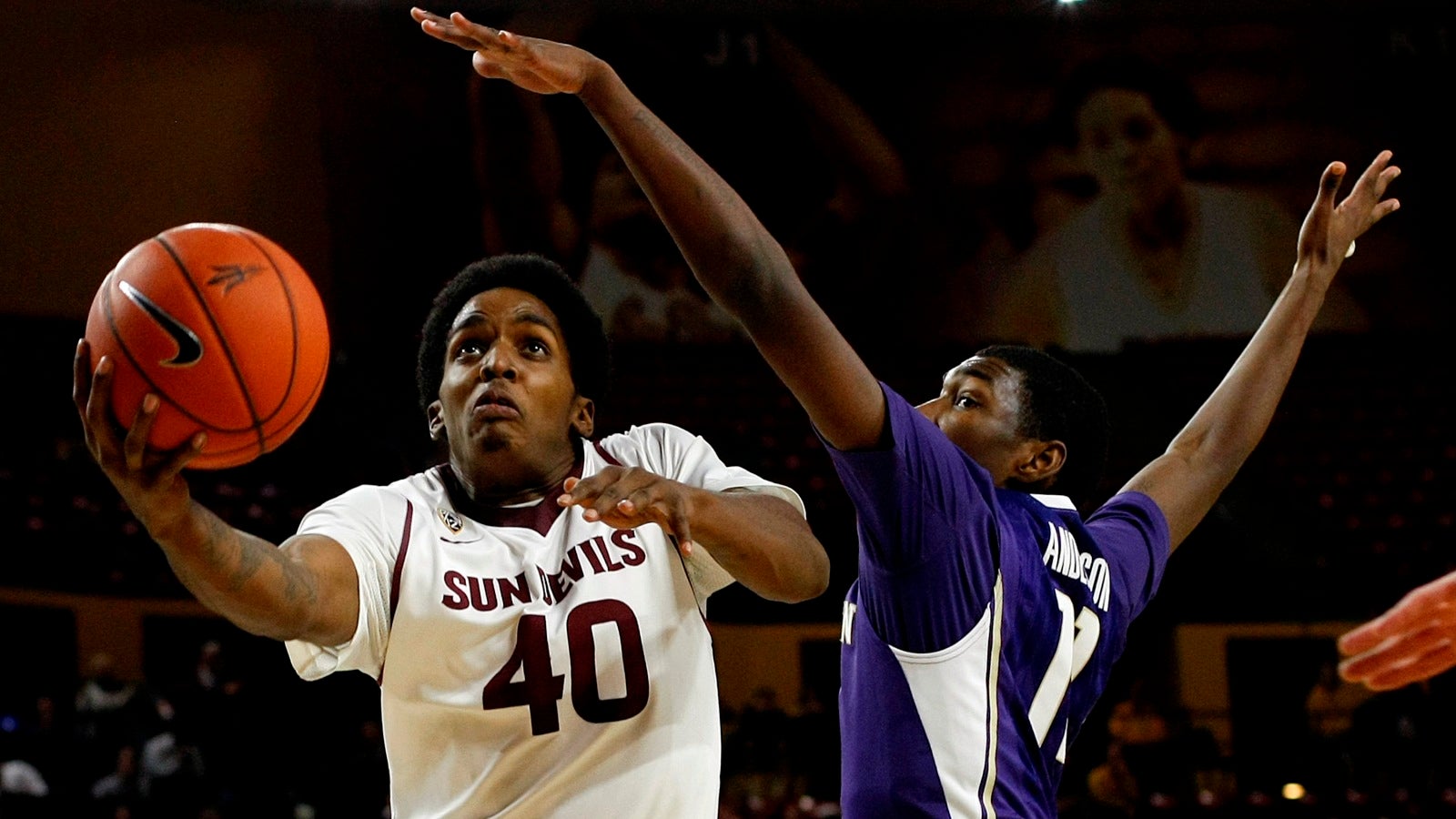 He got the surprise of the season two weeks ago. The year that McKissic could only imagine got even better on ASU's trip to Los Angeles, when he had a conversation with his father for the first time in 20 years.
His father and mother split when he was 3-years-old and McKissic had not heard from his father since. McKissic's father and an uncle live in the Los Angeles area, and when his uncle called, McKissic asked if there was a way to get in touch with his father. The phone rang a short time later.
"It really took my breath away. I was so excited. It was like I was 5 again," McKissic said. "He came out of the blue. I felt like I really needed that. It couldn't have come at a better moment. He gave me a lot of advice on life and everything, and I would be a fool not to sit there and take it in."
The lesson?
"Just to grab life by the horns. Work your heart out. You are in a position to succeed, so why wouldn't you give it a 100 percent?" McKissic said.
As it turns out, McKissic already practiced that while getting back on track. His final hurdle this summer was to pass 25 credit hours to gain his NCAA eligibility. He has landed on his feet.
"It was just tough to think of all that stuff at once," McKissic said his talk. "But you know, every day it gets better."