ASU defense makes spring progress but has much rebuilding left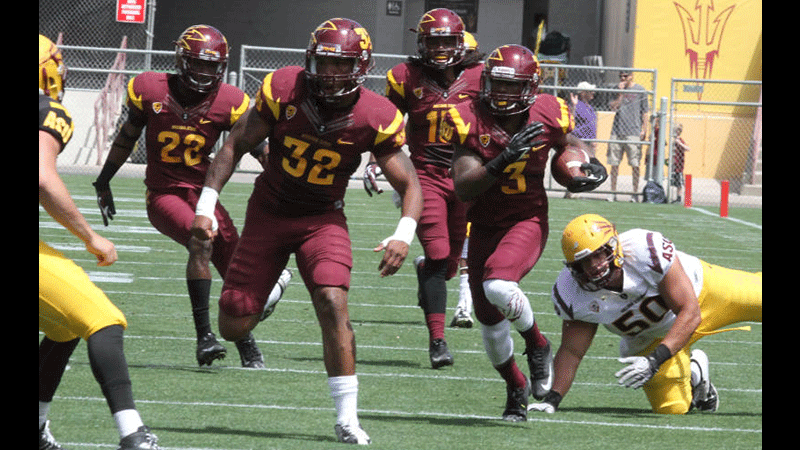 Probably more than anything else, Arizona State's spring practice was about determining exactly what it has to work with next season, particularly on defense, where nine starters graduated. The process wasn't always pretty, but the Sun Devils ended spring practice feeling a lot more confident about the defense than when they began.
"I feel great about where we're at," coach Todd Graham said. "We did a pretty good this spring against a really good offense."
The defense made significant progress this spring — and held its own in the spring game — but has plenty of rebuilding left to do when fall camp arrives to even come close to matching ASU's dominant defenses of the past two seasons.
ASU's defense ranked second in the Pac-12 in 2012 and fourth in 2013. It's understandable then that its depletion dominated the conversation this spring.
Defensive tackle and two-time Pac-12 Defensive Player of the Year Will Sutton headlined the departing group, which also included junior linebacker/defensive end Carl Bradford, who opted to skip his senior season and enter the NFL Draft. Also gone are linebackers Chris Young and Anthony Jones, cornerbacks Osahon Irabor and Robert Nelson, safety Alden Darby and defensive linemen Gannon Conway and Davon Coleman.
Only safety Damarious Randall and linebacker Salamo Fiso return from the group that led the conference in turnover margin last season. ASU faces a tall task replacing all it lost, and it does so with a new name in the fold. In February, Graham hired Keith Patterson away from West Virginia to be his new defensive coordinator, as he was at Tulsa and Pittsburgh.
Graham and Patterson make no secret of the fact their defense will be young and inexperienced, but both have embraced the challenge of rebuilding.
"We've lost a lot of great players, but our kids get tired of hearing that," Patterson said. "That was last year. We've got to focus on what we're doing next year, so we've got to start talking about the group of young men we've got now."
With spring practice wrapped up, here are the big defensive takeaways as the Sun Devils head into summer.
Things aren't as bleak as they seem. Losing nine starters and a few key reserves from any defense is reason for concern, but ASU coaches have chosen not to look at it that way. They'd rather view it as a challenge to be tackled head on. Through that lens and a month of spring practice, it has become clear the defensive cupboard is not empty.
In addition to Randall and Fiso, ASU has a handful of seasoned returners. Defensive tackle Jaxon Hood has started 15 games in two seasons. Cornerback Lloyd Carrington nearly won a starting job last fall and played in every game. Defensive end Marcus Hardison played in 13 games, and defensive tackle Mo Latu in 11. Spur linebacker Laiu Moeakiola started five games last season and played in 10. Cornerback Rashad Wadood played in 10 games as well.
Then consider ASU has a host of defensive players ready to contribute after redshirt seasons — notably among them safeties Marcus Ball, Jordan Simone and James Johnson and linebackers Chans Cox, Antonio Longino and Viliami and Alani Latu — and there's even more reason to believe things aren't as bad as they seem.
That's all before getting to any newcomers. Two of those are already on campus: Linebacker D.J. Calhoun and defensive lineman Edmond Boateng. Calhoun, still only 17 years old, has already made a big impression and looks like the new starter at will linebacker.
There's no way around the fact ASU's defense will be young and inexperienced next season, but it's not bereft of talent.
"We're not satisfied with where we are, but we've been pleased with the progress we've made to this point," Patterson said.
Many key pieces to the defense aren't even on campus yet. Now about those newcomers. Graham believes as many as nine players not on campus now will come in and contribute immediately — a significant number for one recruiting class. A few of those players likely to contribute are obvious.
Dalvon Stuckey, the nation's top-ranked junior college defensive tackle, should compete for a starting job after switching his commitment from Auburn due to an academic requirement issue. His junior college teammate, Darrius Caldwell, could be Carl Bradford's replacement at Devilbacker.
Junior college cornerback Kweishi Brown should compete for a starting job, as should defensive linemen Connor Humphreys and Tashon Smallwood. A few others could contribute as reserves.
It was clear at times this spring ASU was kind of waiting impatiently on that group to arrive so true position battles could begin.
Then there's Calhoun, who graduated high school early to enroll at ASU and participate in spring practice. That's looking like a good decision, as coaches raved about Calhoun all spring.
"It would be really, really hard to show up July 31st and be the starting will linebacker, even as talented as he is," Graham said. "(Arriving early) has been invaluable, and he still has a lot to learn. … I think you're going to see it next fall. He's going to be way ahead."
Added Patterson: "He's got that cat-like quickness. He's not big in stature, but he's very strong, very explosive."
While the incoming recruiting class must still be taken as an uncertainty, it seems safe to say at least a few players from the group will make significant contributions on defense.
We're going to find out just how capable this coaching staff is. It's typically overlooked that when Graham arrived at ASU, the defense had just lost seven defensive starters. Graham and his staff faced a similar challenge then, and their efforts will again be paramount.
"We're going to have plenty of talent; we've just got to coach 'em," Graham said. "We're gonna be inexperienced, we're gonna be young, we've just got to coach 'em."
That rebuilt 2012 defense ranked second in the Pac-12 in total defense, first nationally in tackles for loss and second in sacks, all while playing in a new scheme. Among the six first-year starters on that team were Young, Bradford, Darby, Hood, Steffon Martin and Keelan Johnson.
"When I came here two years ago, I told you we'd play defense," Graham said. "Will (Sutton) wasn't even honorable mention all-conference, Carl Bradford never played — he sat on the bench. So we built it."
Graham's staff might not get enough credit for that rebuild or some of its other coaching efforts. Robert Nelson, for example, went from athlete with untapped potential to mistake-prone starter to All-Pac-12 first teamer.
This staff has proven its ability to teach and motivate but may now be facing its tallest task yet. The 2012 rebuild was aided by a wealth of leadership that's not present now, and the staff was able to work without any huge expectations. This rebuild will happen under the microscope of a Pac-12 South title defense.
Patterson should be an asset to the process. Graham expressed again and again this spring how much more confidence he has with Patterson back in the fold. There's probably no one else in college football that knows Graham's scheme as well as Patterson, and with Patterson taking over as the play caller and chief install coach, Graham will be able to take on a larger overseer role.
The rest of the seasoned defensive coaching staff will be crucial as well.
"Our defensive staff is no doubt the best I've ever had," Graham said.