Arizona comes up just short of Final Four — again
ANAHEIM, Calif. — It wasn't a tragedy; Aaron Gordon's right about that. But it undoubtedly felt that way for Arizona.
"It hurts in the worst way," Arizona guard T.J. McConnell said.
One shot. One rebound. One possession.
After all, it was a one-possession game for the last the last 17 minutes, as neither team led by more than three during that stretch. Prize fights wish they could be this good.
"There are things we could have done differently through the course of game — a couple of calls didn't go our way, a couple of bounces didn't go our way — but that's how basketball goes," said Gordon, Arizona's freshman phenom who had just eight points but a career-high 18 rebounds in what might have been his final college game. "… You can look back on the game and be regretful. And then you can look over the course of the season and (see) we only had five losses.
"We had a great season. One of the all-time greats in Arizona history. I'm just disappointed that the ball didn't bounce our way. That's how the game goes sometimes."
For the top-seeded Wildcats, March madness won't turn into April angst. The angst came a few days early thanks to the second-seeded Badgers, who are headed to the Final Four for the first time under coach Bo Ryan.
"This is nothing like I've ever felt before," said Wisconsin center Frank Kaminsky, who had 28 points in an impressive performance. "We've all played basketball our whole lives, and we've all dreamed of going to the Final Four. To actually accomplish that is something I can't put into words."
On the flipside, the loss denied Arizona coach Sean Miller his first trip to the Final Four. Instead, he was dealt his fourth near-miss, with the last three of those coming at Arizona after one at Xavier.
Arizona now holds an NCAA record — a dubious one — with four Elite Eight losses by three or fewer points.
"It hurts a lot to end like that," said freshman wing Rondae Hollis-Jefferson, who had 10 points and four rebounds. "We gave it all, and it hurts especially because of how hard we want to win. We're so competitive."
That's what Miller will take away from this season.
"When your basketball team is 35-5 … (you) have to put our team as one of the greatest teams that have played," Miller said. "When you consider how consistent we've been — and that is the amazing part about our team, we were really good in November, really good in March …"
It ended with the ball in the hands of guard Nick Johnson after the officials reviewed an out-of-bounds call and gave Arizona possession with 2.3 seconds to play. As Johnson dribbled to the left of the key and rose up for a jumper, the Wildcats briefly had hope.
Hope was all they had, as the clock expired just before the ball left Johnson's fingertips. The shot rattled out, anyway.
"We had that second chance," said Johnson, who finished with 16 points. "If I could go back, I'd take one less dribble."
That second chance came after Johnson was called for a push-off while driving to the basket with 3.7 seconds left in overtime and Arizona trailing by one. The call was made by Tony Greene, the official who famously called a technical on Syracuse coach Jim Boeheim earlier this year.
While the Wildcats seemed incredulous at the time, they took the high road after the game.
"It's all a blur right now," Johnson said of the charge.
Miller, who was visibly upset after the call, said, "It was a really, really tough call. I'm going to stop there. I've already been fined."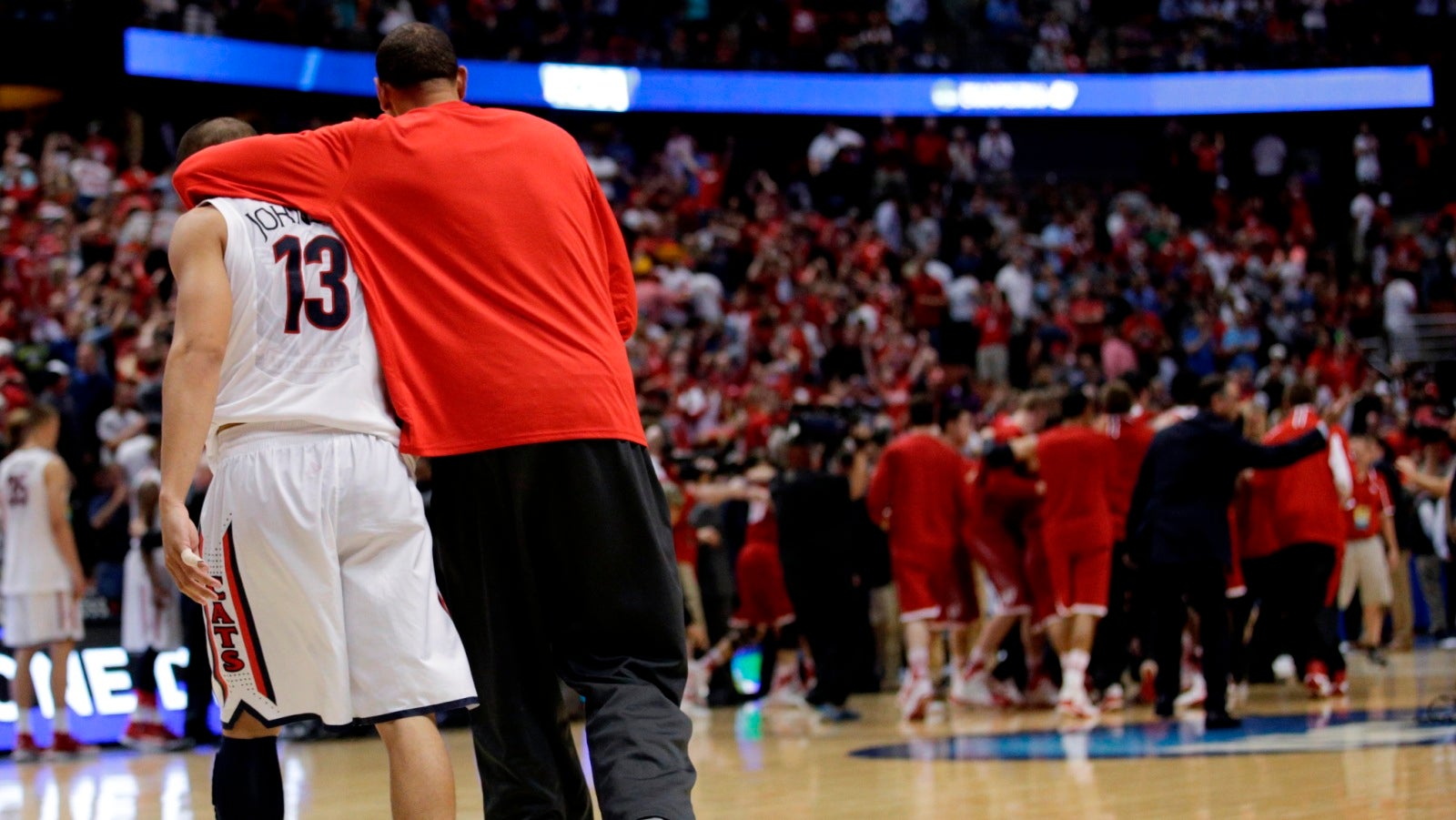 Said Johnson: "It probably could have gone both ways. It was a great play by their defender (Josh Gasser). I wish it would have gone the other way. It happens."
But Wisconsin failed to inbound the ball, as the pass was deflected by Hollis-Jefferson and then went off the fingertips of the Badgers' Traevon Jackson. After a lengthy review, officials reversed their initial call that it went out off of Hollis-Jefferson and gave the ball back to Arizona, setting up the final possession.
Miller called for Johnson — the Pac-12 player of the year, a potential consensus All-American and Arizona's hero in more than a few games this year — to take the shot.
"It was a time of desperation," Gordon said. "I'll bet you all five (guys) were like, 'Get me the ball, get me the ball.' But it went to Nick. We've trusted him all year, and I have no problem with that at all."
Miller called the wait during the video review a "confusing time." But after the ruling, Miller said he stressed that he could only take two dribbles, not three. With just 2.3 seconds on the clock, time was obviously of the essence.
Johnson took three.
"I don't know if he took two or three," Miller said. "I don't know. But it's tough. I mean, you almost don't have time to make a pass. And by the way, Wisconsin is one heck of a defensive team. It's not like they are going to screw it up. Nick tried to make a play as best he could. And it didn't work out."
It didn't work out.
Gallery
Another season over, another win shy.
"Losing a basketball game isn't a tragedy," Gordon said of Miller's postgame message to the team. "Tragedies happen every day in the world. To be sad about this or be overly sad about this, you just need to think about how grateful your life is right now."