Super Bowl XLIV primer: Legacy vs. repeat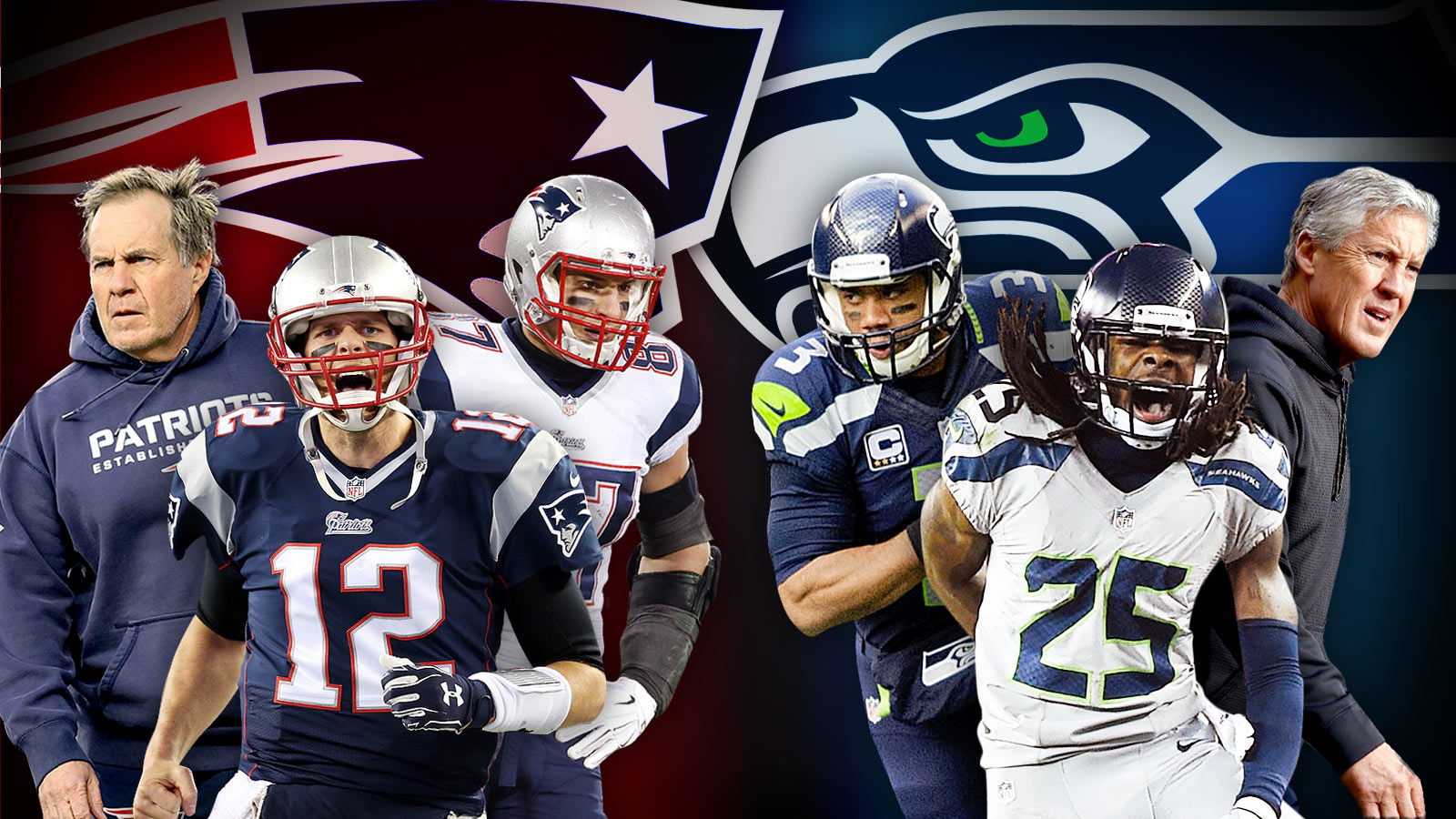 The New England Patriots will try to cement their legacy as one of the NFL's all-time greatest dynasties with their fourth Super Bowl title. The Seattle Seahawks will try to become the first repeat Super Bowl champion since the Patriots did in 2004 and 2005.
The stage is set for Super Bowl XLIV on Feb. 1 at University of Phoenix Stadium in Glendale. Here is a primer on each team's season.
Repeat dreams: No NFL team has repeated as Super Bowl champs since New England did it in 2005 and 2005. Seattle looked like it was in trouble earlier this season when it sat at 3-3 and 6-4. But the Seahawks have rattled off eight straight wins, including a miraculous, come-from-behind win over the Packers on Sunday in which Seattle trailed, 19-7, with just over two minutes to play. Is this a team of destiny? Does such a thing actually exist?
Richard Sherman's health: The Seahawks cornerback may have injured elbow ligaments during Sunday's NFC championship game, but said he would "100 percent" play on Super Sunday, FOX Sports 1 NFL insider Alex Marvez reported. Sherman has an interception in both of Seattle's playoff games and six this season. He is one of the league's premier cover corners. Sherman couldn't move his arm much on Sunday may be because he pinched an ulnar nerve, FOX Sports 1 NFL insider Mike Garafolo reported. Sherman was the victim of friendly fire, taking a hit to the left elbow while running Green Bay Packers running back James Starks out of bounds during the second half. Sherman was treated by the team's medical staff and was in obvious pain. He was due to have more exams on Monday. Can he heal in time to play effectively?
Pete Carroll's revenge: Carroll went 10-6, 9-7 and 8-8 in three seasons as the Patriots' coach before he was fired and replaced by Bill Belichick. With a second straight Super Bowl title on the line, revenge isn't the biggest motivating factor for Carroll, but it would probably taste just a little sweeter, knowing he had handed the loss to New England owner Robert Kraft, the man who fired him. The last time a coach faced his former team in the Super Bowl came when Tampa Bay's Jon Gruden played the Oakland Raiders in Super Bowl XXXVII in 2003. The Bucs won 48-21.
Leaving a legacy: New England won three Super Bowls in four years from 2002-2005, but Rams running back Marshall Faulk's insistence that New England spied on St. Louis's walk-through practice before its first Super Bowl win, and the ensuing SpyGate controversy in 2007 cast a pall over the Patriots' accomplishments. New England has lost its last two Super Bowl appearances, including a stunning, 17-14 loss to the New York Giants that prevented New England from completing just the NFL's second undefeated season in the Super Bowl era. Overall, the Pats are just 3-5 in Super Bowls. QB Tom Brady will turn 38 this summer. There won't be many more opportunities for this cast, but winning a fourth title in six appearances would cement the Bill Belichick and Brady-led Patriots' status as one of the NFL's great dynasties.
Groundbreaking Gronk: The Arizona product Rob Gronkowski is one of the league's more colorful personalities, but he has also revolutionized the tight end position into a major receiving threat. Gronk led all tight ends this season with 1,124 yards and 12 TDs. In 2011, he led the NFL with 17 receiving TDs, becoming the first tight end in NFL history to achieve such a distinction.
Deflate-gate: Following Sunday night's 45-7 beat down of the Indianapolis Colts, WHTR's Bob Kravitz, formerly of the Indianapolis Star, reported on Twitter that a league source informed him that the NFL might look into the possibility the Patriots had deflated balls in the AFC Championship game. According to multiple sources, the league confirmed on Monday that it is looking into the accusations. This whole story feels like a lot (or lack) or hot air, but given how controversy has dogged Belichick's Patriots, it isn't likely to go away before the teams arrive in Arizona next week.