Glitches and all, Olympics never fail to thrill Coyotes chief executive
FOXSportsArizona.com caught up via telephone with Coyotes co-owner, executive chairman and governor George Gosbee in Sochi, Russia, to ask him about his experiences thus far at the Winter Olympics.
FSAZ: Having been there almost a week, how would you rate these games compared to others you have attended?
Gosbee: "It's been a great experience. The Olympic compound is really impressive. I don't have any complaints, but the one thing I've noticed here is the lack of electricity for hockey. When the Americans would come out on the ice in Salt Lake City (2002) or Canada in Vancouver (2010), you could feel the electricity. It seems a bit more corporate here. It'€™s loud, but it's just missing that extra ingredient with hockey. Maybe it was because I saw Russian play Slovenia. Maybe it will be better when it's Russia vs. the U.S., but it was noticeable."
FSAZ: Who came with you?
Gosbee: "(Coyotes alternate governor and co-owner) Craig Stewart. So far I'm the only NHL governor here, so I'm getting invited to everything. Different countries will host different sorts of events, and I seem to be only guy on the list."
FSAZ: What jumped out at you upon first arriving in Sochi (other than how tired you were)?
The hockey rink is the nicest I've been to in my life. It's kind of a shame that's not where the focus is. What they built here is world class, and it's absolutely beautiful.
Gosbee: "You feel the security right away. It's in your face all the time. When you're boarding a bus they take apart the bus to look at it. The security is constant. That's what they need to do and I understand it, but it started to bug me how much it delayed you getting anywhere, so I went out and bought a bike, and now I'm biking along the seawall from my hotel to the rink. The security people weren't crazy about that idea, but it's a lot of fun. It takes about 20 minutes. I bike right along the coast, and I've got a sunburn now. This is the first time I've ridden a bike like that in since I was in school."
FSAZ: There has been a lot of international attention paid to shortcomings in the lodging, facilities or even the treatment of stray dogs. Has any of that been apparent to you?
Gosbee: "Yeah. The hotel is hit or miss if your room is done or not. It's little things. I still don't have a phone or a TV, but I'm not complaining. This is a massive undertaking to host an Olympics, so there are going to be some glitches. I see a few stray dogs here and there, but I actually like that. It's kind of cool to see dogs every day. As far as the money that went into the infrastructure, these are some of the nicest facilities I have ever seen in the world. The hockey rink is the nicest I've been to in my life. It's kind of a shame that's not where the focus is. What they built here is world class, and it's absolutely beautiful."
FSAZ: What has been your favorite part of the Olympic experience thus far?
Gosbee: "My favorite part is running back and forth between arenas to watch the hockey games. I'm a kid in a candy store. It's all so centralized that no matter what event you want to go to, you can get there easily, which is good because if you have to use transportation to go even five miles there are bottlenecks and a lot of security checks. It's a tough area geographically to handle this kind of traffic. But when you'€™re on the Olympic compound, all you need is a good pair of walking shoes."
FSAZ: Have you been to any of the alpine events out of town?
Gosbee: "I've been sticking to the skating events like hockey and long track speedskating. There is a train that leaves right from here and goes directly up to those other events. From everything I've heard, it seems to be really easy, but I stay in the compound because it's easy; the path of least resistance. Incidentally, that train cost a couple billion dollars — I think everything here cost a couple billion dollars — but it's really world class. It's amazing looking."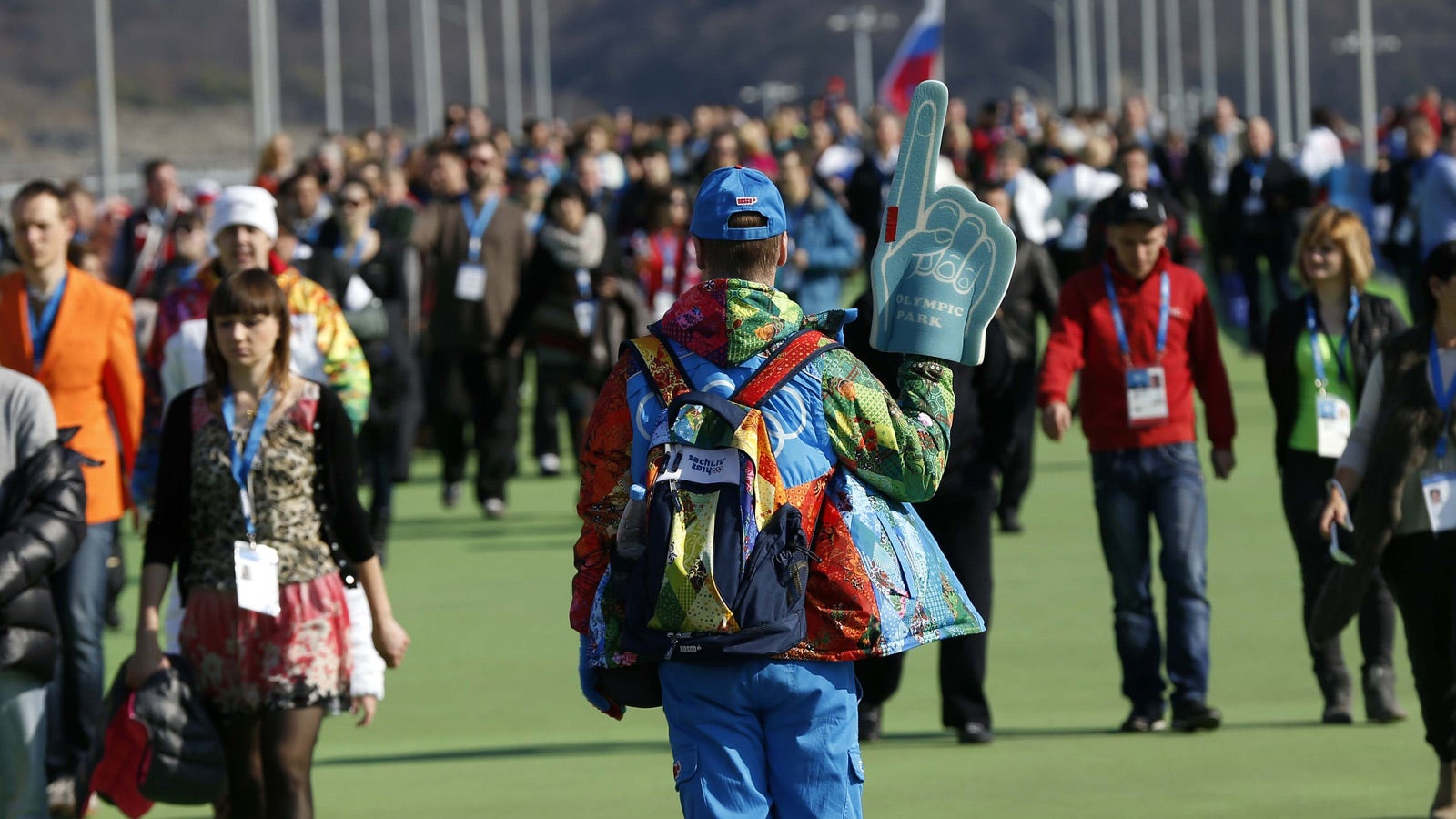 FSAZ: What's the best or worst Russian cuisine you have tasted?
Gosbee: "I haven't tried any Russian cuisine because there's such an international flavor here. I've been eating mostly North American food, and I have no complaints about the food. Whether you're talking street meat from a vendor or in a restaurant, the food has been great.
"I think Craig and I have had steak every night. We were saying that if we keep eating like this, we're going to have to fly home in our bathrobes, because that will be the only thing that fits."
This is my fifth Winter Olympics and that's always one of the best parts of it, hearing all the languages. I love just hanging around the village after events and meeting people and talking.
FSAZ: Do you have any sense or impression of the locals?
Gosbee: "There are a lot Russians here but the staff — pretty much everyone you run into is from St. Petersburg or Moscow or somewhere else. That's what makes transportation so difficult. Nobody knows where anything is because they don't live here.
"Everyone we've dealt with has been very pleasant; going out of their way to do little things for you. I've been to Russia a lot of times, and it's never been this pleasant."
FSAZ: The Olympics are as big a melting pot as any experience in the world. Describe what it's like bumping up against so many other cultures.
Gosbee: "One of the first things I ask people is 'where are you from?' That's what I love about going to the Olympics. There is nothing better than bringing countries together through sports. This is my fifth Winter Olympics and that's always one of the best parts of it, hearing all the languages. I love just hanging around the village after events and meeting people and talking."
FSAZ: Is there anything you left at home that you wish you had brought?
Gosbee: "An extra battery for my phone. There aren't a lot of us over here to talk to, so I'm pretty popular. But mostly, I've discovered you just need a good pair of walking shoes.
I think it's too bad that the Winter Games have gotten a bad rap and there are not more Americans over here. It's been a terrific experience. I wish there were more people over here to talk to and enjoy it with.
FSAZ: Have you bought anything in Sochi, either for yourself or for family, friends or colleagues?
Gosbee: "No. I haven'€™t seen anything to buy. That has been surprising to me. There's a real lack of retail. There's nothing to buy other than Sochi T-shirts or mittens. There are no vendors on the streets, no kiosks. You really have to travel a pretty good ways to buy something."
FSAZ: How do you determine your daily schedule and what does it look like?
Gosbee: "I wake up and there's a bunch of us who gather — mostly other countries' hockey management teams — for breakfast together. Then I go for a run along the seawall, which is a fantastic way to start day. Then I go to the rink and either watch practice or, now that the games have started, I watch three or four games, then we grab a drink and I head back to the hotel."
FSAZ: Have you had any contact with the five Coyotes playing in the Olympic hockey tournament?
Gosbee: "I was talking to OEL (defenseman Oliver Ekman-Larsson) two days ago. He's loving every part of the experience; no complaints about his room or anything.
Medal detector
"I get to see the other guys before they go out for warm-ups at practice. I have jerseys with the names of each of our players and the country they're playing for, so I bring them to games. When the Czechs (Zbynek Mchalek and Martin Hanzal's team) played Sweden (Ekman-Larsson's team), I just threw the jerseys over my shoulder and brought them with me and put them on a chair."
FSAZ: You picked Sweden to win gold. Any change of heart?
Gosbee: "The American team has a lot of confidence. It's not an arrogance, but they have a belief that they can beat every team in this tournament, and I haven't seen that from the other teams in talking to their players. Right now, the U.S. is probably the gold medal favorite."
FSAZ: What message would you want to convey about these Olympics?