The Hit List: Top 5 Moments from UFC Fight Night: Brown vs. Silva
Just to put it in perspective, the last time the UFC brought a fight card to Cincinnati, Kanye West was rhyming about the "Good Life" atop the Billboard Hot 100 and the dangerous, not dreamy vampires in 30 Days of Night top the box office.
While it was undoubtedly a long wait, Saturday's UFC Fight Night proved that it was worth it, as the 13-fight card delivered non-stop action from start to finish.
There were plenty of high points worth searching out on UFC Fight Pass in the future, but for now, here's out look back at the Top 5 Moments from UFC Fight Night: Brown vs. Silva.
This is The Hit List.
Matt Brown: Master of Violence
Video: Highlights: Matt Brown vs Erick Silva
Some guys are black belts. Some have impressive collegiate wrestling pedigrees. Matt Brown is none of those things. Instead, "The Immortal" deserves an entirely new distinction: Master of Violence.
Returning from a nine-month layoff and riding a six-fight winning streak, the Ohio native had the crowd in Cincinnati on their feet from the outset, surviving a dangerous first two minutes to put a hellacious beating on Erick Silva over the final 10 minutes, finally earning the stoppage just over two minutes into the third frame.
There is no let-up with the 33-year-old Brown — he's coming forward at all times, throwing everything imaginable at whoever is standing in front of him. Silva caught him with a couple gnarly body shots that had him buckled over in pain, but rather than fold, Brown straightened up and starting coming forward behind punches, kicks, elbows and anything else he could think of throwing.
Now having won seven consecutive contests, the former Ultimate Fighter contestant should find himself facing off with one of the top names in the welterweight division next time out.
When that happens, you can be sure it will be all kinds of violent.
The Urgent Aggression of Costas Philippou
Video: Highlights: Costas Philippou vs Lorenz Larkin
Entering on a two-fight losing streak and having most recently been stopped in the first round, Costas Philippou came out of the gate like a man possessed in his co-main event pairing with Lorenz Larkin.
Historically a slow starter, the 34-year-old New Yorker (by way of Cyprus) came out swinging right away, trading big shots with Larkin from Jump Street. Both men landed some big shots and opted to keep swinging, but that proved to be a bad decision for "Da Monsoon."
Philippoun uncorked a left hand that staggered Larkin along the cage and followed up with a pinpoint short right on the button that ended the bout in a flash. After a pair of lopsided setbacks had him questioning if he wanted to continue competing, Philippou turned in the best performance of his career, showing that he's still a threat in the middleweight division.
Detroit — WHAT!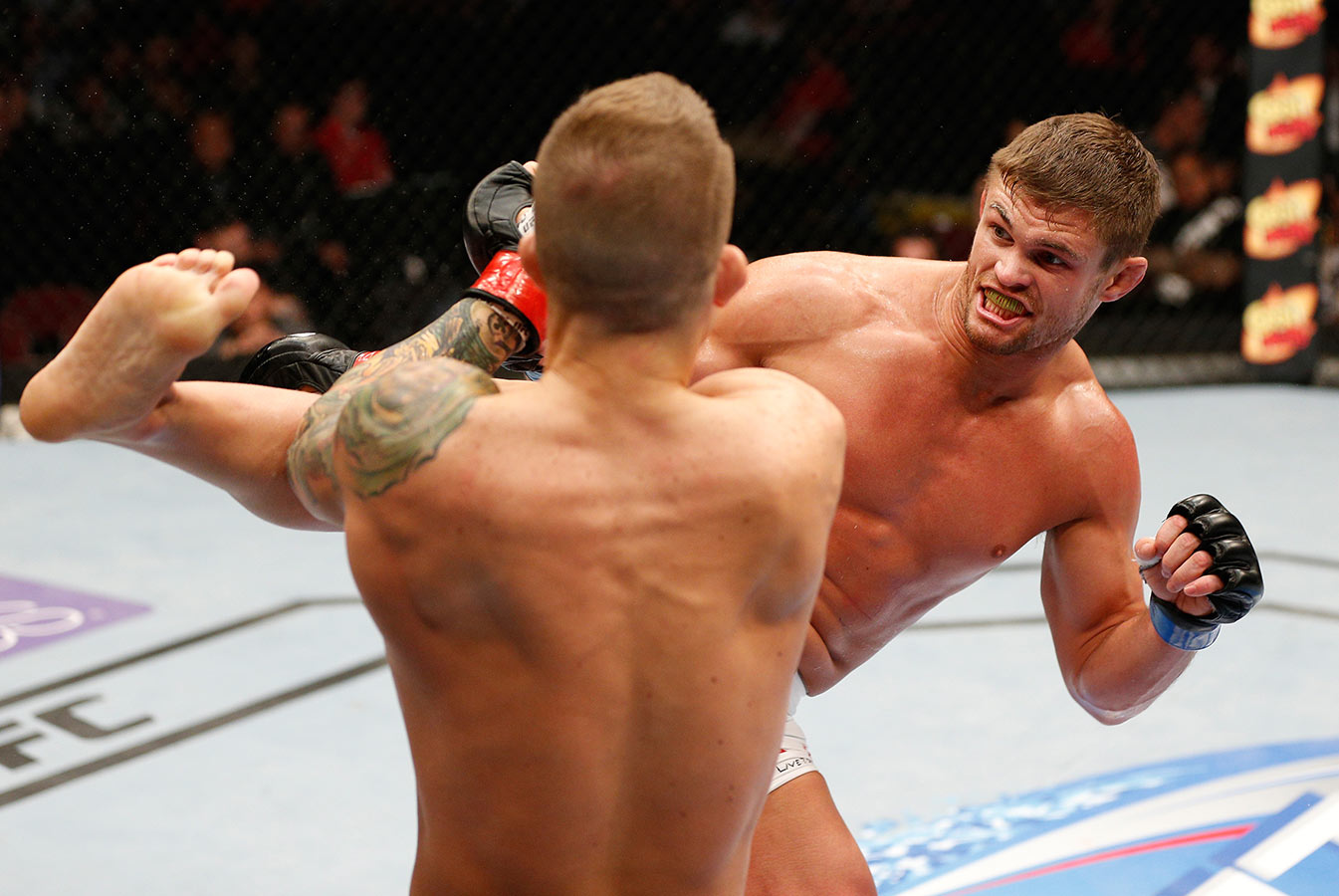 Daron Cruickshank is developing a penchant for delivering highlight reel finishes. Paired off with divisional newcomer and former featherweight title contender Erik Koch, "The Detroit Superstar" made the most of his first main card opportunity, collecting a stunning first-round finish.
A taekwondo stylist who uses his kicks to maintain space like others use a jab, Cruickshank kept Koch at bay early, circling and escaping well and landing with sporadic strikes from odd angles. Midway through the frame, Cruickshank went on the offensive and Koch went down, getting caught with a left head kick that left him on the canvas.
The former TUF Live contestant pounced, unloading a barrage of unanswered punches and elbows to force the stoppage. Cruickshank has now won consecutive contests to push his record to 5-2 in the UFC and has established himself as a must-see attraction whenever he steps into the Octagon.
Hulk Smash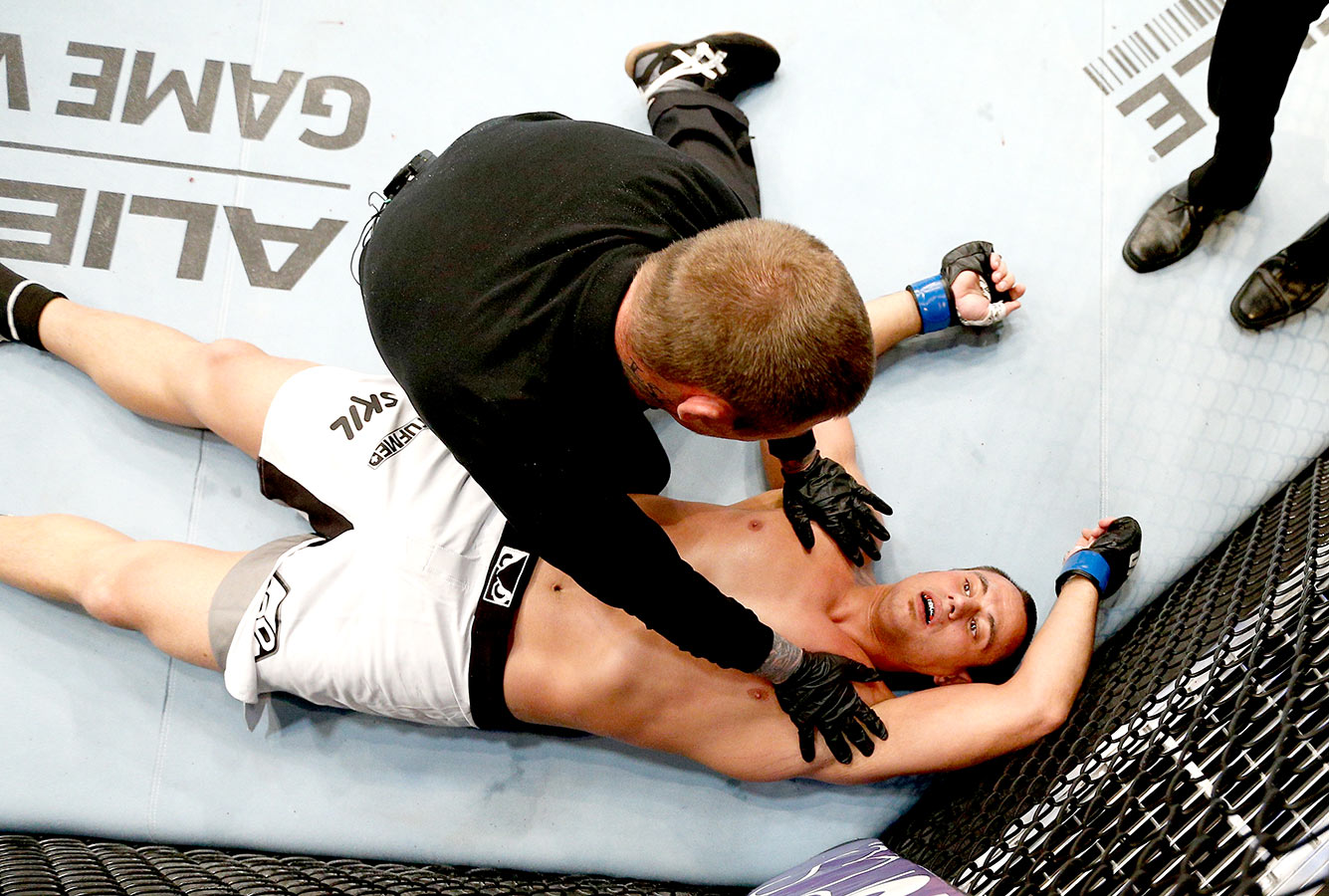 Soa Palelei went nearly six years between UFC appearances, but over his last three appearances, "The Hulk" has been making up for lost time.
Entering Saturday's pairing with newcomer Ruan Potts on a 10-fight winning streak, the final two of which came inside the Octagon, the 36-year-old veteran patiently avoided a couple early submission attempts from the South African. Once Potts stopped attacking from bottom, Palelei began attacking from the top, slipping to mount with ease and finishing "Fangzz" with a nasty left hand.
Palelei has now won consecutive contests in the opening round and is starting to move from being a fun redemption story into a fringe contender in the heavyweight ranks. Given the overall lack of depth in the division and proven one-punch power he carries to the cage, it's not inconceivable to think that the Australian heavyweight could find himself in a marquee matchup before the year is out.
First Round Finishes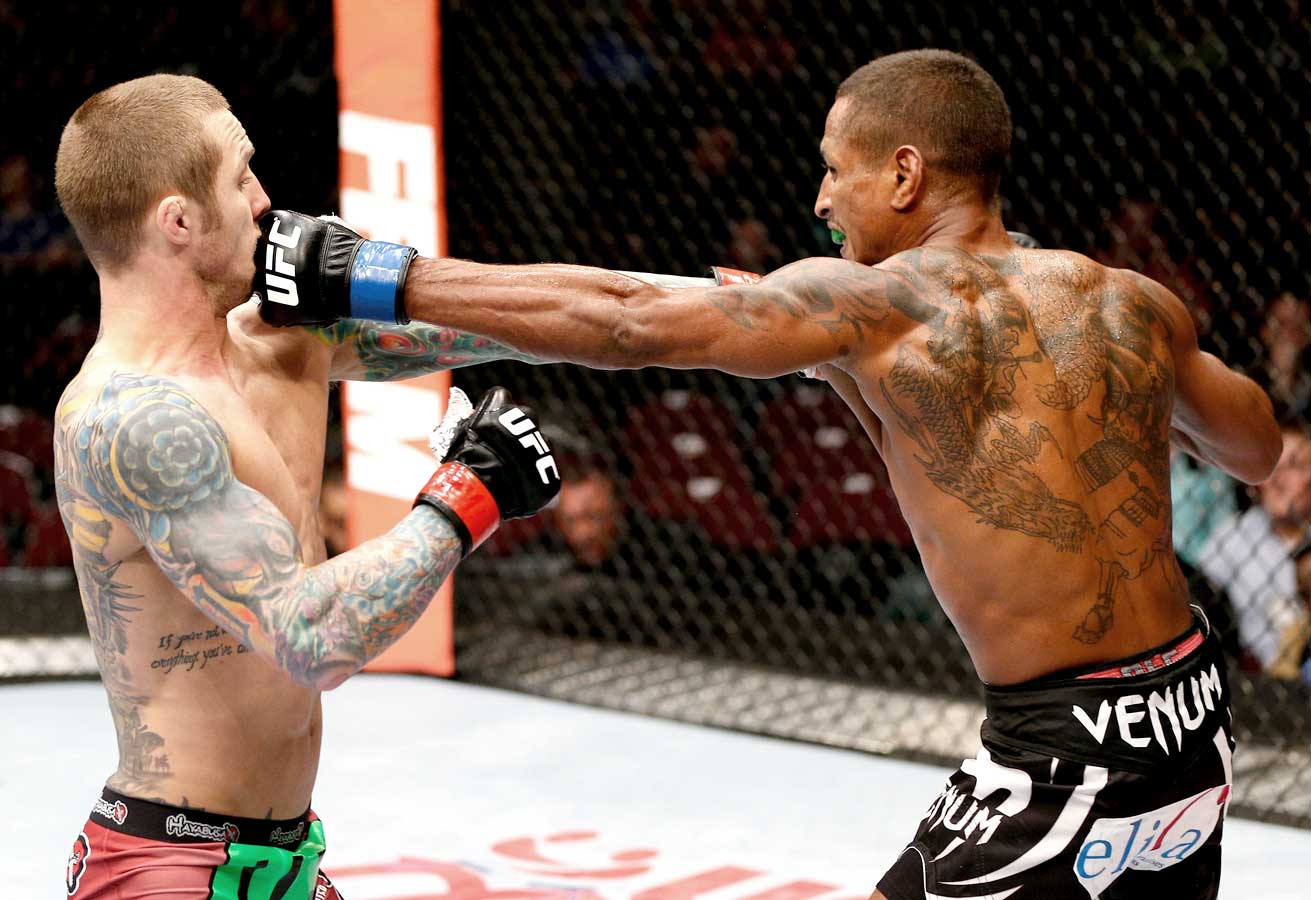 Three of the opening four bouts on Saturday night came to a close inside of the opening five minutes as Albert Tumenov, Justin Salas, and Johnny Eduardo all collected impressive finishes at U.S. Bank Arena in Cincinnati.
Tumenov got things going with a blistering left hand that starched Anthony Lapsley just prior to the four-minute mark of their welterweight affair, earning his first UFC victory with a highlight reel finish. In the very next fight, Salas one-upped the 22-year-old Tumenov, putting Ben Wall on the canvas with a left hand down the middle just passed the midway point of the first stanza.
Not to be outdone by the Fight Pass preliminary performers, Eduardo returned off a layoff of more than 700 days to stop former title challenger and Top 5-ranked veteran Eddie Wineland. As two looked to feint and find their range, the Brazilian dropped a beautiful right hand on the chin that gave Wineland the full body wiggles, finishing him off with a follow-up right seconds later to seal the upset.