Ronda Rousey's coach predicts KO of Alexis Davis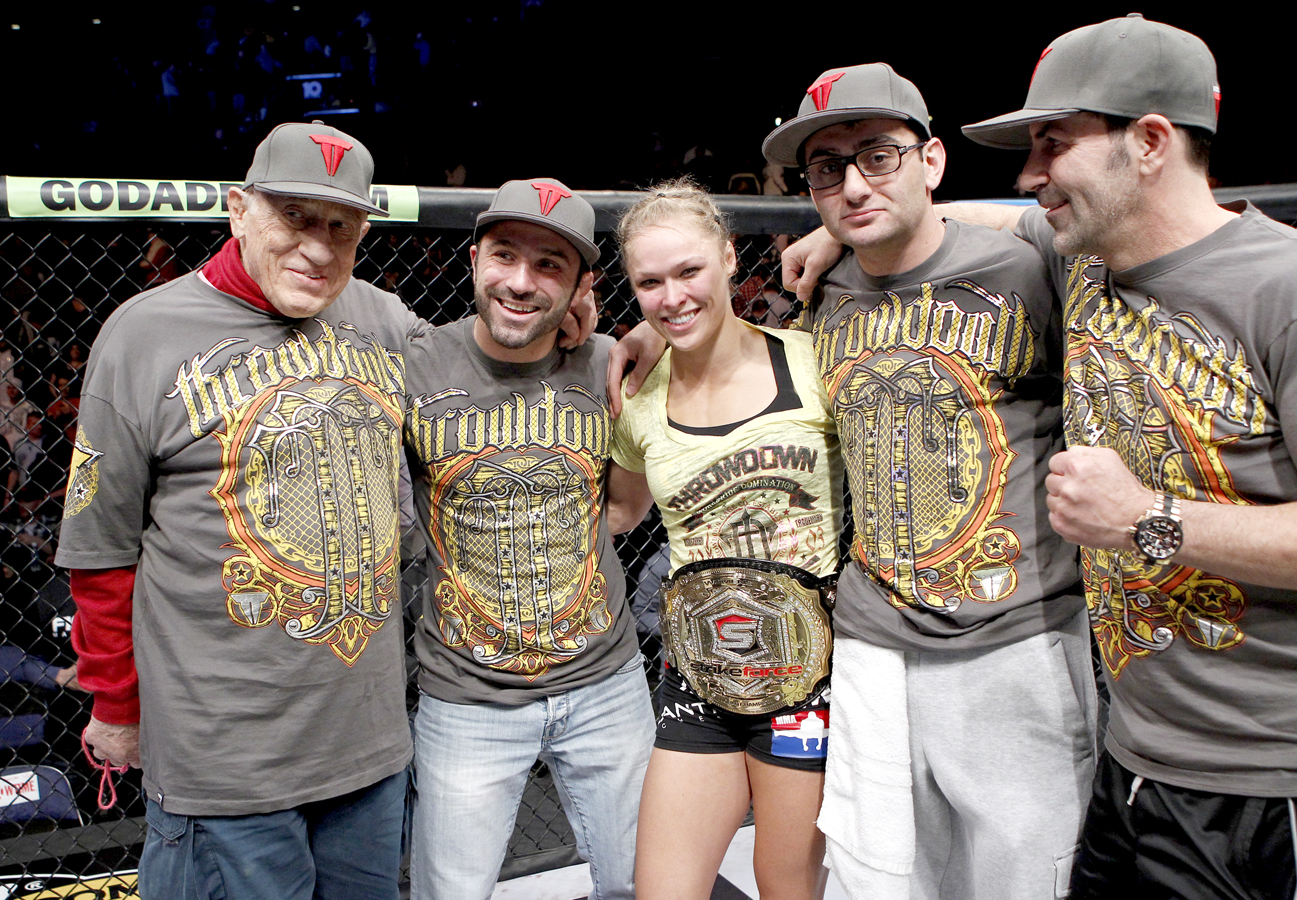 LAS VEGAS — For a while, it was a given. Rousey by armbar.
And then, a wrinkle.
In her last fight against Sara McMann, Rousey caught her challenger with a knee to the body, ending the night with a surprise knockout. The finish came so suddenly that the MGM Grand crowd barely reacted. Part of that was because some believed the fight was stopped prematurely, but part of it was also because of the method of victory. Rousey dropped someone? Oh, man. The Terminatrix is evolving.
The improvements to her game are fast in coming, according to everyone around her, and even Rousey herself.
Perhaps that shouldn't be so surprising. As she is quick to remind people, she won the championship 20 days short of the one-year anniversary of her pro debut. Of course she has room to grow.
The fastest jumps have come in her striking, according to her trainer Edmond Tarverdyan. And as such, he predicts that Rousey's UFC 175 title defense will end with a spectacular thud.
"Last fight I said it was going to be a liver shot. She'd been dropping people in the gym with liver shots. This time it's going to be a head shot. A punch," he told FOX Sports on Wednesday after a Rousey workout.
Rousey admitted that she'd probably never feel quite as comfortable on her feet as she does in close quarters with her judo and grappling, but also compared her progression in striking to similar growth during his days donning the gi.
In those times, she said, she became known as an armbar master, and as that reputation spread, suddenly that opened up her ability to pin opponents. And when that became well known, her throws opened up.
The same holds true here, she said, with many opponents expecting a throw, and getting something a little faster, harder and more direct.
"It seems like the more I specialize in one area, the more it opens up the other areas, and it creates opportunities," she said.
That may well be the case against Davis, who is a lopsided underdog on the sports books. Rousey tends to try to reverse engineer her wins, probing her opponents' minds for what they might see as Rousey's vulnerabilities.
But Rousey was also very blunt in believing that she's better at everyone in her division in every facet of the game, and so if she sees her shot, she'll take it.
"Alexis does everything in MMA. She's an accomplished fighter. She's a very durable girl, she can take punishment and keep going," Tarverdyan said. "But I'll tell you something, we don't look at the opponent. We look at Ronda improving everyday. She comes in the gym excited everyday and she's been dominant in sparring.
"It's hard to get sparring partners," he continued. "We hired the best in the world. Boxing and kickboxing world champions, and she's been looking dominant. There's been some scary sessions, and that's what she's bringing to Saturday night."