Pablo Popovitch makes statement defending himself in Thiago Silva incident
The other man in the Thiago Silva saga has broken his silence in the aftermath of a police standoff that led to the MMA fighter's arrest and expulsion from UFC.
Pablo Popovitch, who reportedly is in a relationship with the former UFC fighter'€™s estranged wife, wrote on his Facebook that Thiago and Thaysa Silva have been separated for more than a year.
"Thaysa has been separated and living alone since December of 2012,"€ Popovitch wrote. "Thiago has been charged with battery in the past and was seeing other girls and moving on with his own life."
Thiago Silva allegedly threatened Popovitch and Thaysa with a gun Thursday at Popovitch'€™s Brazilian jiu-jitsu gym in Fort Lauderdale, Fla. Silva then reportedly fled to his Oakland Park home once police were called and barricaded himself inside until eventually surrendering to a SWAT team.
Popovitch wrote that he believes Thiago Silva was "under the influence of some type of drug."€ His version of the events are as follows: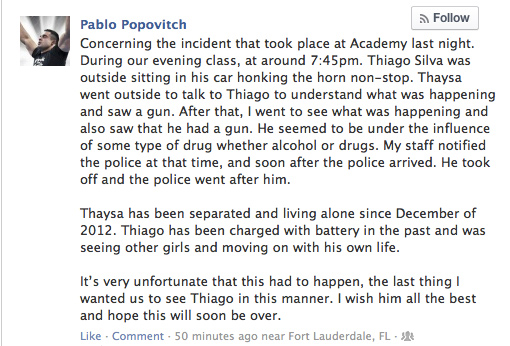 Silva was charged Friday morning with two counts of felony aggravated assault with a firearm, aggravated burglary with a deadly weapon and resisting arrest without violence. The light heavyweight fighter was cut from the UFC on Friday and UFC president Dana White said he would "never"€ compete for the organization again.
Before Thursday's incident, Silva had allegedly stuck a gun in his wife'€™s mouth and sent her a text message saying: "œYou€'re going to die."€ Silva is being held without bail, because, as a Brazilian national, he is a flight risk, according to Broward County judge John Hurley.
"€œIt'€™s very unfortunate that this had to happen, the last thing I wanted us to see Thiago in this manner,"€ Popovitch wrote. "I wish him all the best and hope this will soon be over."