Miesha Tate nude in new 'Body Issue'
What a difference a year makes. Just 12 months after criticizing rival UFC women's bantamweight Ronda Rousey of posing nude in ESPN The Magazine's 2012 "Body Issue", Miesha Tate has wound up in the pages of its 2013 issue.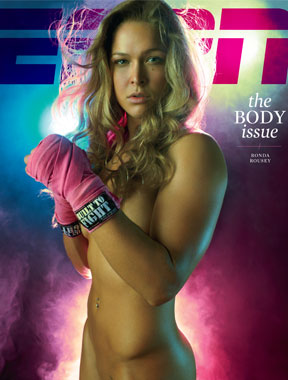 Released this week to the NY Daily News, the photo features Tate frolicking nude on a Malibu beach, wearing the same pink hand wrappings Rousey wore on the 2012 cover. The move makes considerable promotional sense, but remains puzzling after her pointed remarks on Twitter last July:
Any1 else think it's hypocritical 4 Ronda Rousey 2 talk crap about ring girls in playboy but it's totally fine 2 pose "artistically nude" ?

— Miesha Tate (@MieshaTate) July 17, 2012
Well what's the difference between a pro female athlete and a ring girl? I'd say ring girls jobs are soley based on sex appeal, so it makes

— Miesha Tate (@MieshaTate) July 18, 2012
@kaienshiba I dont think any straight man looks at a woman nude or "artistically" nude any different

— Miesha Tate (@MieshaTate) July 18, 2012
Tate had taken issue with Rousey's harsh commentary on Ring Girls appearing in Playboy.
" @BillCollektr: @RondaRousey would you ever pose for Maxim or mags like that?" maxim, sure, playboy, no.

— Ronda Rousey (@RondaRousey) January 11, 2012
Fast forward to 2013 and Tate spins things differently. "One of the of the biggest common misperceptions about women's mixed martial arts is that we're not feminine," she said in the NY Daily News. "So for me it's important to show that women in this sport are comfortable about their bodies, that we're pretty and carry ourselves as women — and we can also turn it up a notch in the cage."
PHOTO: Ben Watts via ESPN The Magazine
Lucky for UFC fans, we'll be seeing much more of Tate and Rousey's combativeness starting on September 4 with the new season of The Ultimate Fighter on FOX Sports 1, then at UFC 168 where they serve as headliners on December 28 in Las Vegas.
Follow Carleton Curtis on Twitter
Related Stories
Member Comments
Please note by clicking on "Post comment" you acknowledge that you have read the Terms of Use and the comment you are posting is in compliance with such terms. Be Polite. Inappropriate posts may be removed by the moderator.