Stars GM Jim Nill reflects on first year in Dallas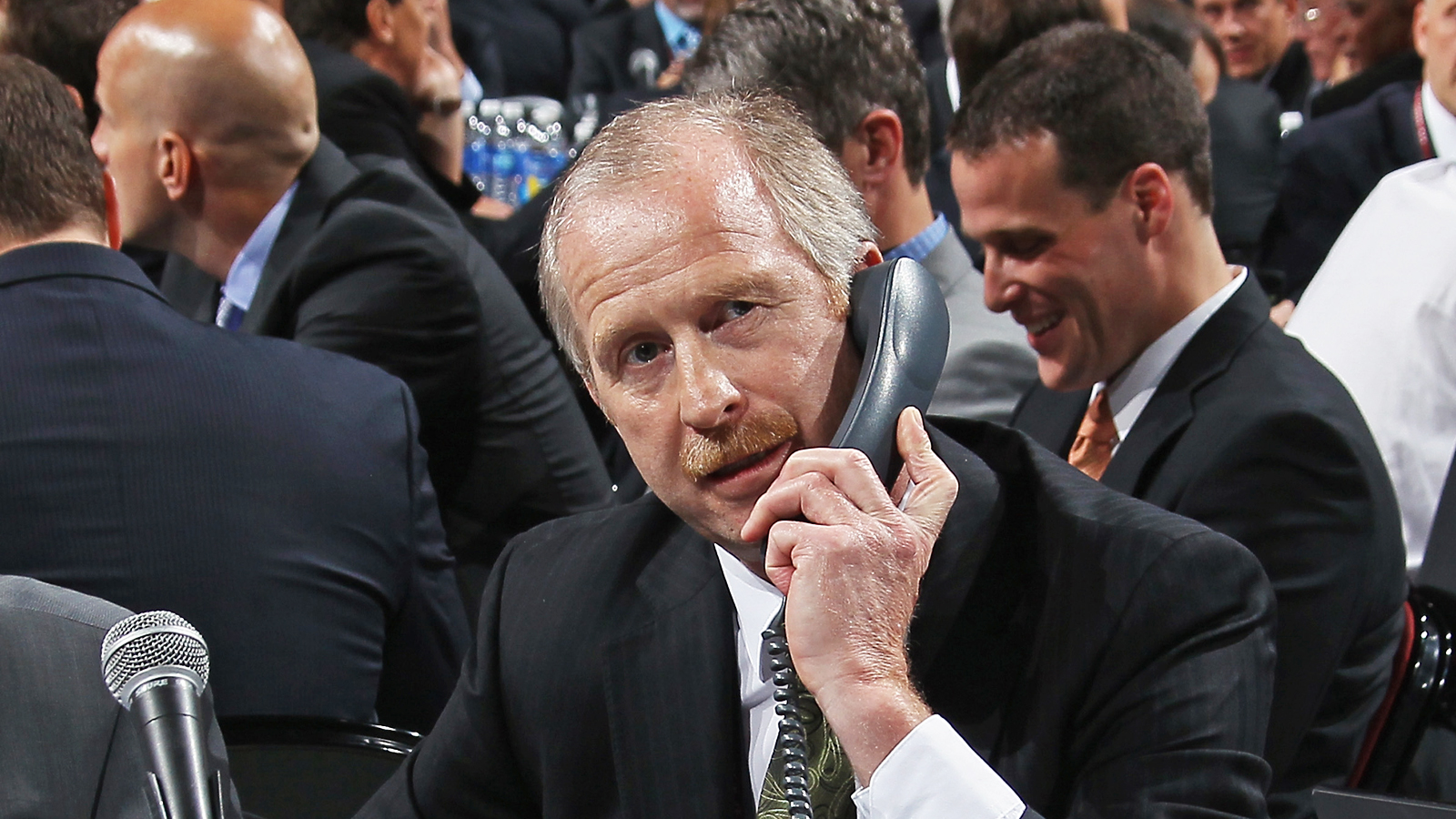 Jim Nill has been general manager of the Dallas Stars for just over a year now and his first 365 days as a GM in the National Hockey League have been eventful to say the least.
When he was hired last May, the first issue to address was whether or not Glen Gulutzan, the Stars' head coach the previous two seasons, would return? Nill ultimately decided Gulutzan, who ended up being an assistant to John Tortorella with the Vancouver Canucks this season, would not.
In early June, Nill made his first personnel move, acquiring veteran defenseman Sergei Gonchar in a trade with the Ottawa Senators to give Dallas some additional experience at the blue line and Dallas then signed Gonchar to a multi-year deal.
Two weeks later, former longtime Buffalo Sabres head coach Lindy Ruff was named Dallas' new head coach. On June 30, the Stars drafted Russian forward Valeri Nichushkin 10th overall in the 2013 NHL Draft.
But Nill's master stroke came on July 4 as Dallas pulled off a blockbuster trade with the Boston Bruins to land Tyler Seguin and Rich Peverley. Ex-Edmonton Oilers center Shawn Horcoff was also acquired in a separate trade with on the same day.
And after experiencing the usual ebbs and flows that come throughout an 82-game season, one where the Stars also had to deal with the scary situation of seeing one of their own, Peverley, collapse on the bench before being revived in early March, Dallas clinched the franchise's first playoff berth in six years in early April against the St. Louis Blues, a big moment for a fan base that has been starving for playoff hockey for some time now.
Nill never doubted Dallas' chances to make the postseason, but he also knew that with a new coach, GM and several new players, there would be a transitional period for everyone involved.
"Well, when you come in, your expectations are always to make the playoffs, but you got to be a realist also. First of all, Lindy (Ruff) and I didn't know each other. We knew each other but we didn't. So we had to figure each other out, our styles and how it was going to mesh," Nill said.
However, that wasn't the only adjustment for these two accomplished hockey men.
"We didn't know the players. We knew them but we didn't know them. So there was a transition period early in the year," Nill said. "We struggled a little bit early, we got it going and I thought we made a great push in November, December. Then we hit the wall in January and didn't know what direction we were going to go, but the guys fought through it."
And as last season progressed, the former longtime assistant GM for the Detroit Red Wings realized what a great job Ruff and his staff had done in handling the players.
But it was something else that Nill ascertained about the players that might have put last season over the top in terms of making the playoffs.
"The second thing was I started to realize how good our dressing room is. We got great character in that dressing room. We have leaders. We've got guys that don't quit and once we started, Lindy and I, to realize that, we knew that there's something special within this group of guys and we just need to keep giving them direction, helping them grow and keep filling the right holes at the right places," Nill said.
Unfortunately, the Stars' season ended in the first round as Dallas fell in six games to the Anaheim Ducks. But the season wasn't quite over for the organization as their top minor league affiliate, the Cedar Park-based Texas Stars of the American Hockey League, were still in the Calder Cup Playoffs.
The Texas Stars completed their journey by winning the Calder Cup earlier this week and no one was happier than Nill.
"We're very pleased. Winning the Calder Cup, other than winning the Stanley Cup, it's one of the next hardest championships to win in hockey. It's tough games. It's tough schedules. The travel's not as good as in the NHL. A lot of times you're playing three games in four nights and traveling in between," he said.
It's not just that absolute sense of accomplishment and pride that Nill has in the entire organization for winning that championship, but it's also the realization of how much playing in such a pressure-packed atmosphere will benefit the young players of the Texas Stars, many of whom figure to be in the NHL in fairly short order.
"Going through the playoffs in the American Hockey League, it's like adding half a season to their resumes. It's some tense hockey. So we're happy. The other thing that makes us excited is the young kids played major roles in them winning the championship," Nill said. "It's a good sprinkling of veterans and young players, and the young players, they pulled their weight, which was very important."
Talking to Nill, Ruff, Stars President Jim Lites or any of the players, it's hard not to buy into the overall positive vibe and feeling that the organization is clearly headed in the right direction and that the future is very bright.
But Nill, who came to Dallas after more than two decades in Detroit, a franchise who has become the model for sustained success in the NHL, with 23 straight years in the playoffs, admits he is cautiously optimistic about the Stars' prospects for ongoing playoff success.
"We're excited. I'm cautiously excited. I respect the game and how tough it is to win. It doesn't matter what sport you're in, at the elite level, it's very hard to win. I'm excited where we've come from. I'm excited where we're going, but I'm cautiously optimistic too," Nill said. "You can't sit back. You can't get comfortable. We've got to get better. We're going to push the players harder and get better as a team."
Of course, even with the Calder Cup now resting with the Stars organization and both the AHL and NHL seasons now over, the work for Nill, his staff and fellow NHL GMs is far from over.
The 2014 NHL Draft is next weekend and not long after that comes the start of free agency. It's a time of year Nill loves while also realizing just how vital it is to get things right during these next few weeks to set a favorable tone for the coming season.
"Yeah, in the end these next four weeks are going to dictate what happens during the season. The draft is a little bit more for the future. That's going to dictate what direction we're heading in the next three or four years. And then on July 1, that's going to pretty well show the direction we're going next season," Nill said. "So, over the next three or four weeks, really that's your foundation for next season and moving forward. So it is an exciting time of year and it's a good time of year."
So that logically means that any summer vacations or time off will have to wait until after the Stars have made any moves in free agency, which likely means mid-July, a schedule that's just fine with Nill.
"People think the Stanley Cup Finals just ended, OK everything's going to slow down. It's actually the opposite," Nill said. "This is the busiest time in the hockey world right now. This is when everything kind of takes place in organizations for moving forward."
Of course, no discussion about the Stars' 2013-14 season would be complete without discussing what happened on the ice in early March at American Airlines Center with Peverley.
Nill offered an update on the veteran centerman whose status for next season remains uncertain as he continues to progress in his recovery.
"I talked to Rich about 10 days ago and he was going to see the doctors just to get his checkup. What he's doing is he's beginning workouts again. He's had an external defibrillator implanted in him and he's going to work out with that to see where it goes," Nill said. "So I would say he's being monitored over the next eight weeks just to see where things go and then kind of sit down with the doctors and kind of consult moving forward."
Seeing Peverley collapse was struggle, but Nill sees the silver lining in the entire situation, the fact that he was well cared for and things ended well for Peverley.
"Yeah, there was a lots going on, a lot of good things and then unfortunately, this Peverley thing was an unfortunate thing. The nice thing is it had as good an ending as it could have had. Rich is doing well and he's going to continue to do well," Nill said. "It's something that you never want to see, but it turned out well. The team handled it well and you just kind of move forward."