Spurs' 2-0 lead over Thunder nothing like 2012 West finals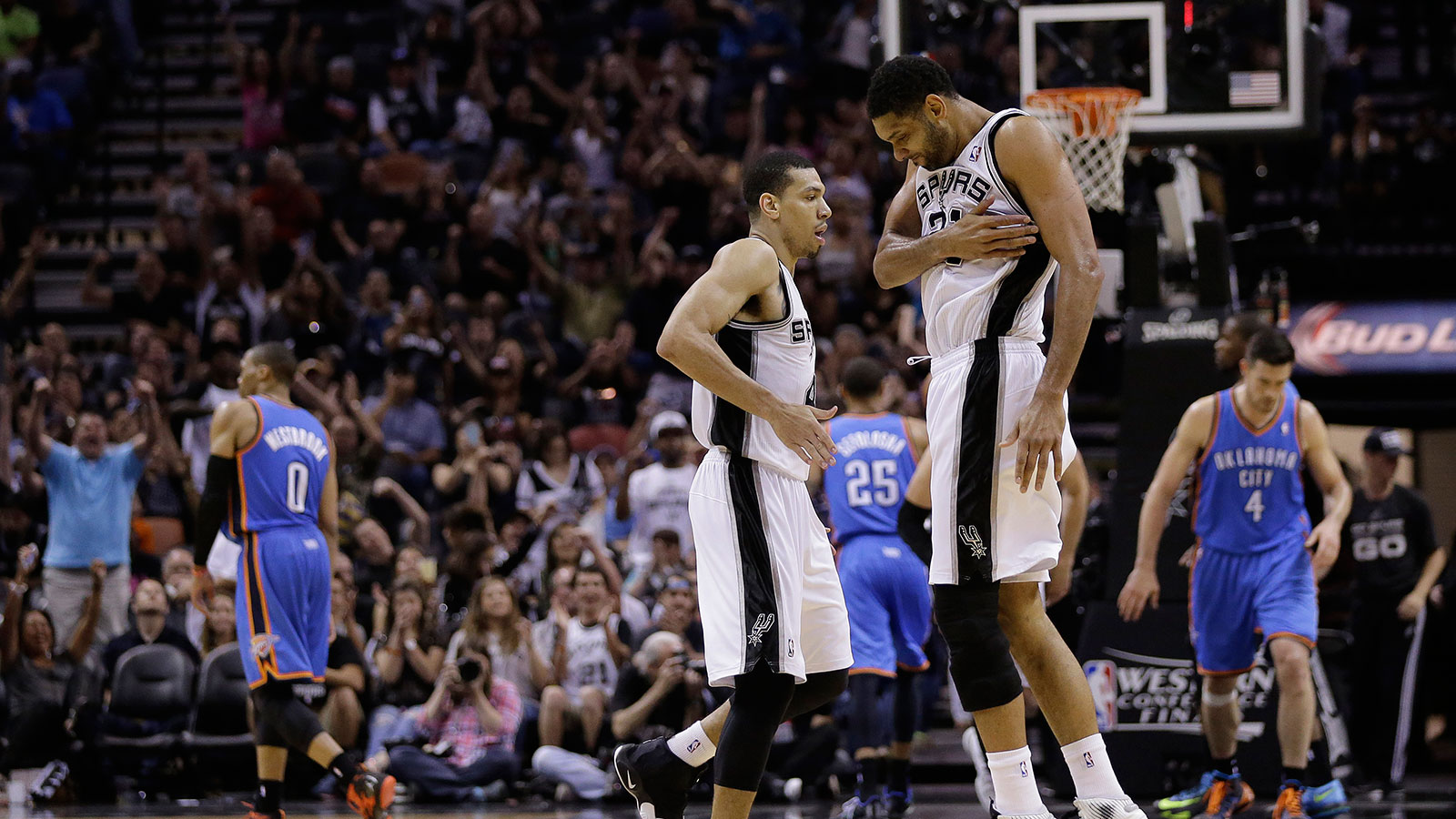 The Spurs know this situation. It didn't take long after Wednesday night's 35-point beat down of the Thunder for it to come up.
"We just talked about that in the shower," Spurs veteran Boris Diaw said after Game 2. "We cannot take anything for granted. We had a great start and ended up losing the series."
Yes, they lived it just two short seasons ago. Up 2-0 in the Western Conference finals over the Thunder, seemingly in control of the series and all that was happening on the court.
Yet, other than the obvious similarities, this feels different. Considerably different. The West finals of 2012 featured two teams that were whole. Those Spurs were playing their best basketball of the season at the time, while the Thunder were ready to explode on the national stage.
This Oklahoma City squad appears broken, in more ways than one, after two games in San Antonio. Losing forward Serge Ibaka is one thing. Losing face is another.
That's exactly what's happening as the series heads north up I-35 for Games 3 (Sunday) and 4 (Tuesday). Two years ago, the Thunder had Ibaka and their own Manu Ginobili. James Harden terrorized the Spurs back then. He still does, but it's in a Rockets uniform now.
"Our mindset is they're dangerous regardless if Serge is there or not," said Danny Green, the Game 2 hero with seven 3-pointers. "He has an injury, we don't know how serious it is. Harden is not there, but they still have guys that come off the bench and that can score."
San Antonio squeaked by in Game 1 back in 2012, and needed to hold off a fourth-quarter rally to secure a 2-0 series lead. The Spurs have won the first two games this week by a riduculous 52 points.
Game 2 was especially devastating. San Antonio limited the Thunder to a playoff-low 77 points on 39-percent shooting, including 10 percent (2-20) from beyond the arc. MVP Kevin Durant and Russell Westbrook — essentially OKC's offense — missed 27 of 40 shots and were complete nonfactors.
"They had a rough night, that's the truth," Ginobili said. "They shot very poorly, and I don't think Durant took many bad shots, he just missed shots that he usually doesn't miss.
"These games are very dangerous, of course. I enjoy winning by 30, sometimes it isn't the reality. We have to take this game, look back at it, move on and go on to the next one. They had a rough night and we didn't turn the ball over a lick, and they missed free throws. It is dangerous. We are going there now feeling like we are so great and we know that we aren't."
Ginobili's words of caution aren't just lip service. He understands the position the Spurs are in, and how a series can turn on a dime or sprained ankle. There is pride in the Oklahoma City locker room.
"We just did our job," Tony Parker said. "We won our first two games at home, and I'm sure they're going to go back and say we have to do our job and win two games at home. We were in that position in 2012.
"We were up 2-0. I know after the game, nobody is very happy in their locker room. Everybody is very focused, and we respect that team. We know that they're very capable of a comeback, and they did that against us in 2012. We're just very focused, and nobody is satisfied."
Follow Art Garcia on Twitter @ArtGarcia92