Kingsbury disappointed he won't get his QB competition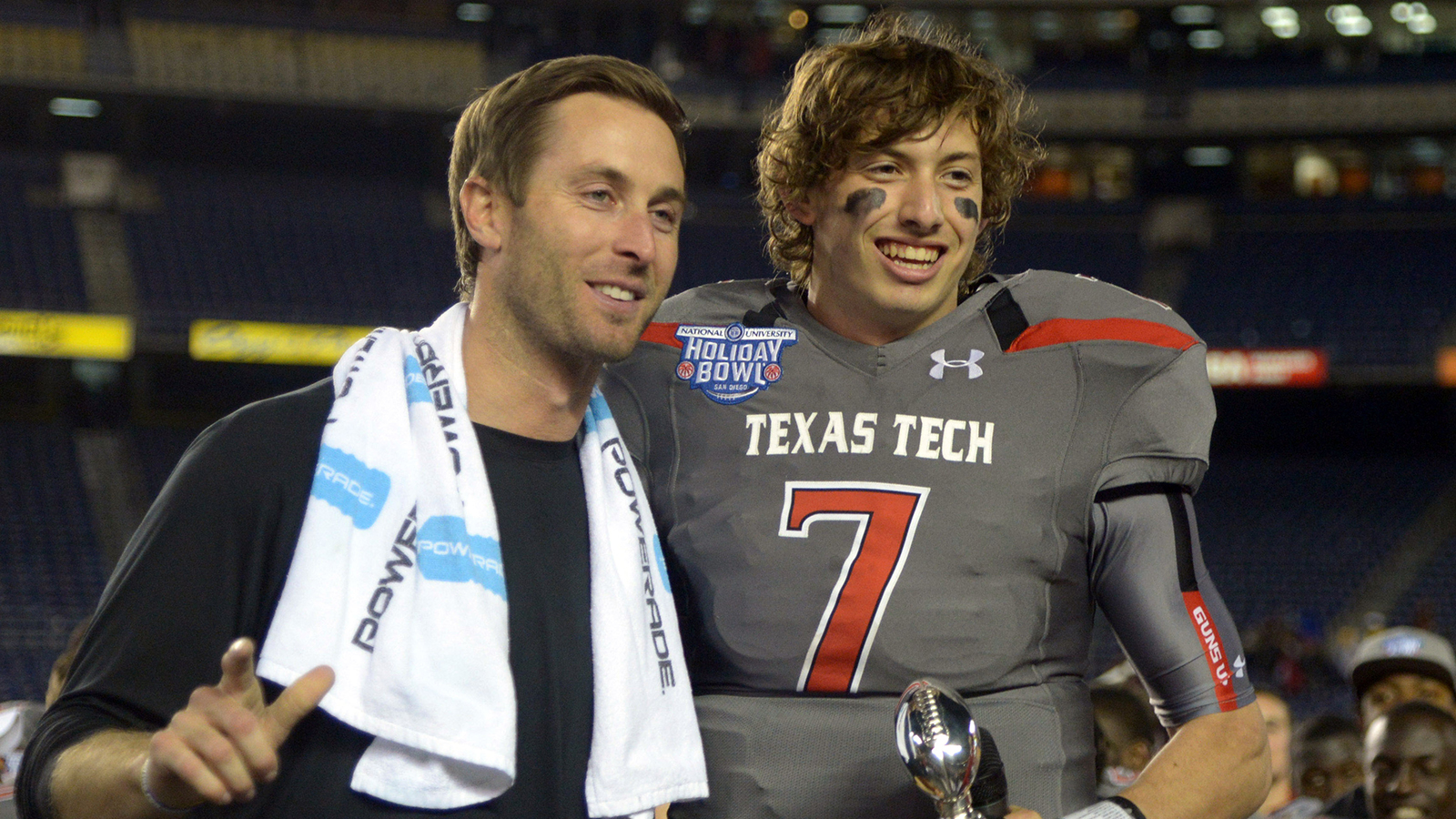 DALLAS – Texas Tech quarterback Michael Brewer got his first real action of 2013 late in the season finale. He completed 7-of-8 passes for 65 yards and a touchdown, offering a bright sign for the program's future in the regular season finale.
The month leading up to the Holiday Bowl and the spring and fall camps before the 2014 season figured to have one of the Big 12's most competitive and high-quality quarterback competitions between Brewer, the presumed starter in 2013 before his season was derailed by a back injury, and true freshmen Baker Mayfield and Davis Webb, who traded off starting quarterback duties throughout the season after Brewer's injury.
Just a few months later, only Webb remains.
"It's an interesting deal that we have going on," Kingsbury said Thursday afternoon in downtown Dallas before an alumni event celebrating the 2014 recruiting class.
Mayfield, a walk-on who began the season as the starting quarterback and threw for 2,315 yards and 12 touchdowns, announced plans to transfer in mid-December. He eventually chose to walk on at Oklahoma and will have to sit out the 2014 season after losing an NCAA appeal.
A month later, after the bowl game, Brewer followed suit. He plans to stay at Texas Tech and earn his degree during the spring semester and transfer. He will be eligible to play immediately as long as he enrolls at a university that offers a graduate program that Texas Tech does not, per NCAA rules.
"I knew the nature of the game in this day and age, that kids, if they're not playing right away usually want to make a move, especially that position," Kingsbury said, "but to see them both go and not have a spring competition was pretty surprising to me."
In a January interview with ESPN.com, Mayfield said there was "no communication" between him and Kingsbury after he was injured in Week 5 against Kansas and didn't reclaim his starting position from Webb once he was healthy.
He also said he had "no idea what was going on" after he began splitting second-team reps in practices leading up to the bowl game after starting on Thanksgiving against Texas and said he'd "had enough."
Kingsbury declined to go into detail on any response to Mayfield's comments, but said he wished him the best and hoped it worked out for him at Oklahoma.
"My relationship with Baker was great the entire year. I started him for a reason, because I had a lot of faith in him and enjoyed the type of player he was and the type of man he was," Kingsbury said. "I take a lot of pride in coaching that position and the type of relationship I've built with those kinds of guys over the years, so yeah, I guess things happen and you just move on."
Asked what he learned after the fallout from his quarterbacks' exit, Kingsbury mentioned communication.
"I think you just don't take things for granted, and each quarterback's different, so you've got to handle each one differently and make sure they understand where you're at and leave no stone unturned in your communication when you talk to those guys," he said.
Brewer's exit leaves Texas Tech with Webb as its only scholarship quarterback on the roster for spring practice. New signee Patrick Mahomes, the nation's No. 20 quarterback, is expected to arrive in the summer, but even he could choose to pursue a baseball career after the MLB Draft this summer, rather than enroll at Texas Tech.
Kingsbury won't get the quarterback competition he envisioned, but will work with Webb in the spring and fall to limit the big mistakes that came with asking a true freshman to run his offense for much of the conference season.
"I had great relationships with both those kids and wish them the best, but they wanted to make a move, so what can you do at that point?" Kingsbury said. "You go with the guy you got, and then we're going to bring in Patrick and get him coached up and go from there."