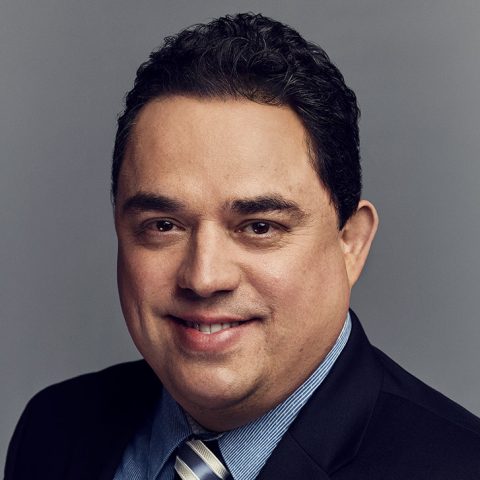 Jorge Perez-Navarro works as a play-by-play announcer for FOX Sports' coverage of the 2018 FIFA World Cup Russia™. Perez-Navarro is paired with analyst Mariano Trujillo, a former Mexican National Team player.
Perez-Navarro has been providing play-by-play for FOX Sports soccer programming since 2017, contributing to the network's coverage of the 2018 FIFA World Cup Qualification (CONCACAF) and the 2017 FIFA Confederations Cup.
Most recently, Perez-Navarro served as the play-by-play commentator for a variety of soccer matches on ESPN Deportes and ESPN Deportes Radio, making regular appearances on Jorge Ramos y Su Banda.
Perez-Navarro is no stranger to World Cup coverage. Prior to his time at FOX Sports, Jorge provided play-by-play for Univision, covering four World Cups dating back to 2002. He also contributed to Univision's coverage of five Copa América championships, nine Copa MX tournaments and several CONCACAF qualifiers. In addition, Perez-Navarro has covered twelve Major League Soccer seasons and international qualifiers for both the U.S. Men's National and U.S. Women's National Teams.
Perez-Navarro's work stretches beyond soccer, covering both professional and college football, NBA and NCAA basketball, MLB spring training, boxing and UFC.
Pérez-Navarro began his on-air career at Núcleo Radio Guadalajara where he served as program director/on-air talent and later for MVS Radio. While in Texas, he served as play-by-play commentator for KINT-TV Channel 26 (Entravision). In 2000, Pérez-Navarro transitioned to Univision Communications, in Miami, serving as co-host for Univision's sports news program, Contacto Deportivo for more than a decade.
Born in Guadalajara, Jalisco, Pérez-Navarro lived most of his life in western Mexico before moving to El Paso, Texas and later settling in Miami. He is the proud father of Sebastian and a constant student of The Karate Way.