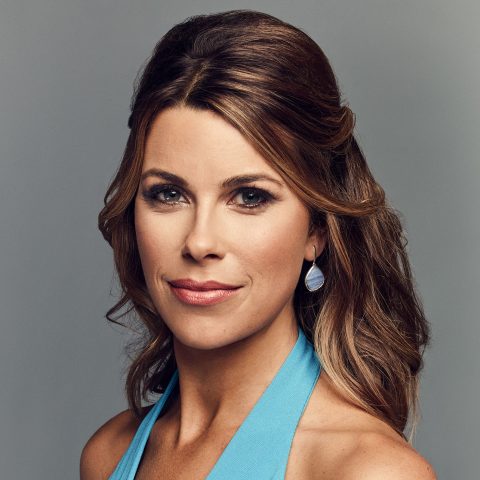 OVERVIEW
A former collegiate athlete possessing a broad knowledge of several sports, Jenny Taft contributes in a variety of different roles for FOX Sports including as a sideline reporter for the network's soccer and college football coverage, field reporter for several other major events, Monster Energy Supercross pit reporter and host for the Westminster Kennel Club Dog Show. In addition, she has served as a fill-in co-host on SKIP AND SHANNON: UNDISPUTED and THE HERD, and for the 2017 college football season, was teamed with lead play-by-play announcer Gus Johnson and lead analyst Joel Klatt. This summer, Taft is a reporter for FOX Sports' coverage of the 2018 FIFA World Cup Russia™.
GETTING STARTED
After graduating with a broadcast journalism degree from Boston University in 2010, Taft worked for the public relations firm IDPR in New York City. Spending a year with the company, she then moved back to her native Minneapolis, accepting her first position with FOX as part of the Twin Cities-based regional network FOX Sports North. In that role, she appeared in on-air promos, in-game segments, made appearances at events, participated in community relations and produced digital content. She also worked as a social media reporter during Minnesota Wild and University of Minnesota men's hockey games, developing interactive content for fans online. In 2013, she auditioned for a role at FS1 and was hired by the network for its launch, initially as an update anchor at the news desk. Since then, her duties have been diversified and expanded immensely. Excelling in the field after her debut assignment as a track reporter for a Supercross event in 2013, she was embedded with different National Hockey League teams during the 2014 Stanley Cup Playoffs and as a site reporter at Major League Baseball games. She served as an embedded reporter with the U.S. WNT during the 2015 FIFA Women's World Cup™ in Canada, a role she prepared for by traveling with and covering the squad during the 2014 CONCACAF Women's Championship. In 2014, she made her college football debut, appearing as a sideline reporter as part of FS1's game coverage. In 2017, she was elevated to the role of lead college football sideline reporter, working alongside Gus Johnson and Joel Klatt for games on FOX and FS1.
INVOLVED IN SPORTS FROM DAY ONE
Taft was raised in an athletic family. Her mother, Mary, competed as a speed skater through high school, and her father, John, was a two-time national champion as a member of the University of Wisconsin men's hockey team, later captaining the 1976 U.S. Olympic hockey team and playing six seasons in the National Hockey League. Jenny lettered in hockey, lacrosse and tennis during high school in Minneapolis, starring in lacrosse where she earned the 2005 NSLA Player of the Year honor as the top female player in Minnesota. She continued her lacrosse career at Boston University, lettering all four years for the Terriers and appearing in 39 games, tallying 15 goals, five assists and 44 shots during her career.
ATHLETIC BACKGROUND AND UPBRINGING
Given name Jennifer Lind Taft…Born in Edina, Minn. … Married, husband Matt Gilroy was a member of the 2018 U.S. Men's Olympic Hockey Team …Younger brother Charlie played at Colorado College in Colorado Springs, Colo. … Is also fluent in French…In her free time, she enjoys working out, yoga, running and horseback riding…Resides in Santa Monica, Calif.