Two hits: Colabello hitting HR, Burton 'hitting' Duensing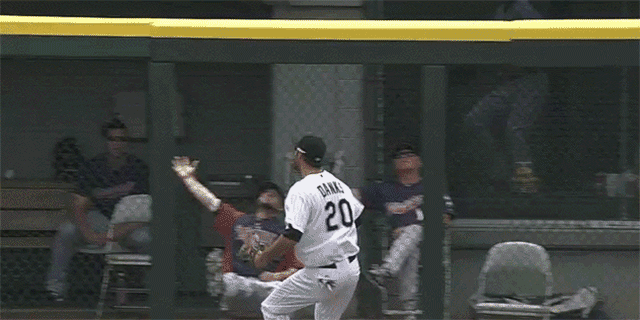 Just as Twins right fielder Chris Colabello slugged a home run in Friday's game against the White Sox, two of his Minnesota teammates were involved in a slugfest of their own. Sort of.
Courtesy: Zenon Konopka via Twitter
TOP 10 TWEETS: FOX Sports North's Brian Hall scours cyberspace for the week's top tweets.
VIEW GALLERY »
In the second inning of the game — the first of a day-night double-header at U.S. Cellular Field — Colabello homered to right field to open the scoring and give the Twins a 1-0 lead. Just as the ball was soaring near the Twins' bullpen, reliever Jared Burton threw a fake punch at fellow reliever Brian Duensing, who went along with the fake fistfight and pretended as if he was hit by Burton's right hook.
Chicago right fielder Jordan Danks went back to the wall and looked up as the ball flew over the fence. It also appeared he got a glimpse of the knockout punch, too.
While Burton's "punch" was impressive, it was Twins first baseman Justin Morneau who delivered the biggest blow of the day, as his grand slam in the seventh inning put Minnesota up for good in a 7-5 victory.
Follow Tyler Mason on Twitter