Biggest sports spelling screw-ups
We're always a little miffed this time of year when the Scripps National Spelling Bee gets big-time sports coverage like it's the Super Bowl.
So with the Bee (thankfully) finished on Thursday, we can at least give you a real tie to sports — with some of the best recent sports spelling screw-ups. And we won't even make anyone spell out Coach K's name.
ALL I LURNED IN LIFE I LURNED IN MY 7 YEARS OF COLLIGE
You would think simple spelling would not be a problem at some of America's finest institutions of higher learning. You would be wrong.
Even Notre Dame, a school who preaches constantly about its high standards, cannot always be trusted. In gearing up for what would be a magical 2012 football season, the official team gloves included a minor goof. Unless Cha Pion was one of the school's past fencing champions, perhaps?
Sheesh, I hope at least they didn't wear the jersey of the opposing team. Because that would be embarrassing, wouldn't it?
In one case, the respected Duke Blue Devils — a school with head coach Mike Krzyzewski, who really should be a spokesman for Webster's Dictionary — once lost out on a recruit because they couldn't get the kid's name right. So he went to rival North Carolina.
It's not like the NCAA (wait, did we spell that correctly?) is any better. During the 2012 National Championship telecast at the NCAA Tournament, marketing wizards smartly utilized on-court banners to promote the site of the ensuing year's Final Four location. But we bet no one realized the 2013 tourney would be held in some Lithuanian town.
---
THE PROS CAN'T DO PROSE, EITHER
When you're the new guy called up from the minors, I guess a team can spell your name any way it wants and a player wouldn't care. But you'd have to ask Jeff Manship that one.
In some cases, the MLB can't even get the team's city right. Ask the San Francicso Giants or Washington Natinals.
Hard to rip the NFL over this one. I mean, even if it was your name, could you spell Michael Hoomanawanui?
Seems like the retail folks ought to hire another proofreader, especially if they can't spell the league MVP's name right.
How appalling, right Green Boy Packer fans?
The Packers may be a tough name to spell, almost as much as the Redskins.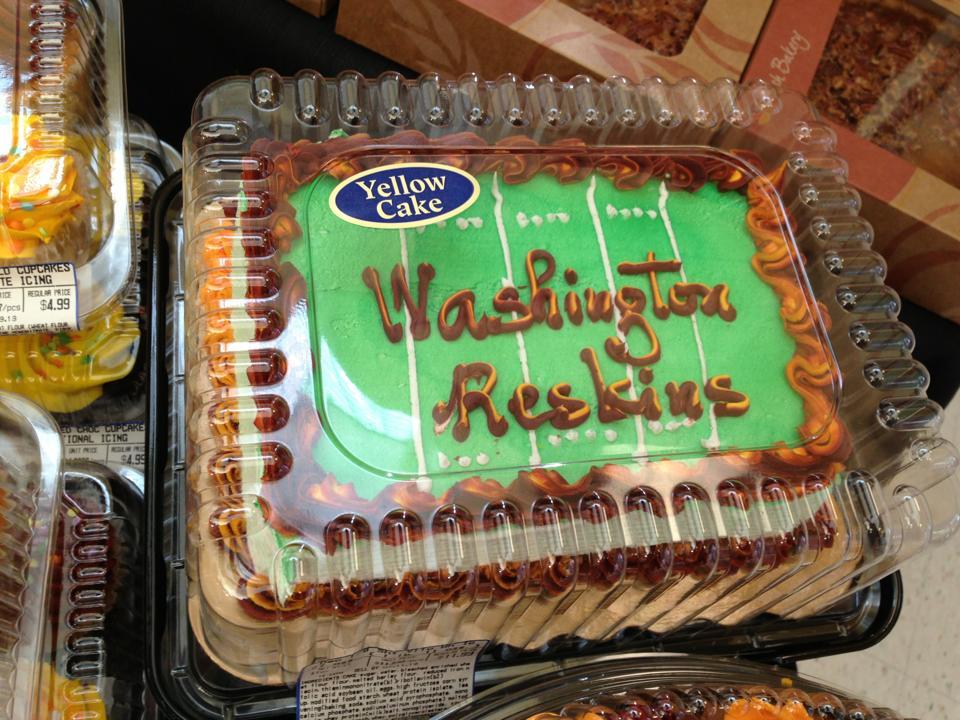 Don't undersell this spelling thing. You could get fired for spelling the name of the boss' wife wrong, right Dennis Rodman?
Hey, even this guy's teammates can't spell his name.
Speaking of names, every editor here at FOXSports.com curses you, Dwyane Wade's grandma!!! (just kidding)
It's incredible that French Lick, Indiana, could not even spell the one and only person anyone's ever heard of from French Lick, Indiana. Really, Larry Byrd?!?!
---
TATTOOZ ARE FOREVER (ALMOST)
The NHL is the only league with a trophy sporting the names of every player who has ever won a Stanley Cup. So you can be sure, there's quite a lush history of Cup Trophy typos. But one player's tattoo artist must have been celebrating the 2011 Boston Bruins a bit to hard.
This is the corrected version.
NBA superstar Kevin Durant knows all about tat boo-boos. Imagine getting an extensive bible verse all over your back, only to find out there was a slight mistake. Can you spot it?
At least this Olympic torchbearer didn't have hard feelings — she even decided against fixing the spelling error on her ink.
But hey, mistakes will happen. See more epic uniform spelling errors here.
Related Stories
Member Comments
Please note by clicking on "Post comment" you acknowledge that you have read the Terms of Use and the comment you are posting is in compliance with such terms. Be Polite. Inappropriate posts may be removed by the moderator.