Super Bowl XLVIII Awards: Peyton joins Loser Island
Worst way to join Loser Island: Peyton Manning and the Denver Broncos. It's not that the Broncos lost that amazed all of us. It's the fact that after two weeks of buildup and hype, the Broncos came out and laid a giant egg. The worst part is you can make the argument that this game wasn't as close as the 43-8 final score. Good grief, guys. Oh well, at least you can work on your tan with Andy Dalton.
Best way to lose a Super Bowl right at the start: Denver Broncos. This was Denver's first play from scrimmage. The crowd noise was high and the confusion caused an early snap which sailed into the end zone. Safety! Things just went downhill from there.
Most accurate description of the Broncos' performance: Rob Lowe. The actor (who is awesome on Parks and Recreation) and Colts fan fired off this tweet that captures what everyone saw on Sunday night. Yeesh.
The Bronco's are playing like they ARE a mile high. Wow. So bummed.

— Rob Lowe (@RobLowe) February 3, 2014
First Annual "Are They Drunk?" Award: JC Penney. Now, I'm not sure who was in charge of their twitter account on Sunday, but yikes, this grammar is awful. Maybe put the beer down first, hmmm?
Toughdown Seadawks!! Is sSeattle going toa runaway wit h this???

— JCPenney (@jcpenney) February 3, 2014
Best job of picking up Skittles: This guy. When Marshawn Lynch scored a touchdown in the first half, Seahawks fans in attendance showered the field with the tasty candy, which is Lynch's favorite. But someone has to clean that stuff up and this guy stepped up like a boss.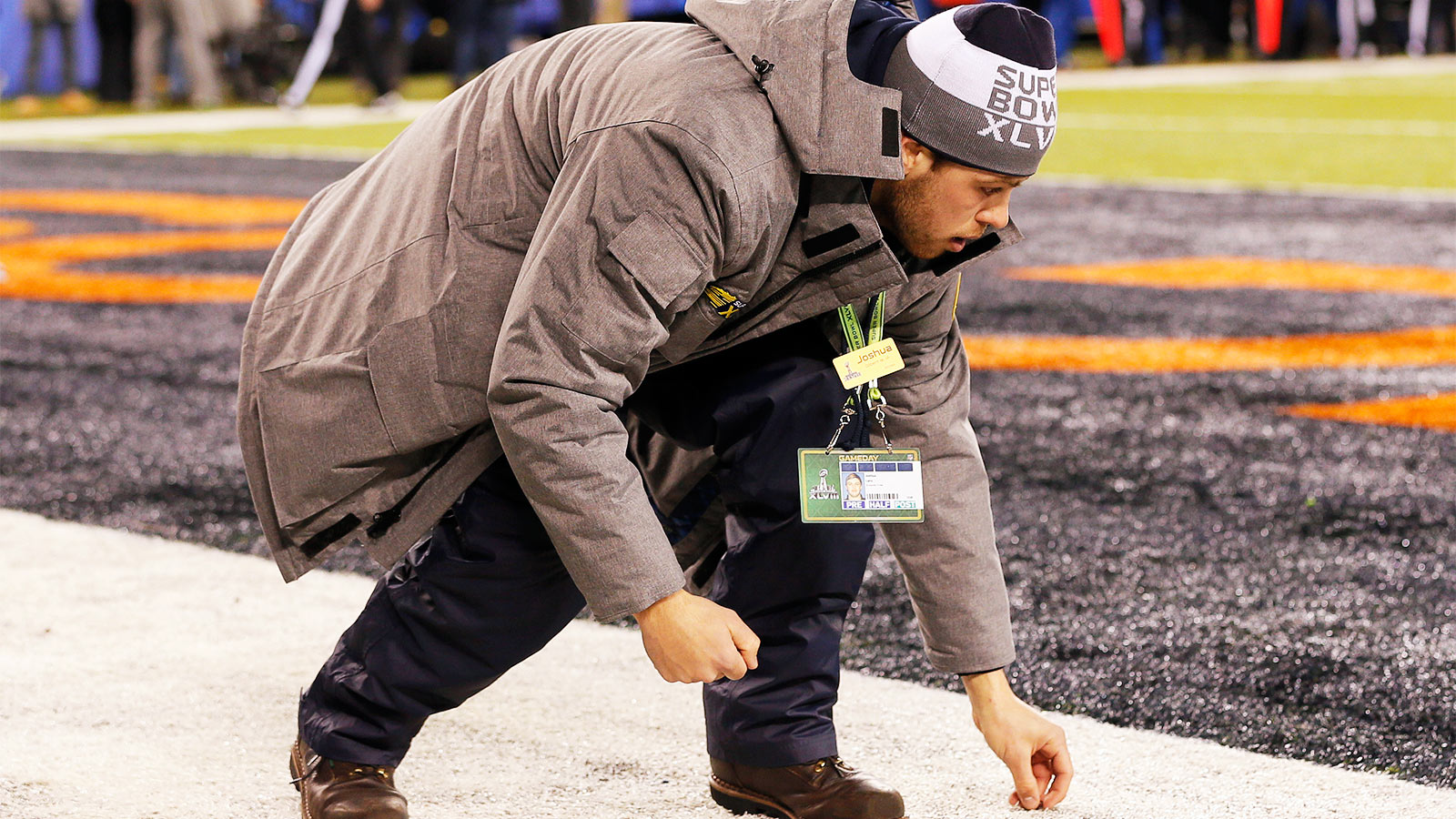 Most awesome performance by a city landmark: Seattle's Space Needle. The jewel of the Emerald City was in epic form on Sunday, as it shot off fireworks for every Seahawks score. Needless to say, there were a ton of fireworks used.
I'm just about that Rainbow, boss. #SB48 pic.twitter.com/4oUz7tgJoI

— Skittles (@Skittles) February 3, 2014
Worst way to go into halftime: Denver Broncos. Check out the team as it runs to the locker room in a 22-0 hole. That's the look of shellshock right there, folks. I don't have the heart to tell them here that it's only going to get worse in the second half.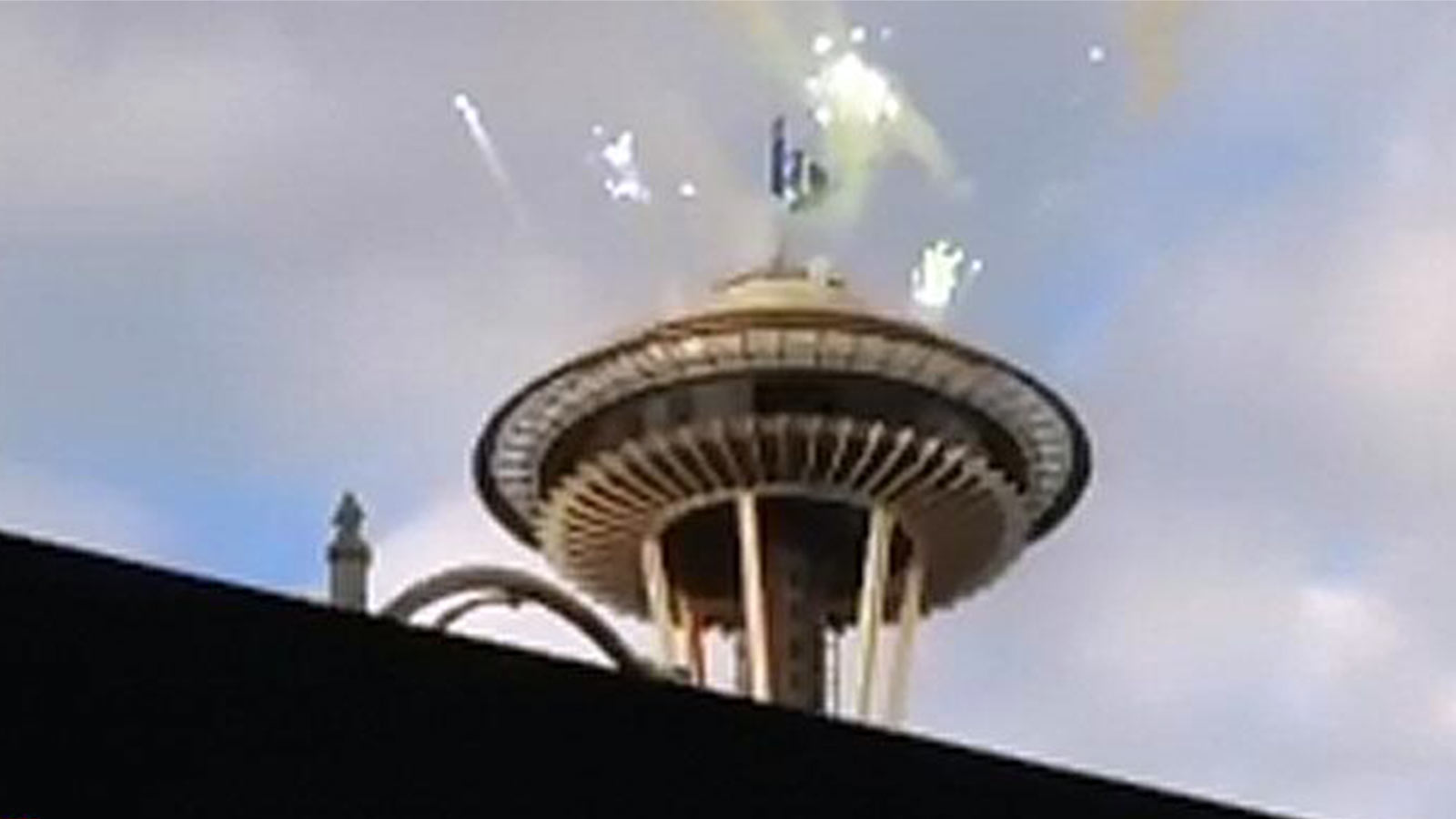 Coolest intro to a Super Bowl halftime show: Bruno Mars. Seriously, this guy is so freakin' talented. Look at his pound on those skins. That's Sammy Davis-esque right there. And great hair, too.
First Annual Award for Shirtless Excellence by Elder Rockers: Flea and Anthony Kiedis. The two most famous members of the Red Hot Chili Peppers hit the stage with Bruno Mars and of course, did it sans shirts. In the cold. I don't know whether to be impressed or expect to see headlines of them being hospitalized with pneumonia tomorrow.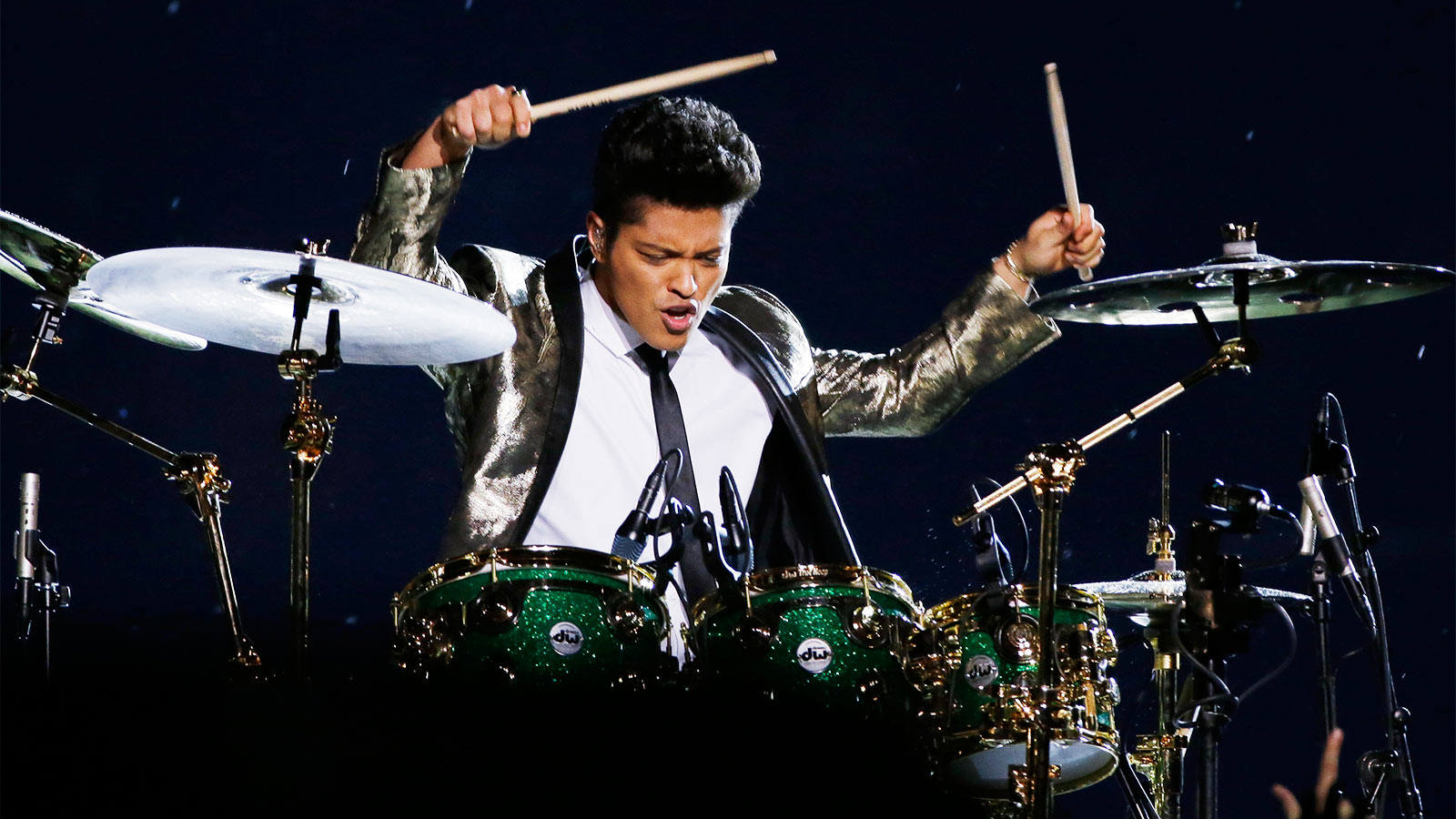 Best way to earn every penny of that big salary: Percy Harvin. A lot of people shook their heads and pointed fingers when the Seahawks gave Percy Harvin a six-year, $67 million contract after acquiring him from the Vikings last offseason. It got worse when Harvin struggled to even see the field in an injury-plagued 2013 season. However, Harvin stepped up when it counted and took on a starring role in Sunday's Super Bowl. One play in particular made that big contract worth it: Harvin took the opening kickoff of the second half 87 yards for a touchdown that effectively put the nail in Denver's coffin.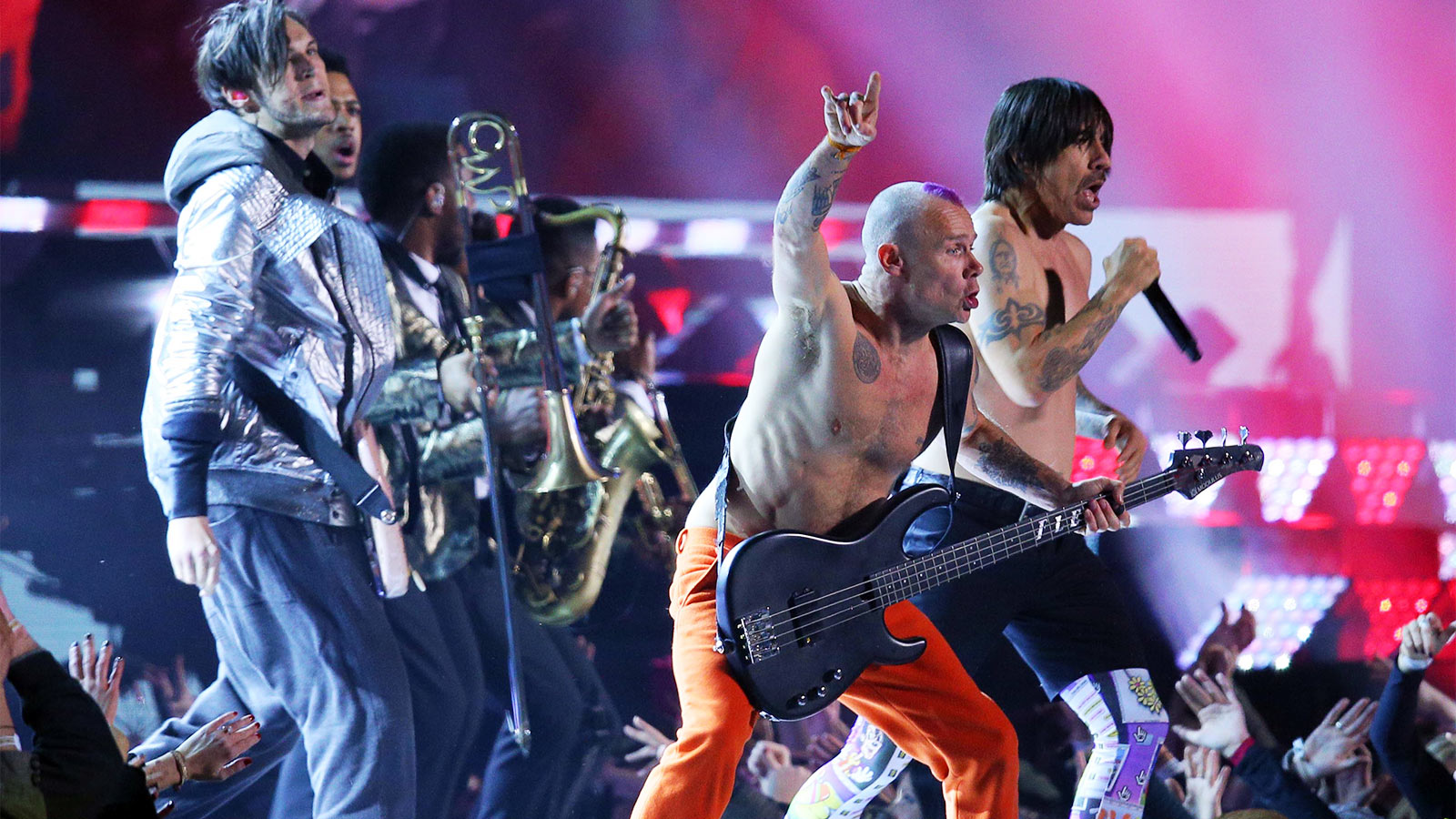 What's more, Brandon Marshall agrees with me.
Funniest tweet from a FOX columnist: Jen Floyd Engel. She was just trying to kill time in the press box before the game started and … whoops!
The 11mil to Percy Harvin was worth it just for that one play. #SuperBowl

— Machine Marshall (@BMarshall) February 3, 2014
Saddest Broncos fan in the nation: This poor kid. Sorry, little fella, we all feel your pain. Don't worry, there's always next season!
Most disgusted reaction from a man nicknamed "Pot Roast": Terrance Knighton. Mr. Roast and his teammates laid a stinkbomb on Sunday and it's clear that he doesn't like what he's seeing.
That awkward moment in SB pressbox when you realize you have been texting radio producer thinking it was your hubs. Or is this just my life?

— Jennifer Floyd Engel (@engeljen) February 2, 2014
Worst way of trying to talk: Marshawn Lynch. Dude, we get that you're happy and want to share your excitement with your teammates. But hey, maybe pull that face covering down first. How are people supposed to understand what you're talking about?
Saddest kid of the night? #SuperBowl #SB48 #Broncos #Seahawks pic.twitter.com/1ga0RYC0zS

— Good Morning America (@GMA) February 3, 2014
Slickest tweet from the man who created Seinfeld: Jerry Seinfeld. Oh, Jerry, you're a sly fox. Awesome commercial, by the way! Loved it.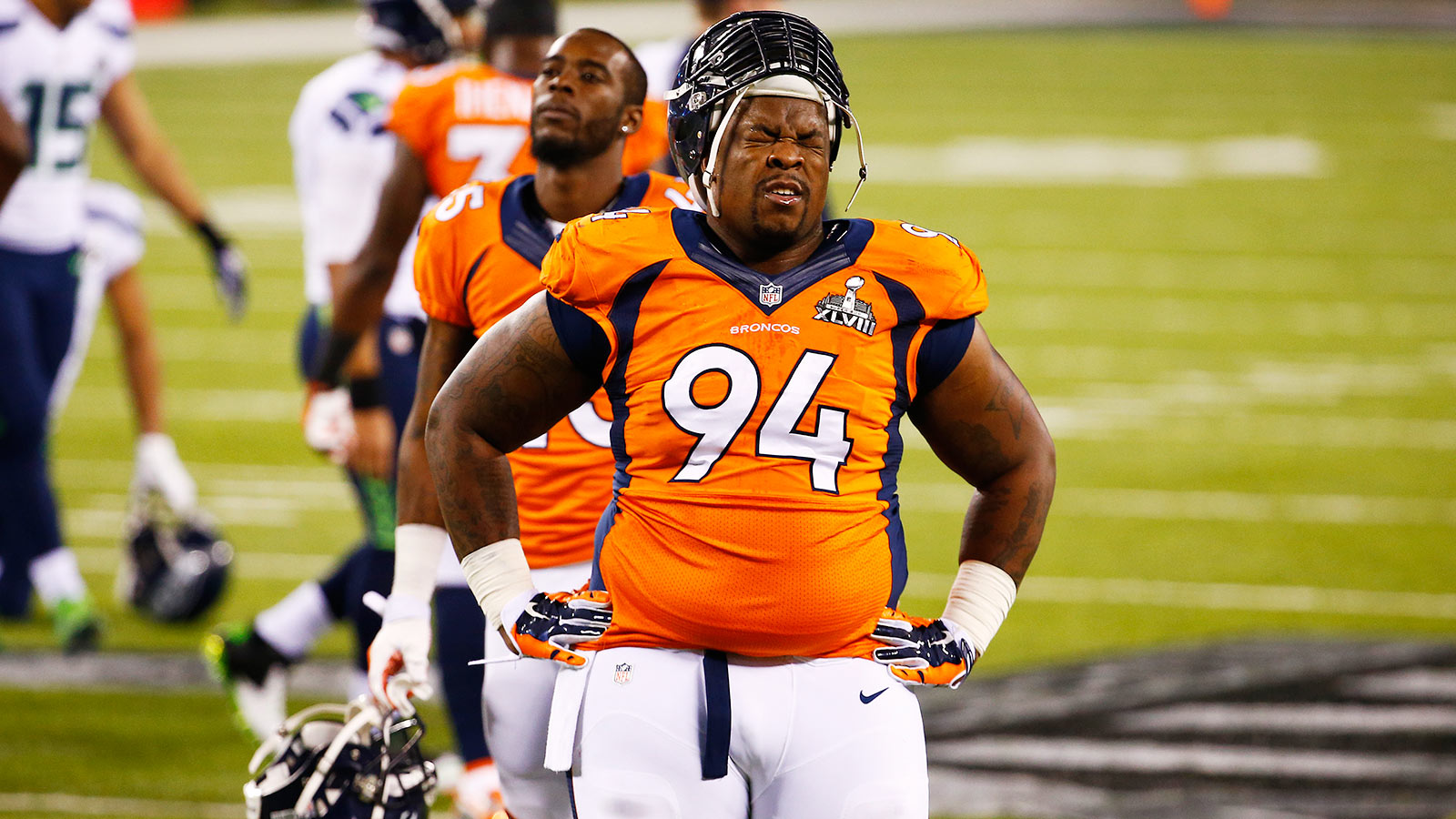 First Annual Everything Coming Up Seahawks Award: Jermaine Kearse. Check out how many tackles Kearse, nicknamed "Chop Chop," breaks on this ridiculous touchdown. Seriously, that was pretty sick.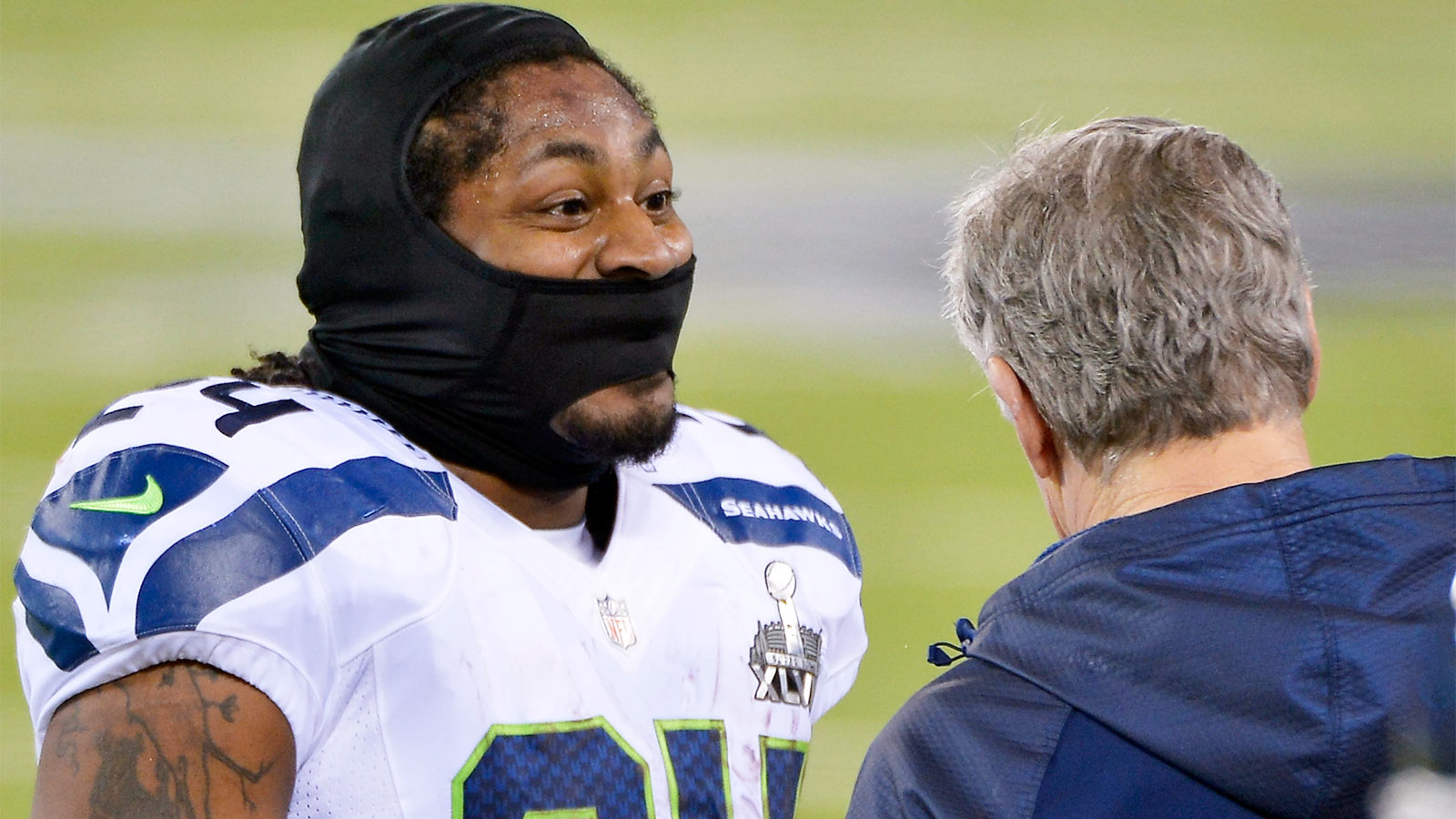 First Annual What Else Can Go Wrong Award: Demaryius Thomas. This play confirmed that the Broncos just couldn't catch a break on this day. Peyton Manning hooked up with his favorite wide receiver for a nice gain until DT coughed it up. Seahawks ball. Game over.
I was in the bathroom. Did I just miss a Seinfeld Reunion? http://t.co/Gt7ygcc8lY #overcheer #SB48 #SuperBowl @Acura_Insider

— Jerry Seinfeld (@JerrySeinfeld) February 3, 2014
Funniest Tweet from a metal legend: Scott Ian. The Anthrax guitarist couldn't resist this after the Broncos finally scored their first and only touchdown in the second half. Great stuff.
Best Eli Manning face of the day: Eli Manning. There he is watching his brother on the field. That about sums it up.
First Annual 12th Man Award: Seahawks fans. This group had an epic season, showing up every game and showering their team with unbridled passion and high volume. Sunday was no exception. Kudos to all of you! You deserve this win.
36-8. Now it's a game.

— Scott Ian (@Scott_Ian) February 3, 2014
Most excellent point from a Texans beat writer: John McClain. The Houston Chronicle writer clued us in on this fact. Pretty amazing, right?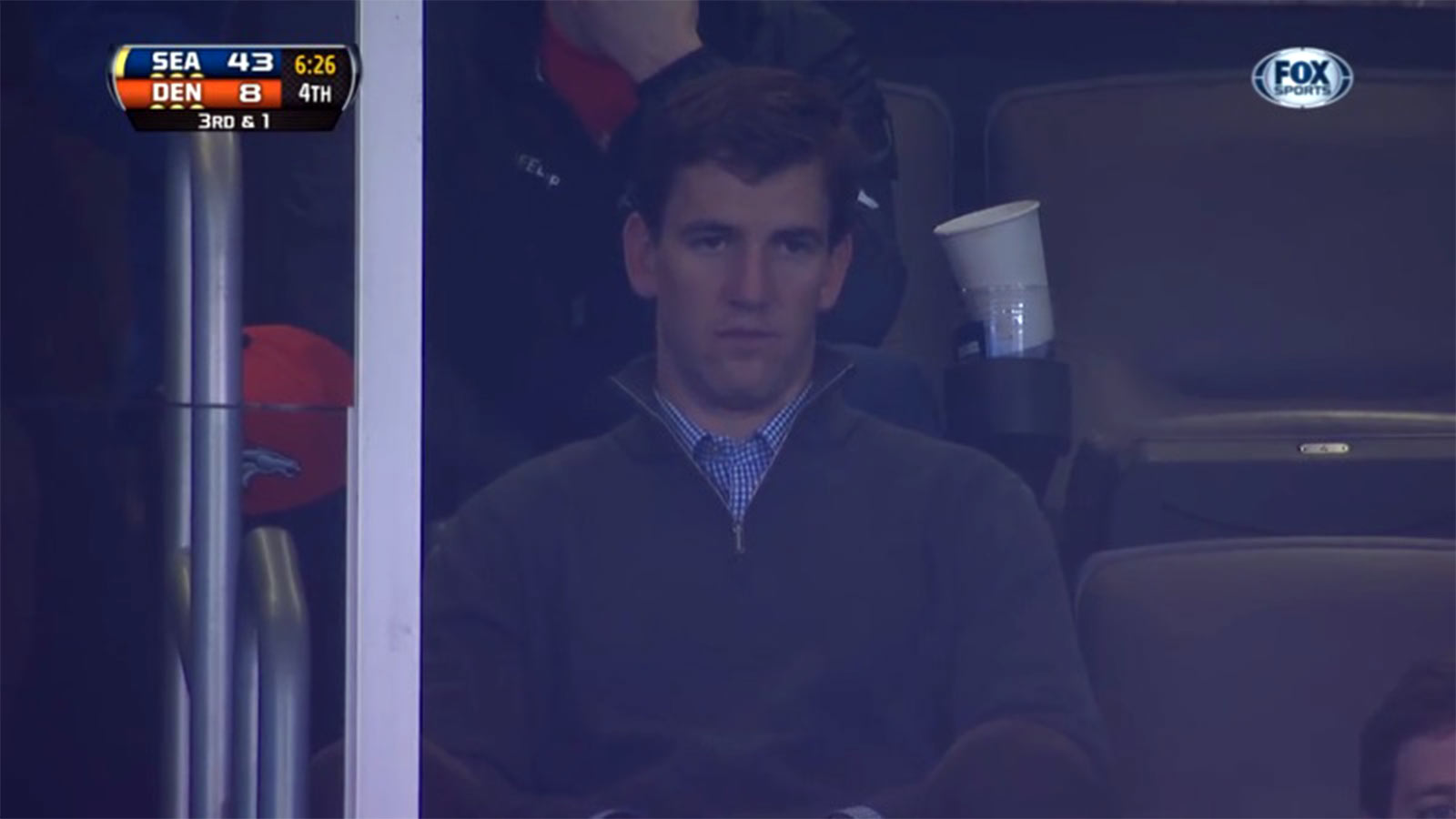 Worst interruption of a Super Bowl MVP's press conference: This clown. I don't know who this guy is or where he came from, but what a goon. Save your 9/11 truther garbage for another forum, OK?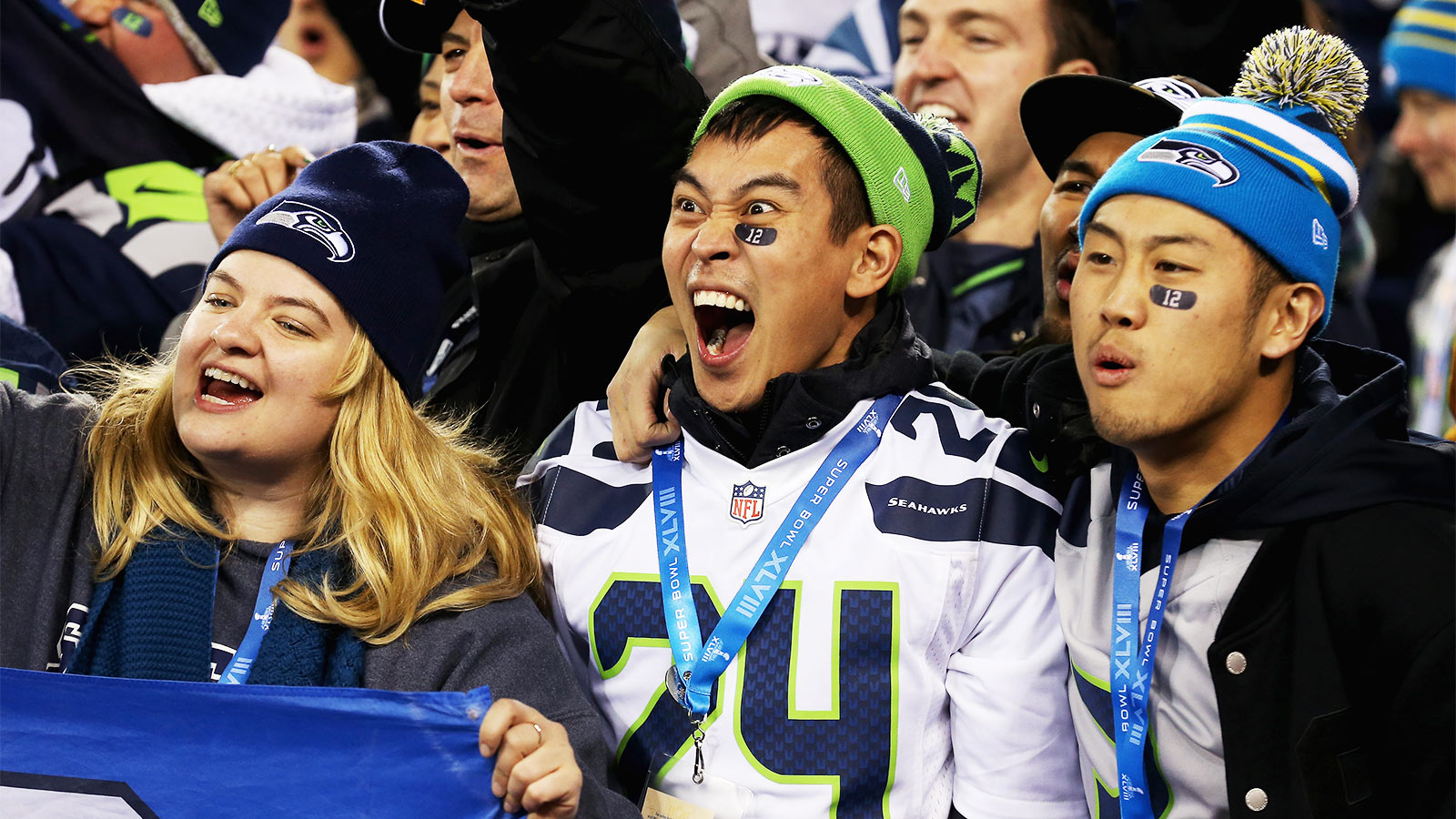 Hey, Matt Schaub — remember him — put up 20 on the Seahawks. I'm just sayin . . .

— John McClain (@McClain_on_NFL) February 3, 2014
It's so much more fun to watch FOX when it's someone else being blitzed & sacked! #SuperBowl

— Hillary Clinton (@HillaryClinton) February 3, 2014