NFL Week 7 off-the-cuff picks: Ummmmmm, what was Tom Brady wearing last week?
By Andy Nesbitt, FOXSports.com
Moments after Tom Brady rescued the Patriots last Sunday with a game-winning TD pass with just five seconds remaining against the Saints, all anybody wanted to talk about was … Tom Brady's post-game outfit.
Before we get into these week's picks, we must take a look back at this big, beautiful white sweater. Look at the photo above. Take a second. Take it all in. It's glorious, isn't it?
Want to follow that sweater on Twitter? You can (a line from the white sweater's Twitter profile: Keeping Tom warm since 8 p.m. on October 13th.):
Don't hate. RT @EricStangel: Tom Brady dresses like he's in the rich kid fraternity in an 80s comedy pic.twitter.com/XPGyJbnKMV

— Tom Brady's Sweater (@TomBradySweater) October 14, 2013
Speaking of Twitter, Brady's sweater almost broke the site seconds after the QB appeared on TV during his post-game interview.
Some people liked it:
You can't tell me Tom Brady isn't wearing the sickest sweater you've ever seen pic.twitter.com/pYtunFzOtZ

— Reid Sabrsula✞ (@ReidSabrsula) October 17, 2013
As much as I hate Tom Brady, I've gotta respect the hell out of his sweater game right now in his press conference. Off the charts beautiful

— Jared (@stilljaja) October 14, 2013
Some people were inspired by it:
Im going shopping for a Tom Brady sweater today. — Bill Maas (@BillMaas) October 14, 2013
Some people just didn't understand it:
Why is Tom Brady wearing a bath robe? #noitsacardiganbutthanksfornoticing pic.twitter.com/5No14E1HQg — Jake Wittkop (@Jake_Wittkop) October 14, 2013
Some people thought he was a thief:
Mr. Rogers called… RT @CoreySeidman: Tom Brady's victory sweater, I guess? Violation. pic.twitter.com/SvqFTyuNPz — Amy Fadool Kane (@amyfadoolCSN) October 14, 2013
Dear Tom Brady, can you please return my sweater. It's a fams heirloom. Thank You. Sincerely, Espe and Gio's Grandma xo — Esperanza&Giovanni (@espeandgio) October 15, 2013
Some people thought they knew who created it:
I think my grandma made Tom Brady's sweater. — Henry (@hcampbell58) October 14, 2013
Some people offered tips on how to fill out the wardrobe:
Not saying this to be funny, swear, but my grandma has the sweater that Tom Brady had on in the press conf. Wears it with a floral skirt. — Haley O'Shaughnessy (@HaleyOSomething) October 14, 2013
Some people were reminded of their childhood:
Tom Brady wearing the covers your grandma gives u when it's not quite chilly enough to turn on the heat. — TouchVisionTV Munk (@Felonious_munk) October 14, 2013
What a week for Tom Brady's white sweater. Now we sit and wait to see what the man will wear after Sunday's game against the Jets. CAN HE TOP THIS WHITE SWEATER? I've haven't been this excited about a Sunday night since the Breaking Bad finale.
We just hope Brady cranked this in his car after leaving Gillette Stadium last Sunday:
OK, on to the picks:
New England at New York Jets: Is Rex Ryan just going to let Tom Brady's white sweater talk trash about his brother? Talk about bulletin board material. Patriots 20, Jets 10.
What do Rob Ryan and I have in common? We're both big, white and owned by Tom Brady.

— Tom Brady's Sweater (@TomBradySweater) October 14, 2013
Tampa Bay at Atlanta: Tony Gonzalez opted to come back for one more year so he could finally go to a Super Bowl. He's gonna be crushed when he finds out how much StubHub charges in handling fees. Falcons 20, Bucs 6.
Buffalo at Miami: The Bills made two big moves this week: First they signed free-agent QB Matt Flynn, then they told everyone in the ticket office to go ahead and make their normal January vacation plans. Dolphins 27, Bills 13.
Dallas at Philadelphia: A new Harris Poll released this week listed the Cowboys as the most-liked team by fans in the U.S. Another poll says Bud Light is the best-selling beer in America. And we wonder why so many people in this country are battling depression. Eagles 31, Cowboys 27.
San Francisco at Tennessee: Titans' star running back Chris Johnson isn't just great at busting long TD runs, he's also very inspirational on Twitter. 49ers 22, Titans 14.
San Diego at Jacksonville: The Jaguars are in danger of becoming the first team in NFL history to be relegated to the Arena League. Chargers 24, Jags 20.
St. Louis at Carolina: If you can't get excited for this game then you must have a pulse. Panthers 27, Rams 10
Cincinnati at Detroit: After beating Buffalo last week in the game to determine the "Spring Break Capital of the World," the Bengals now face the Lions in the "Best Place to Own a Winter Home" Bowl. Lions 25, Bengals 20
Chicago at Washington: Jay Cutler said this week that he likes the situation he's in and is having fun. You can clearly see that in his body language each Sunday. Redskins 24, Bears 23.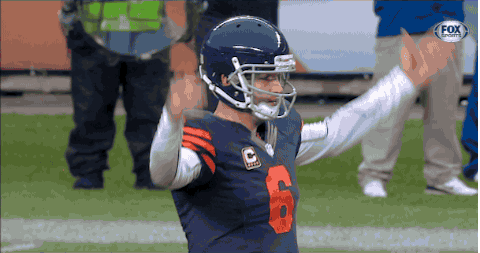 Houston at Kansas City: Whenever you're not feeling good about yourself just think of the Texans fans who cheered when Matt Schaub got injured last week. We guarantee that you'll instantly feel better about yourself. Chiefs 23, Texans 9.
Baltimore at Pittsburgh: Good news for Steelers fans: The team is coming of its first win of the season. Bad news for Steelers fans: It's the middle of October. Steelers 20, Ravens 17.
Cleveland at Green Bay: You ever watch an NFL game and say, "Oh, i could do thaaaaaaat." No? Then you must have missed Brandon Weeden's interception last week. Packers 31, Browns 13.
Denver at Indianapolis: It's a special occasion in Indy on Sunday as Peyton Manning makes his return, which means Colts fans will be dressed in their best "mom jeans" for this one. Broncos 34, Colts 31.
Minnesota at New York Giants: Three things I'd rather watch besides this clunker: An episode of NBC's "Sean Saves the World," old re-runs of "Kate & Allie," and my parents fighting over money at my birthday dinner. Giants 24, Vikings 14.
Saints vs. Bye: Rob Ryan gets one more week to think about what Tom Brady did before donning that wonderful sweater.
Last week: 9-5
Season: 50-37
Questions? Comments? Send them to lacesoutmail@gmail.com and we might respond in our weekly mailbag!