Why Danilo Gallinari is Key for the Denver Nuggets in December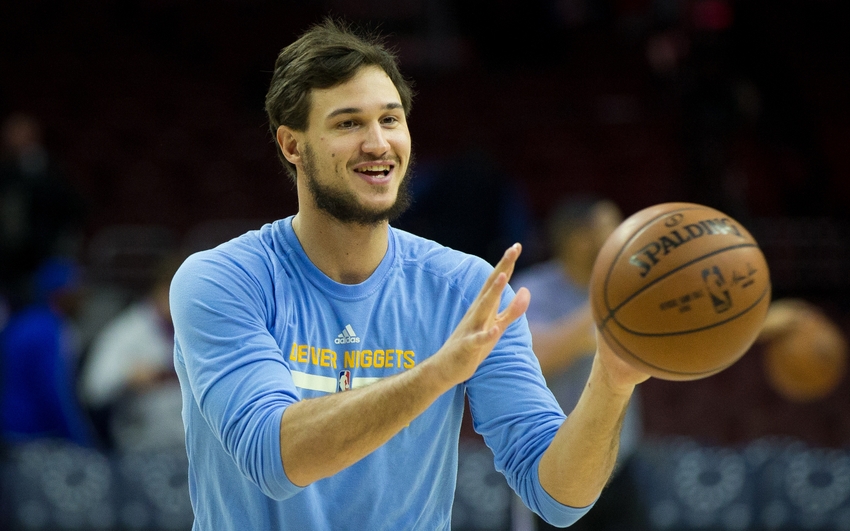 The Denver Nuggets defeated the Philadelphia 76ers 106-98 on Monday night at the Wells Fargo Center thanks to Danilo Gallinari and his 24 points.
Gallinari whilst not flashy, was integral to the Nuggets tasting victory for the first time since Phoenix in late November. With wins becoming a must as we approach Christmas, Gallo will be important.
Gallinari had been sidelined recently with a thigh injury but returned back into the action early last week against the Miami Heat. The Italian struggled in his first few games for Denver but it was only a matter of time until he started producing again.
Gallo's return
A few games into his full return, Gallinari was closer to his best; on Monday night in Pennsylvania, the ex-Knick came into his own and provided his team with a consistent flow of points throughout the night. This, In addition to supplying coach Mike Malone with an extra severely missed defensive presence, was undoubtedly crucial in the Nuggets win.
Whilst it could be contested that Gallinari's mediocre shooting displays in various games this year has hurt his team, it cannot be denied that when the 6'10 forward is healthy he is an all-round asset to his squad; as seen against the Sixers.
Gallo scored a season-high 24 points in 37 minutes from 5-12 shooting; a conceivably average looking feat at first glance at the box score. But that would be overlooking his ability to get to the line and make 11-12 free-throws. An imperative part of the game for the Nuggets who have struggled from the line this season.
The small-forward's experience and tenacity was ever-present on Monday night, and if he can begin to display this kind of form on a consistent basis, the team will flourish.
 Guidance
Gallo's attitude will help others: the former Olimpia Milano starlet's spirit after a few delicate losses was inspiring.
The Sixers felt the brunt of it as numerous Nuggets such as Jamal Murray, who had a strong night himself (22 points) flourished. Murray was able to find himself open from the beyond the arc; something which was quickly becoming scarce as teams drilled themselves on his scouting report. The rookie hitting 3-7 from deep, as did Gallinari with both of them shooting 42%.
The Italian forward has not necessarily ever been prolific in his NBA career – with injuries preventing him from playing full seasons consistently. Regardless and despite injuries, the 'Rooster' has been impressive; taking the mantle of this superstar lacking team, providing much-needed guidance and productivity on the court when needed.
The seven-year pro starting games can occasionally enrage even the most upbeat of Nuggets fans, but it could be argued that his usual proficiency to get to the free-throw line and take care of the ball is precious. Youngsters such as Mudiay, Murray and Beasley can prosper from Gallo's expanding experience in a relatively infant Nuggets side that is just waiting to blossom.
Decisive December
Gallinari will be important in the months of December and January, with a number of 'winnable' games coming thick and fast for the Nuggets. The Mile High City will need his presence down the stretch and in turn allow for scorers such as Barton, Murray and Chandler to feed off his energy in the starting line-up.
And as the likes of Chandler and Murray continue to impress, it will only serve as a positive for Gallinari. Electric performances off the bench will keep the forward on his toes and drive him to perform to the level we all know he is capable of exhibiting.
It is time for the Nuggets squad to start tallying up wins and surge up the Western Conference rankings as we approach the business end of the season. Danilo Gallinari can be at the forefront of the success, if he is kept healthy.
This article originally appeared on