Roy Hibbert's terribleness immortalized with Xbox controller meme
To say Roy Hibbert has been a major disappointment for the Indiana Pacers throughout their 2014 playoff … "run" … would be perhaps the greatest understatement of the NBA season.
An All-Star this season, Hibbert came into the season poised to stake a claim to NBA's best center, but his performance, specifically offensively, has left many people — most importantly his teammates — wondering who that is playing in paint for the East's top seed.
In three of the Pacers' eight playoff games thus far, Hibbert has gone scoreless. That includes Monday night's 102-96 Game 1 loss to Washington in the second round. And on that night, Hibbert pulled off his second double-bagel (zero rebounds to go with the zero points). The 7-foot-2 big man also finished with five fouls.
Through those eight playoff games (in which time the Pacers are 4-4 after surviving 8-seed Atlanta in a seven-game scare in the first round), Hibbert is averaging 21.4 minutes, 3.3 rebounds and 4.6 points on 35.6-percent shooting — and has been the subject of plenty of columns, blogs and call-in shows.
But in today's age, perhaps nothing sums up Hibbert's futility as poignantly as this Xbox controller meme, unleashed on the world by Faux John Madden.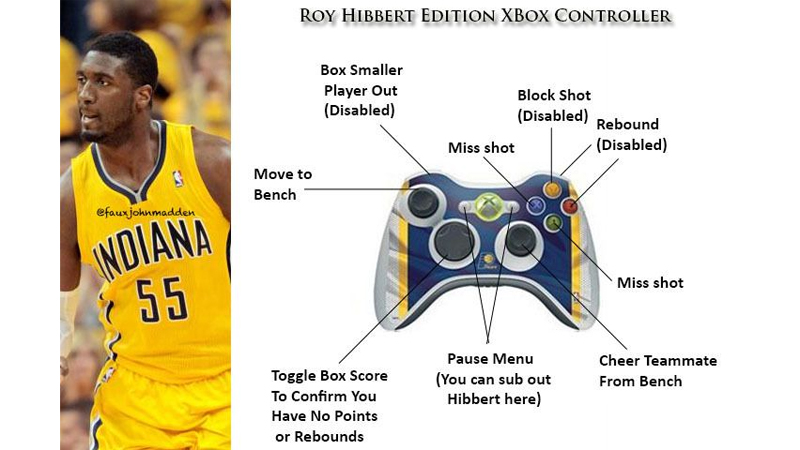 H/t: @FauxJohnMadden on Twitter
More from NESN:
McGrady, Arenas crush Roy Hibbert on social media
Hibbert being sold at discount on fake Amazon page