Why does LeBron keep flopping?
Nobody questions the immense talents of LeBron James. The man is a four-time NBA Most Valuable Player and a nine-time All-Star.
Nobody criticizes his heart or on-court courage. Last season, King James finally got the championship that eluded and burdened him throughout his first eight seasons as a pro.
But there lies one remaining mystery, perhaps the final chink in his armor: Why the heck does the best player on planet Earth keep flopping?
He certainly will do anything to win. The latest episode occurred during Miami's Game 6 loss at Indiana on Saturday night, which tied the Eastern Conference finals series at 3-3. Game 7 is scheduled for Monday in Miami.
We are all witnesses to the evidence below as LBJ is seemingly floored violently by Pacers star Paul George by a phantom shoulder blow near LeBron's head.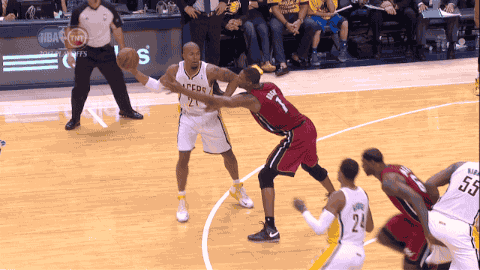 Yes, the referees did bite and an offensive foul was called on George — even though LeBron actually ran into George.
Related Stories
Member Comments
Please note by clicking on "Post comment" you acknowledge that you have read the Terms of Use and the comment you are posting is in compliance with such terms. Be Polite. Inappropriate posts may be removed by the moderator.
Fox Sports Store
| itemName | itemURL | imageSrc | price | itemDescription |
| --- | --- | --- | --- | --- |
| adidas Blake Griffin Los Angeles Clippers Revolution 30 Performance Jersey - Red | http://shop.foxsports.com/FOX_Los_Angeles_Clippers/browse/featuredproduct/491845/source/foxsports_prsp_ca | http://images.footballfanatics.com/FFImage/thumb.aspx?i=/productImages/_491000/ff_491845_xl.jpg&w=100 | 59.95 | adidas Blake Griffin Los Angeles Clippers Revolution 30 Performance Jersey - Red |
| adidas LeBron James Miami Heat Revolution 30 Swingman Performance Jersey-Black | http://shop.foxsports.com/FOX_Miami_Heat/browse/featuredproduct/498609/source/foxsports_prsp_ca | http://images.footballfanatics.com/FFImage/thumb.aspx?i=/productImages/_498000/ff_498609_xl.jpg&w=100 | 89.95 | adidas LeBron James Miami Heat Revolution 30 Swingman Performance Jersey-Black |
| adidas Carmelo Anthony New York Knicks Revolution 30 Swingman Performance Jersey - Royal Blue | http://shop.foxsports.com/FOX_New_York_Knicks/browse/featuredproduct/620470/source/foxsports_prsp_ca | http://images.footballfanatics.com/FFImage/thumb.aspx?i=/productImages/_620000/ff_620470_xl.jpg&w=100 | 49.99 | adidas Carmelo Anthony New York Knicks Revolution 30 Swingman Performance Jersey.. |
| Mitchell & Ness San Antonio Spurs Black Solid Script Snapback Adjustable Hat | http://shop.foxsports.com/FOX_San_Antonio_Spurs/browse/featuredproduct/692239/source/foxsports_prsp_ca | http://images.footballfanatics.com/FFImage/thumb.aspx?i=/productImages/_692000/ff_692239_xl.jpg&w=100 | 25.95 | Mitchell & Ness San Antonio Spurs Black Solid Script Snapback Adjustable Hat |
| Majestic Kobe Bryant Los Angeles Lakers Logo Man T-Shirt - Black | http://shop.foxsports.com/FOX_Los_Angeles_Lakers/browse/featuredproduct/851828/source/foxsports_prsp_ca | http://images.footballfanatics.com/FFImage/thumb.aspx?i=/productImages/_851000/ff_851828_xl.jpg&w=100 | 23.95 | Majestic Kobe Bryant Los Angeles Lakers Logo Man T-Shirt - Black |
| Majestic Kevin Durant Oklahoma City Thunder Logo Man T-Shirt - White | http://shop.foxsports.com/FOX_Oklahoma_City_Thunder/browse/featuredproduct/851842/source/foxsports_prsp_ca | http://images.footballfanatics.com/FFImage/thumb.aspx?i=/productImages/_851000/ff_851842_xl.jpg&w=100 | 23.95 | Majestic Kevin Durant Oklahoma City Thunder Logo Man T-Shirt - White |
| adidas Miami Heat 2012 NBA Eastern Conference Champions Locker Room T-Shirt - White | http://shop.foxsports.com/FOX_Miami_Heat/browse/featuredproduct/890174/source/foxsports_prsp_ca | http://images.footballfanatics.com/FFImage/thumb.aspx?i=/productImages/_890000/ff_890174_xl.jpg&w=100 | 21.95 | adidas Miami Heat 2012 NBA Eastern Conference Champions Locker Room T-Shirt - Wh.. |
| adidas Oklahoma City Thunder 2012 NBA Western Conference Champions Locker Room Flex Hat - Black | http://shop.foxsports.com/FOX_Oklahoma_City_Thunder/browse/featuredproduct/890384/source/foxsports_prsp_ca | http://images.footballfanatics.com/FFImage/thumb.aspx?i=/productImages/_890000/ff_890384_xl.jpg&w=100 | 19.99 | adidas Oklahoma City Thunder 2012 NBA Western Conference Champions Locker Room F.. |