Video Game Helped Hamlin Dominate At Tricky Triangle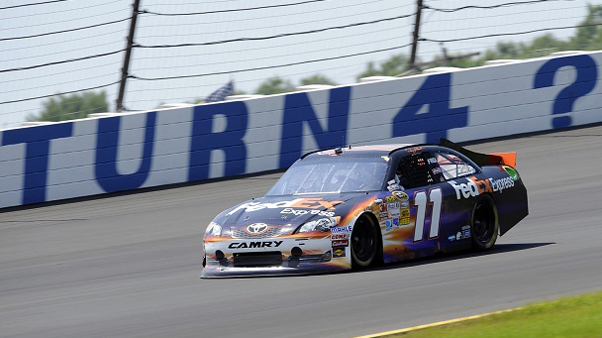 Winning any NASCAR Sprint Cup race is a challenge. Winning one as a rookie? Well, it doesn'€™t happen very often.
In the last five years, the only drivers to win Sprint Cup races in their first season were Trevor Bayne (2011, Daytona 500), Joey Logano (New Hampshire, 2009) and Brad Keselowski (Talladega, 2009).
And that makes what Denny Hamlin did at Pocono Raceway in his rookie season of 2006 all that much more remarkable.
In '06, Hamlin showed up at the Tricky Triangle for the June race, qualified on the pole, led 83 of 200 laps and drove the No. 11 FedEx/Joe Gibbs Racing Chevrolet to victory. And he won despite cutting a tire and spinning out early.
Six weeks later, the Sprint Cup Series returned to Pocono, where Hamlin again qualified on the pole. This time, he led 151 of 200 laps to give him a sweep of the Pocono races.
In the process, he became just the seventh driver in NASCAR history to win multiple races as a rookie. It'€™s an elite club: The other six are Davey Allison, Tony Stewart, Dale Earnhardt Jr., Kevin Harvick, Jimmie Johnson and Kyle Busch.
Hamlin, then 25, gave partial credit for his rookie Pocono prowess to his NASCAR video game, which he used to brush up on the track before he actually turned a wheel on the asphalt.
"I think it helped," Hamlin said of his video-game training. "€œIt wasn't something that made me faster, I don't believe. I think it just made me more comfortable at the racetrack than it did anything. When I went there (Pocono), went around the track, you get used to a racetrack. If you've never been there before, Indy, for instance, it took me probably three, four laps before I was comfortable and I knew where I was at on the racetrack.
"œBasically when I went around Pocono for the first time, it just cut that time quite a bit from the first, second lap. '€˜Hey, I'm comfortable around here. I know where I'm at, know what I'm doing.'€™ But nothing beats that on-track experience by any means."
Those two Pocono victories were the high points of Hamlin'€™s rookie season, when he finished third in points.
"œDefinitely being able to go to Pocono and dominate those two races like we did is probably the biggest surprise for me,"€ said Hamlin. "€œI would have never guessed we would be able to accomplish that, especially not being there before."