Tweets Of The Week: Dillon Sees Jesus, Keselowski Sounds Off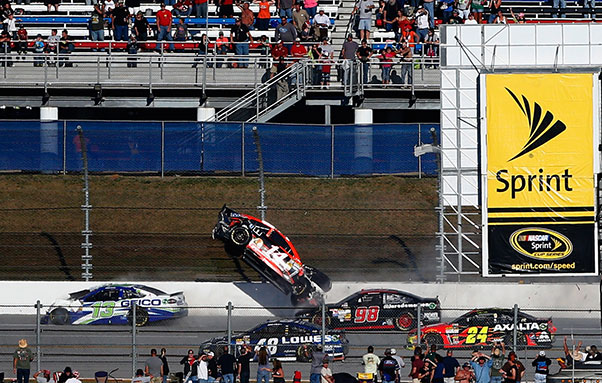 This week the NASCAR Twittersphere was abuzz with concerned wives, drivers breaking down their wild rides at Talladega Superspeedway, and one former champion with a little time — and his phone — on his hands.
Without further ado, here are this week's best tweets.
There was no word whether the GEICO gecko personally responded to Casey Mears' call after Sunday's race at Talladega.
— Nascar Memes (@NascarMemes) October 21, 2013
Once you've flown through the air in a Sprint Cup Series car, other 'extreme' activities tend to be a little dull.
That was fun who needs SkyDiving

— Austin Dillon (@austindillon3) October 20, 2013
Michael McDowell had a front row seat for Dillon's attempt at a double-axle, but then wanted his spot back from Jeff Gordon.
.@Mc_Driver says "I just had a race car flip over me." The 14 flipped over us on the last lap and missed us. Scoring has us unofficially P14

— Phil Parsons Racing (@PPR98) October 20, 2013
This was a close call. It appears I was ahead of @JeffGordonWeb but caution may not be out yet. I want my spot back😜 pic.twitter.com/zj2lQ6tJma

— Michael McDowell (@Mc_Driver) October 21, 2013
Thanks to an image on McDowell's car, Dillon saw the face of Jesus during his wild ride.
. @austindillon3 saw Jesus today…. He was on the hood of the 98 car @Mc_Driver

— Rick Allen (@RickAllenracing) October 20, 2013
With the threat of the 'Big One' around every corner, Talladega tends to make some of NASCAR's heartiest WAGs get nervous.
It's race day in Dega and I already feel like I wanna throw up… And no I'm not hung over!

— DeLana Harvick (@DeLanaHarvick) October 20, 2013
DeLana has good reason to be sick to her stomach before the Sprint Cup Series race, just ask Timmy Hill who raced in Saturday's Camping World Truck Series race (he's in the No. 1).
Threading the needle at @TalladegaSuperS! Wow! pic.twitter.com/ts223PKlBi

— Timmy Hill (@TimmyHillRacer) October 21, 2013
Denny Hamlin's terrible 2013 season continued Sunday at Talladega, but at least he got to watch the end of the race.
Engine blew. At least I get to watch the big one

— Denny Hamlin (@dennyhamlin) October 20, 2013
Injured IndyCar star Dario Franchitti also had an eye on the Sprint Cup Series race.
@jamiemcmurray wins in the @Cessna car @JimmieJohnson leading the points, no "big one" all in all a great day at talladega!!

— Dario Franchitti (@dariofranchitti) October 20, 2013
Despite his aerial act, Max Papis was among the many impressed with Austin Dillon's first trip to Talladega Superspeedway in a Sprint Cup car.
If there was anything else to prove @NASCAR my god son @austindillon3 is coming and coming hard 3 years and we will be @NASCAR Champions

— Max Papis (@maxpapis) October 21, 2013
While everyone on the outside was tense watching the pack in action, Clint Bowyer had a little chuckle inside the car, but then quickly realized the situation might not be as funny as he originally thought.
Had a chuckle in the car today. Saw @RCR31JeffBurton mirror dangling in his car then realized I was the one he couldn't see pushing him. 🙈💩

— Clint Bowyer (@ClintBowyer) October 21, 2013
Landon Cassill dealt with a fuel issue throughout the day and had a terrible outing at Talladega, but he received something many NASCAR drivers and fans would love to have.
Bobby Allison gave me his card and hand wrote his cell phone number on it. That was the highlight of my day.

— landon cassill (@landoncassill) October 21, 2013
After the race, the Blaney family road-tripped it back to N.C., which was a bit much for young Ryan Blaney.
6 hour drive home from Talladega with THE Buckeye Bullet is fun, but has it's limits. How's everyone this brisk Sunday evening?

— Ryan Blaney (@RyanBlaney22) October 21, 2013
Once the stress of Talladega wore off, DeLana Harvick couldn't help but notice young son Keelan has a thing for Carrie Underwood. No word on if Keelan's been hanging out with 'Uncle' Tony Stewart.
Keelan seems to be a tad too mesmerized by Carrie Underwood's football intro. Little too early for that dude…

— DeLana Harvick (@DeLanaHarvick) October 21, 2013
While the majority of the Twittersphere was quiet after an interesting day at Talladega, defending series champion and Charlotte winner Brad Keselowski was busy tweeting away about this, that and pretty much anything.
We tried at the end, all I can do. @apostlegato: @joeylogano @keselowski and @mattkenseth the only 3 willing to make a 2nd row…

— Brad Keselowski (@keselowski) October 21, 2013
Funny you say that… Was thinking the same @Joey_Chapman: why is everyone complaining? Does someone have to die for NASCAR to be fun?"

— Brad Keselowski (@keselowski) October 21, 2013
If I had a nickel… @USATODAY: Buying breast milk online? It may be contaminated http://t.co/4TDNapHudQ"

— Brad Keselowski (@keselowski) October 21, 2013
Finally, Chase points leader Jimmie Johnson took some light reading with him on the trip to testing in Texas. We're sure Chad Knaus would approve.
Some quality reading material for my flight to @TXMotorSpeedway. #Testing pic.twitter.com/TWjNKFT8NG

— Jimmie Johnson (@JimmieJohnson) October 21, 2013