Tweets Of The Week: Pastrana's Ride, Keselowski's Pitch & Waltrip's Goat
This week we saw Travis Pastrana go car shopping, Trevor Bayne tie the knot and Kasey Kahne get dunked on (or possibly take a charge).
All this – and more – in your Tweets of the Week.
Pastrana was the opposite of extreme.
Traded in my jeep for a @teamdodge caravan! Do i get my man card back if i walk out with that yellow #challenger 2!? twitter.com/TravisPastrana…

— Travis Pastrana (@TravisPastrana) June 5, 2013
Bayne got hitched in Asheville, NC. Congrats!
#JustMarried twitter.com/TheJonWood/sta…

— Jon Wood (@TheJonWood) June 4, 2013
Brad Keselowski took in a flick and threw out a first pitch.
Pre screening #rushThanks @realronhoward ! twitter.com/keselowski/sta…

— Brad Keselowski (@keselowski) June 3, 2013
@keselowski with MLB Hall of Famer Marty Brennaman in the @reds radio booth on Wed. night. #NASCAR twitter.com/penskeracing/s…

— Penske Racing (@penskeracing) June 6, 2013
Kahne got posterized.
We like it! #HendrickFans? RT @pepsimax: Behind the scenes of our latest shoot with @kaseykahne #Posterize twitter.com/PepsiMAX/statu…

— Hendrick Motorsports (@TeamHendrick) June 4, 2013
James Buescher made a stop in Oklahoma to lend a helping hand.
The last wall coming down of what was left of this house. #moore telly.com/RRFCI7

— James Buescher (@JamesBuescher) June 5, 2013
Michael Waltrip wins the "Most Random Tweet" award.
It's a baby goat.

— Michael Waltrip (@mw55) June 5, 2013
Wonder who this guy was rooting for on Sunday?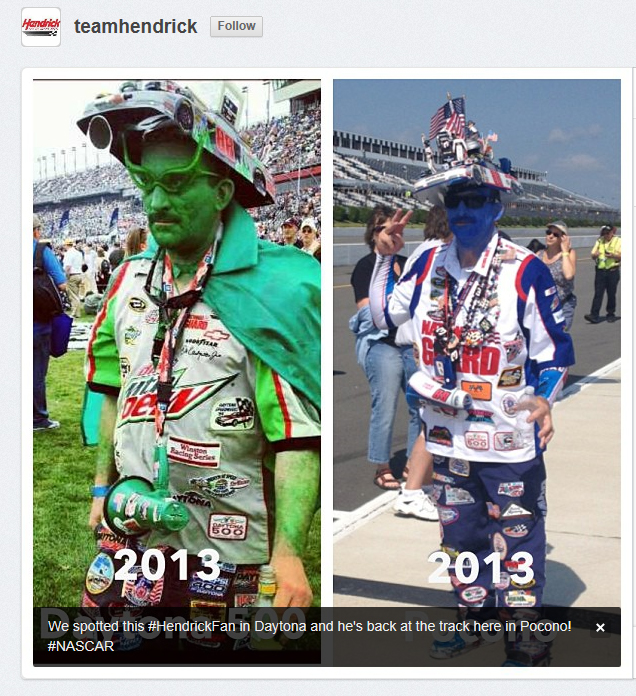 In the end, it was Jimmie Johnson's day.
We wore 'em out #lowes48

— Jimmie Johnson (@JimmieJohnson) June 9, 2013