Throwback Thursday: Ricky Rudd's heroic Martinsville run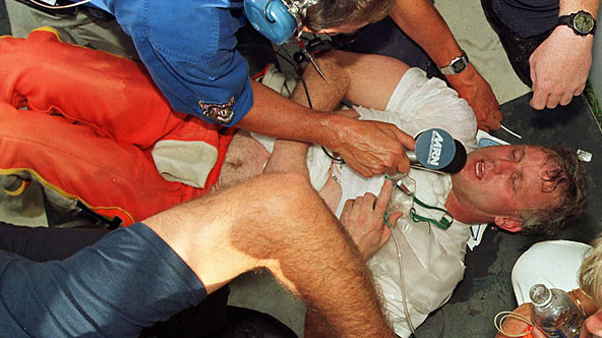 A radio reporter interviews Ricky Rudd on the ground of Victory Lane at Martinsville Speedway after winning the NAPA AutoCare 500. (AP Photo/Steve Helber)
Pound for pound, Ricky Rudd was as tough as any NASCAR racer of any generation.
Nicknamed "The Rooster" for his scrappy nature, Rudd once raced the Daytona 500 with his eyelids literally duct-taped open after a horrifying crash in the preliminary race now known as the Sprint Unlimited.
But what the Virginia native did at tiny Martinsville Speedway in September 1998 might have been even more impressive. Back then, there was no Chase for the Sprint Cup and the fall Martinsville race was run in late September.
As sometimes happens in the South, it turned out to be a brutally hot fall day, made all the worse by the tremendous heat the brakes generate at Martinsville. So hot was the afternoon that three drivers either yielded to relief drivers or dropped out of the race entirely.
Rudd was part of a vanishing breed, one of the last owner/drivers, campaigning the No. 10 Ford Thunderbird for his single-car Rudd Performance Motorsports. And he had a 15-year streak of winning at least one race per year that he desperately wanted to extend.
Early on at Martinsville, Rudd knew he was in big trouble. The cooling system, which was supposed to circulate cold air in his helmet, didn't work — and when his crew tried to cool him off on a pit stop by putting a hose in his cockpit, all it did was turn it into a steam bath.
Rudd put on a heroic run at Martinsville, leading 198 laps in total, including the final 96.
After the race, he had to do his Victory Lane interview flat on his back, while track workers frantically fed him oxygen, IV fluids and ice bags. Rudd suffered extensive second-degree burns on his back and his butt from the superheated water in the car.
But there was no way he was giving up in that car. Not with a chance to extend his streak and put the Tide-sponsored Ford in Victory Lane.
"If we can get this win, I'll enjoy Monday in a hospital room somewhere recovering," Rudd said he told crew chief Bill Ingle during the race.
And that, folks, is the definition of true grit and determination.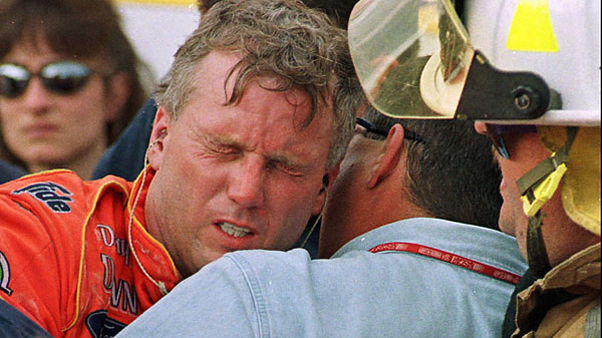 Ricky Rudd grimaces as he is pulled from his car in victory lane at Martinsville Speedway after winning the NAPA AutoCare 500. (AP Photo/Steve Helber)