Texas Motor Speedway Introduces Bacon & Beer Milkshake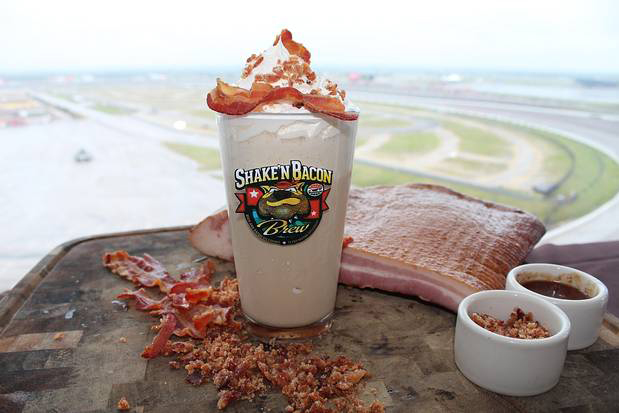 For those who believe that some is good, more is better and too much is barely enough, Texas Motor Speedway is definitely the place to be this weekend, especially if you have a big appetite.
TMS, which is big enough to hold four Cowboys Stadiums in the infield, plays host to a NASCAR Sprint Cup, Nationwide and Camping World Truck Series tripleheader Friday through Sunday.
And it's also serving up the most outlandish treat in recent memory: Shake 'n Bacon Brew beer milkshake.
The brainchild of Levy Restaurants Executive Chef Joel Pena, the Shake 'n Bacon Brew combines genuine Texas products: six ounces of Rahr & Sons Ugly Pug Black Lager, six ounces of Blue Bell homemade vanilla ice cream and two ounces of bacon-infused maple syrup.
This glorious concoction, a bargain at $10, is served in a "16-ounce plastic souvenir cup featuring the brew's pig mascot and then topped off with three ounces of whipped cream and bacon crumbles," track officials said.
For young 'uns under the legal age, there will also be a non-alcoholic version made with root beer.
Also on the menu this weekend are "Hawg Heaven" bacon cotton candy, the Bacon Martini, Smokin' Hubcaps (brisket on a glazed donut), mac 'n cheese hot dog and chocolate-covered Pit Stop Popcorn.
Looks like I-35W and State Highway 114 won't be the only clogged arteries around the track this weekend!